May 2016 - How the Election and Budget will Impact the Property Market



May 11, 2016 / Written by Thirst Creative
By Rich Harvey, Managing Director propertybuyer
As we gear up for election mode we examine what this means for the property market. Will home buyers and investors get a good deal or get priced out of the market? What strategies can smart buyers use to take advantage of a cooling market and still make money? Also in this update, we're delighted to be shortlisted for two new awards and we've created a webinar of our earlier seminar Property Directions & Strategies for 2016 in case you missed it.
This May update includes:
1. How the Election and Budget will Impact the Property Market
2. Finalists! REB Awards
3.Webinar - 'Property Directions and Strategies for 2016'
1. How the Election & Budget will Impact the Property Market
While we head to the ballot box on July 2 to cast our votes, the property market is undergoing another transition - in a word it is moderating. Sydney has had spectacular growth in the past three years and it is now rapidly cooling in some parts while in other parts is holding its ground very well. The Melbourne market has reached its zenith and growth looks to be cooling also. Brisbane has been subdued despite much heralded optimism but still looks set for an upswing. Hobart is in catch up mode while Perth and Darwin are still in decline.
Capital city median house prices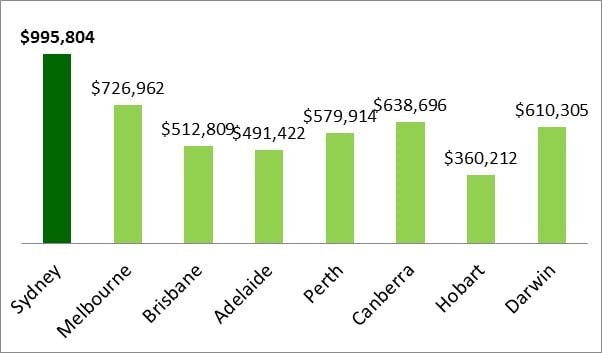 Source: Domain 2016
Sydney's median house price has dipped back below $1m to $995,804 according the latest figures from Domain. Sydney's typical growth pattern shows periods of stagnation followed by rapid growth then consolidation. In the chart below we can see that over the last twenty three years there was only 6 years of slightly negative growth and 17 years of very positive growth. This proves the old adage of "time in the market is more important than timing the market" when it comes to property.
Sydney annual house price growth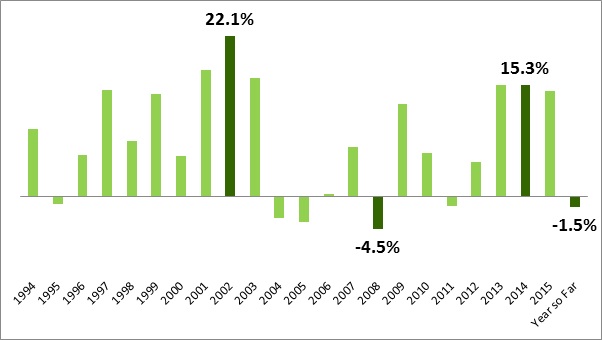 Source: Domain 2016
Despite the rapid increase in building approvals, Sydney will still struggle to provide affordable housing in high demand areas due to housing shortages. Planning rules, high immigration, Chinese capital flows, a strong local economy and a massive transport infrastructure investment will all underpin prices in the local market.
At the present moment there is a severe shortage of listings in the Sydney market. Agents are saying there is a "drought" of listings and a few recent auctions have gone over reserve as a result. Auction clearance rates were 74% last weekend and have hovered around 70% since the start of the selling season.
The message for astute home buyers and investors is to not try and pick the exact timing of the cycle, but instead buy quality homes or investment properties in suburbs where there is consistently strong demand and rental income. Home owners and investors would have seen a significant uplift in their equity position as a result of the last boom which can put you in a strong position to refinance and invest again.
Election campaigns often have a negative impact on the property market as people are fearful of change and therefore impacts consumer confidence. We have seen that the Coalition policy is to leave negative gearing alone which provides greater certainty for current investors. The Labor policy is to limit negative gearing to only new properties - which would skew investment toward new construction in the hope of increasing supply and jobs. However, this policy is likely to drive up rents as there is less demand for established investment and would also result in property spruikers having a field day promoting off plan developments (which are often over-priced or not in the ideal location).
Official interest rates were lowered another 0.25% on May 3 to 1.75% to help keep the economy on track and toward 3% GDP growth. Financial markets are anticipating another rate cut before the years end. These rate cuts are great for borrowers, and smart home buyers and investors should look to refinance where possible. However, lower rates mean the economy is struggling to grow. Inflation is at a record low of 1.3% (annualised) and well below the RBA target band of 2%-3%.
The opportunities for home buyers and investors during an election campaign and budget announcements is that it can scare some potential buyers away - thereby lowering the competition for available properties. Remember budget measures still have to be passed through parliament.
The herd mentality is to sit back and wait and see what happens, while the savvy buyer continues to monitor market conditions and buy prudently when the right property comes up.
Don't expect to see boom conditions for a long time - this is a more positive thing for stability and predictability. To make money from property, it is more important than ever to select the right strategy that will create equity and select properties that are well positioned, have good bones and in constant demand. You have to research the market at a very specific level to understand local market dynamics.
If you would like more information about the strategies we deploy or help searching for the right property please call my friendly team of buyers agents on 1300 655 615 today or email us your requirements.
Rich Harvey is founder and Managing Director of www.propertybuyer.com.au, Australia's most awarded Buyers' Advocates. Propertybuyer helps property investors and home buyers search and negotiate the right property at the right price, every time. Visit www.propertybuyer.com.au or call 1300 655 615.
2. Finalists! REB Awards
We are very proud to be announced as finalists for the 2016 Real Estate Business (REB) Awards in two separate categories:
Industry Thought Leader, and
Buyers' Agent of the Year
Winners announced in June, fingers crossed and we will keep you posted!
3. Webinar - Property Directions & Strategies for 2016
In case you missed it, we are very excited to bring to you a recording of our sell out seminar with Eliza Owen, Market Analyst onthehouse.com.au from earlier this year!
Topics covered at this special webinar include:
Property market outlook for 2016
Where are the next growth opportunities?
Yield vs growth areas? How to search.
The impact of transport infrastructure spending in Sydney
Designing a personalised property strategy
Tips for picking property winners
Telephone enquiries: 02 9975 3311
Presenters:
Eliza Owen, Market Analyst at onthehouse.com.au (Residex)
Eliza Owen is the housing market analyst and economic reporter for Onthehouse.com.au. She holds a first class honours degree in Economics from the University of Sydney, where she was a winner of several academic awards including the Business School's "Three Minute Thesis" competition.
Eliza is a regular on Backchat on FBI Radio, and has been a guest speaker on Triple J's Hack, 702 ABC Radio, Sky News and at TEDxYouth Sydney. She provides commentary for various print media outlets including TheGuardian Australia, the Australian Financial Review, Pedestrian TV, the Daily Telegraph and more. Eliza has worked at Onthehouse.com.au since 2011 in various roles including as an economic report writer, editor and data analyst.
Rich Harvey, Managing Director and founder of propertybuyer
Rich is a buyers' agent, property investor and professional economist with over 19 years' experience in the property industry. He is a research expert and highly skilled in investment analysis and negotiation techniques that can deliver real savings for his clients. Rich and his team have purchased over 2000 properties for their clients. As Australia's leading Buyers' Agent, Rich has won 27 major awards including the prestigious National Telstra Business award in 2007 and also named the winner "Best Buyers Agent in Australia" by the Real Estate Institute of Australia (REIA).