Let us do the work of finding your perfect property. Share your details with us to get the ball rolling.
Our buyers' agents have extensive professional networks with contacts in all related aspects of property buying and investing. So, if you want to renovate your positive cashflow or positive geared property in Sydney, for example, your buyers' agent will provide you with a list of reputable contractors necessary for the job
POSITIVE CASHFLOW PROPERTY
We source three main types of property to help you choose the positive cashflow property that best suits your investment requirements:
Established

properties in positive

cashflow

areas
Dual living houses and duplexes
Granny flats (mini homes) and value adding strategies
Investing in positive cashflow rental property is an ideal wealth creation vehicle as they are self-sustaining and generate enough income to cover all expenses, so you don't need to dip into your pocket each week to cover any shortfalls. However, finding the right positive cashflow property to invest in can be a real challenge.
The Challenge for Investors:
Sydney, Melbourne, and Brisbane are big cities with a lot of real estate. It takes a lot of time to research and identify the right areas with strong drivers for cash positive property. Add to the challenge the fact that you don't typically see positive cashflow property listed for sale. Instead, buyers need to create investment opportunities by using the strategies outlined below.
Take the time and stress out of the process; talk to us today for a positive real estate experience.
1. ESTABLISHED PROPERTIES IN POSITIVE CASHFLOW AREAS
We are constantly researching the real estate market to find property hotspots where investors can pick up promising positive cashflow investment properties.
The trick with picking the right investment hotspot is to look at the long-term economic drivers of the area. Starting with the macro factors, we examine what is driving housing demand and rents in the area. Using highly relevant statistics, including vacancy rates, days on the market, supply and demand ratios, vendor discounting, rental yield, demographics, population growth, and many others, we evaluate the future prospects of the area.
The next step is to ground-truth the area and identify the property types that are in highest demand for the suburb. With over 15,000 suburbs in Australia, this is a difficult task.
Selecting the right positive cashflow property starts with research. Based on your personal requirements, we help design a strategy for your individual situation. We then conduct extensive market analysis to identify suburbs and properties likely to deliver the best return. We take away the guesswork and use intelligent data to pinpoint high growth and high cashflow investment areas. Every opportunity is evaluated against dozens of factors, including local market conditions, comparable sales and property specifications.
As Australia's most awarded Buyers' Advocates, we've helped 3500 investors find top performing properties so you can be confident you are in safe hands. We can also connect you with our alliance partners to safeguard your portfolio, including solicitors, building inspectors, property managers, tax accountants, finance brokers, and depreciation specialists.
Some of the areas we target for positive cashflow investors and geared properties are those that produce yields of around 5.0% to 8%, and which have strong capital growth appreciation of approx. 5% to 7%pa, giving a total return of between 10% and 15%pa.
For example, over the last ten years we have placed many investors into selected suburbs of Western Sydney (before the boom) that were affordable and primed for growth. These investors have now seen capital growth of over $250k on a $500k property and are set to invest again.
We operate in selected areas of Brisbane, Sunshine Coast, Gold Coast, Newcastle, Hunter Valley and the Central Coast, where the same fundamentals are present for solid capital growth AND positive cashflow.
We have access to off-market opportunities in all the suburbs in Sydney, Brisbane, Melbourne, and other areas in Australia. In some regional areas we buy houses from as low as $400k.
Complete your property brief.
2. DUAL LIVING HOUSES AND DUPLEXES
Dual living homes are cleverly designed to look like a single dwelling from the streetscape but have two separate properties under the one roof. One side is typically three or four bedrooms and the other side two bedrooms. These properties are only permissible in certain council areas, provided the land exceeds a pre-determined minimum size.
They are showing gross yields from 5% to 6.5% pa. Priced from around $500k to $750k+, they include brick and tile construction, fully fenced, turf and landscaping and covered outdoor alfresco area. They are popular with tenants as the price point is lower than other rental properties, and they are brand new.
Rather than just settling for a single income property investment, you can easily generate two incomes from dual living houses and duplexes. Some of the other advantages that these dual income properties offer include:
Positive

cashflow

from day one
Low outgoings – no strata fees and low council and water rates
Maximum depreciation allowances because the properties are brand new
Total rent return that is around 50% higher than single-dwelling houses of similar value
Location in high rent demand areas
Lower vacancy risk than single-dwelling properties as one side would still produce income
Typical configuration is three-bed + two-bed (or in some cases four-bed + two-bed)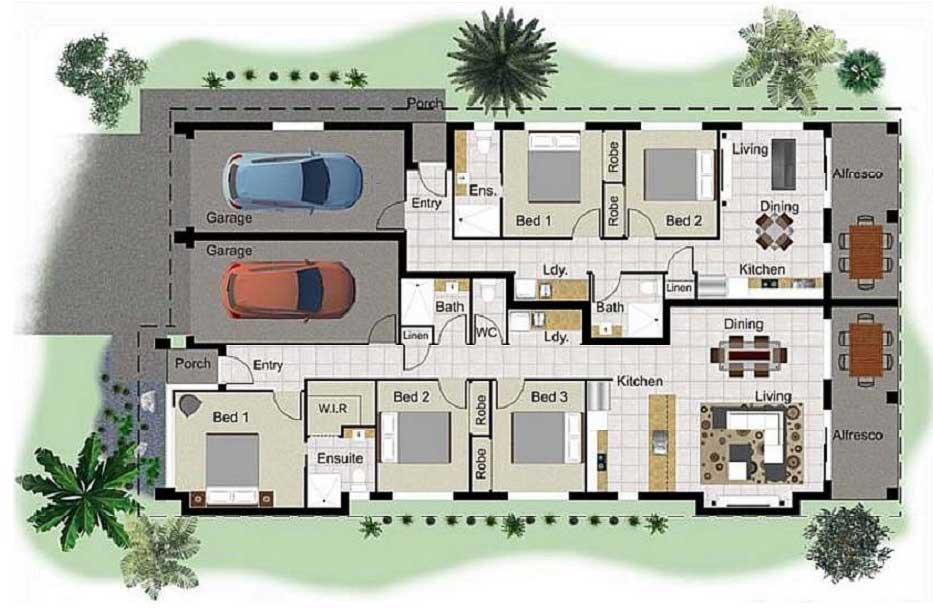 Complete your property brief.
3. GRANNY FLATS (MINI HOMES)
Granny flats provide a second income for your investment property at a very affordable price. From around $130,000 for a one-bedroom flat you can generate rental returns from $230pw+. From around $160,000 to $230,000 for a two-bedroom flat, rental yields start from $320 up to $650pw (depending on location).
When you combine the rental return on the existing house, we typically see an overall yield of 5% to 6.5% + pa on the investment. This creates a positive cashflow property and puts money in your pocket each week!
Our granny flat specialists operate in a wide range of property markets in Australia. We work exclusively for buyers, helping you source properties that match our 20-point checklist. We can help you source properties for sale where a granny flat will fit easily, negotiate the best price and then manage the entire construction process. With our industry contacts we have negotiated volume discounts with builders and suppliers to bring you the lowest possible price. Our fully transparent fee structure pays for itself many times over. Contact us today to create a positive cashflow property that grows your portfolio.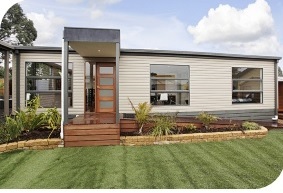 Beware of traps.
Before jumping in and buying any positive cashflow property with the potential for a granny flat, you need to know about the relevant regulations, setbacks, block alignments, easements, covenants and which builder to trust. Propertybuyer takes care of all the details with a capped project management fee that includes many extras
Our service includes:
Sourcing properties suitable for granny flats (many of these are off-market deals)
Negotiating the best price
Coordinating and project management of the granny flat construction
Recommending a reliable local property manager to source a tenant as soon as the property is completed.
Find out more about our granny flat process.
WHAT IS POSITIVE GEARED PROPERTY?
Positive geared property is an investment property where the total rent received exceeds all the ongoing expenses, including bank interest on the outstanding loan, repairs and maintenance, management fees, council rates, strata fees, insurance, and other taxes.
Positive gearing is essentially borrowing money from a lender (gearing/ leveraging) in a safe manner such that your total borrowing and other costs are more than covered by all the holding expenses of the asset, delivering you a surplus cashflow each month.
Positive geared property is the ideal situation for investors as they receive positive cashflow into their bank account each month.
WHERE CAN I FIND POSITIVE GEARED PROPERTY INVESTMENTS?
Positive geared property can be found in both regional and metropolitan areas. The trick to finding the ideal positive geared property is to ensure the rental return and the capital value is sustainable and stable over the long term.
You can find positive geared property investment opportunities across the real estate spectrum, including standalone houses, duplexes, houses with granny flats, apartment blocks, and even in commercial property. This means you can take advantage of residential and commercial investment opportunities, especially in high-demand areas. Sydney is one of the best cities for both types of investment with its strong residential and commercial property markets.
Positive geared property investments should be located in areas with low vacancy rates, and there should be strong demand drivers by owner occupiers in the local area.
IS POSITIVE OR NEGATIVE GEARING BETTER?
In addition to positive geared property, there is also negative geared property. The debate over which of these is the ideal investment strategy has raged for decades. The answer depends on your individual situation.
Positive geared property puts extra money in your pocket each month – and it's hard to go broke collecting cash every month! However, you also need to consider the capital growth potential of your proposed investment property.
Negatively geared property means that the rent you receive does not cover all the interest and holding expenses and you need extra money to hold the investment and cover the shortfall each month. This is not necessarily a bad thing if you are in a high-income bracket and are paying a lot of tax, as negative gearing could provide a sensible way to use your tax effectively to offset losses related to your investment property. However, in order to break even, the capital growth rate of the property must far exceed the cashflow loss you are making on the investment.
Your choice of location and property type is critical to being a successful investor. You need the right strategy if you want to optimise your negative or positive geared property investment and this is best achieved with the help of a professional buyers' agent with loads of experience in this type of market, as well as loads of experience in their local real estate market.
IS POSITIVE GEARED PROPERTY BAD?
Positive gearing is a good strategy for some property investors. A positive geared property investment is where the rent you receive more than covers all the holding expenses, as mentioned above. Positive gearing increases cash flow in your account each month.
However, for some high-income investors who are chasing higher capital growth, a positive geared property that gives an extra $50 per week in cash flow may not be the right option.
A knowledgeable and experienced buyers' agent works with you to find the option that is right for you, be it a negative or positive geared property.
The strategy you decide upon depends primarily on your individual circumstances and goals. With these always top-of-mind, your agent will carry out the proper research and reach out to other experts in their professional network to find investment properties that meet your criteria.
SIX REASONS TO CHOOSE PROPERTYBUYER WHEN INVESTING IN POSITIVE CASHFLOW AND POSITIVE GEARED PROPERTY:
Access the best opportunities on and off the market
Truly independent and impartial
Dedicated research team
Access to licensed

trades people

at discounted prices
No secret fees or kickbacks
Complete project management from purchase through to tenancy
Secure your financial future now with a positive investment. Call us today on 1300 655 615 to speak with our positive cashflow and positive geared property expert or Click here to send us your enquiry.
To help you on your property buying journey, we've put together a useful report on Powerful Positive Cashflow Strategies That Work to help guide your decision making. To access your free report just fill in your details further down the page.
* Disclaimer: The actual returns achieved by your positively geared property will depend on your personal financial situation, interest rates, deposit, loan amount and investment property selected.
We can help you achieve your property goals faster and with less effort.