Propertybuyer specialise in sourcing positive cashflow investment properties for all types of buyers.
Are you looking for a positively geared property investment opportunity to super-charge your portfolio? Propertybuyer specialise in sourcing positive cashflow property investment properties in Sydney, Brisbane, Melbourne and various regional areas around Australia.
There are three main ways we can help you create a positive cashflow investment:
Establised properties in positive cashflow areas
Dual living houses and duplexes
Granny flats (mini homes)
Positive cashflow rental property is an ideal investment strategy as they are self-sustaining and you don't need to dip into your pocket each week to cover any shortfalls. However finding the right positive cash flow real estate opportunity is challenging. It takes lots of time to research and identify the right areas with strong drivers for cash positive property. You don't typically see positive geared property for sale – instead, investors need to create the opportunity for positively geared investment property by using the strategies outlined below. Talk to us today for a positive real estate experience.
1. Established properties in positive cashflow areas
We are constantly researching the property market to find property hotspots where investors can pick up positive cashflow investment property.
The trick with picking the right investment area is to look at the long term economic drivers of the area. Starting the macro factors we examine what is driving housing demand and rents in the area. Using highly relevant statistics such as vacancy rates, days on market, supply and demand ratios, vendor discounting, rental yield, demographics, population growth and many others, we evaluate the future prospects of the area.
The next step is to ground-truth the area and identify the property types that are in highest demand for the suburb. With over 15,000 suburbs in Australia, this is a difficult task.
Selecting the right investment property starts with research. Based on your personal requirements, we help design a strategy for your individual situation. We then conduct extensive market analysis to identify suburbs and properties likely to deliver the best return. We take away the guesswork and use intelligent data to pinpoint high growth and high cashflow investment areas. Every opportunity is evaluated against dozens of factors, including local market conditions, comparable sales and property specifications.
As Australia's most awarded Buyers' Advocates, we've helped 3000 investors find top performing properties so you can be confident you are in safe hands. We can also connect you with our alliance partners to safeguard your portfolio – such as solicitors, building inspectors, property managers, tax accountants, finance brokers and depreciation specialists.
Some of the areas we are targeting for positive cashflow investors and geared properties are producing yields around 5% to 7% and with strong capital growth appreciation of approx. 5% to 8% pa giving a total return of between 10% to 15%pa.
For example we placed many investors over the last 3 years into selected suburbs of Western Sydney (before the boom) that were affordable and primed for growth. These investors have now seen capital growth of up to $100k on a $300k property and are set to invest again. We are now operating in selected areas of Brisbane where the same fundamentals are present for solid capital growth AND positive cashflow. We have access to off market opportunities from prices of just $300k and rent from $340pw.
2. Dual living houses and duplexes
Dual living homes are cleverly designed to look like a single dwelling from the streetscape but have two separate properties under the one roof. One side is typically 3 or 4 bedrooms and the other side 2 bedrooms. These properties are only permissible in certain council areas and with sufficient land size.
They are showing gross yields from 6.0% to over 7% pa. Priced from around $450k to $600k+ they include brick and tile construction, fully fenced, turf and landscaping and covered outdoor alfresco area. They are popular with tenants as the price point is lower and they are brand new.
Rather than just settling for a single income property investment, you can easily generate two incomes from this type of property to create a positively geared property. Some of the other advantages that these dual income properties offer include:
Positive cashflow from day one
Low outgoings – no strata fees, and low council, water rates
Brand new- maximise depreciation allowances
Total rent return around 50% higher than for house of similar value
Located in high rent demand areas
Lower vacancy risk as one side would still produce income
Typical configuration is 3 bed + 2 bed (or in some cases 4 bed + 2 bed)
But the best news is we can also provide rebates direct to you. As exclusive buyers agents we don't accept sales commission so rebate this to you. Here's an example of how this works:
Typical package price: $475,000
Our sourcing fee: $9,900
Rebate of sales comm: $15,000
You save at least: $5,100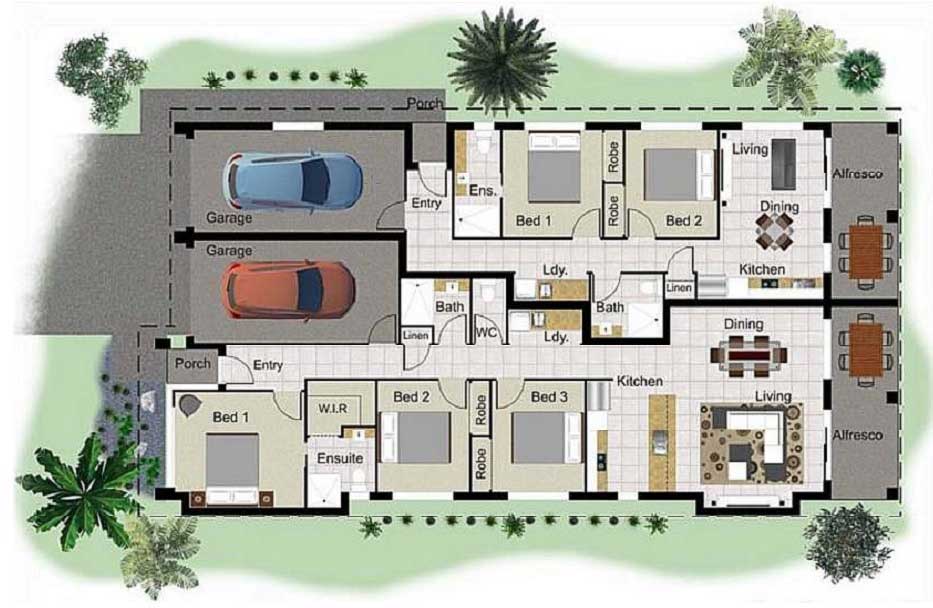 The floor plan of a typical dual living property above.