Mid-Spring Update - Headwinds and Opportunities Abound - October 2018



October 11, 2018 / Written by Rich Harvey
By Rich Harvey, CEO & Founder propertybuyer
As we head into the peak selling period of spring, the market remains very subdued compared to 2017. Auction clearance rates in both Sydney and Melbourne have declined from 70% last year to around 50% on average this spring. Many vendors are taking pre-auction offers as the pool of buyers has dried up significantly. SQM Research report that property listings rose just 0.3% in Sydney, to be up 18.7% higher from a year ago. In Melbourne, listings actually fell by 1.8% in September, though they are 13.8% higher than a year earlier. Transaction volumes are lower as some vendors are cautious about selling in this changing market.
Corelogic report that Sydney dwelling prices have declined 6.1% since September 2017 while Melbourne has declined 3.4% and Perth 2.0%. On the other hand there have been rises in Adelaide (0.7%), Brisbane (0.8%), Hobart (9.3%) and Canberra (2.0%). Considering that Melbourne and Sydney have seen house prices rise more than 70% to 80% in the past 5 years it is hardly surprising that the two primary markets of Australia are taking a breather and correcting. But I certainly don't believe we are in for crash or anything like the dire predictions of 40% declines that 60 Minutes like to spruik to drum up media headlines.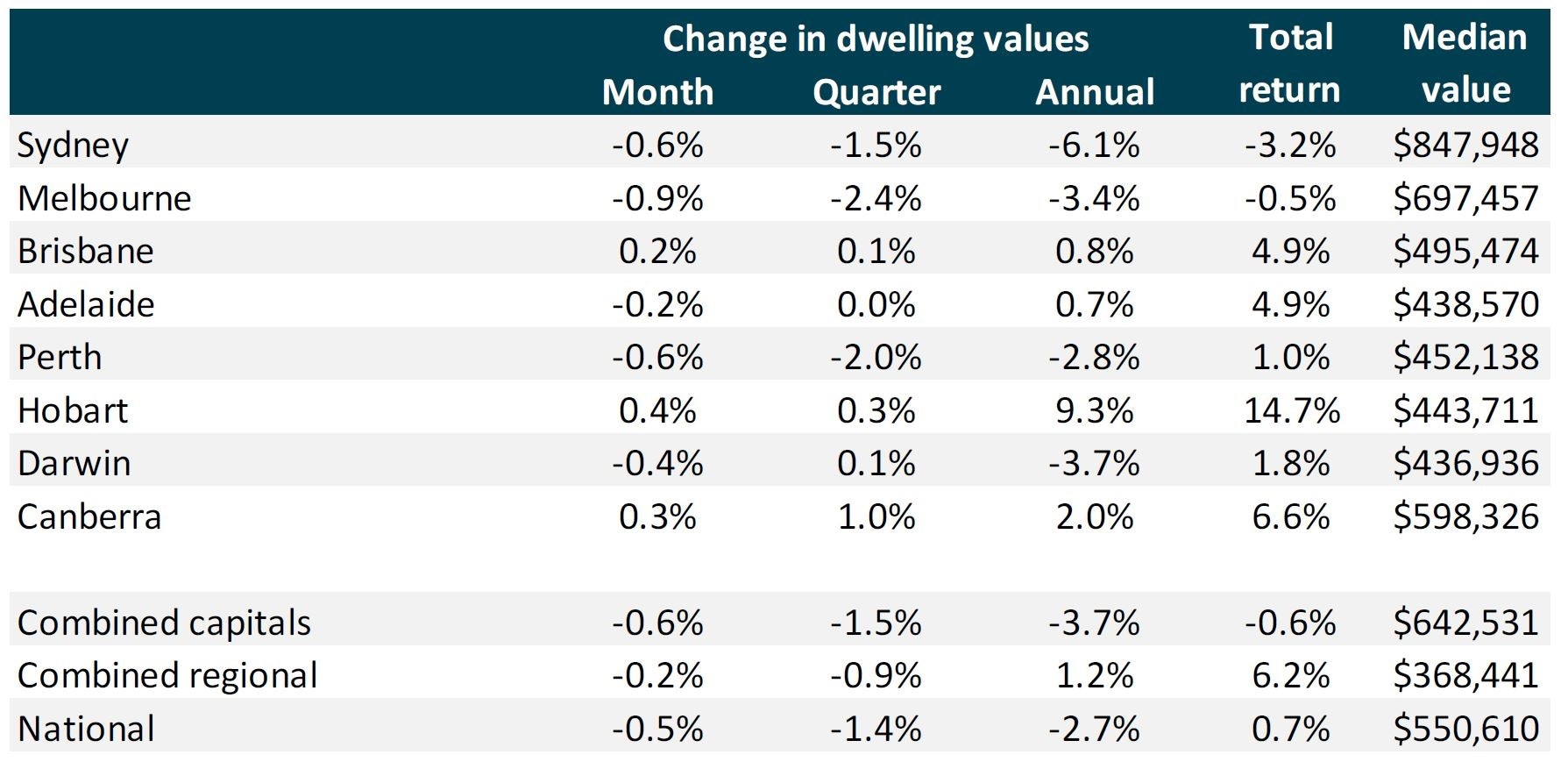 Source: Corelogic 2018
Most agents I speak with say that the "Days on market" is now longer – in Sydney it is now taking around 52 days to sell (up from 40 days last year), whereas during the boom it was down to under 25 days. Melbourne is at 41 days (up from 32 days this time last year). The longer term 10-year average for Sydney is 42 days and Melbourne 43 days according to Corelogic. Vendor discounting is another metric which has been increasing as the market correction takes hold in both Sydney and Melbourne and is currently sitting at around 7% and 5.5% respectively.
However, it is not all doom and gloom. There are really three grades of property selling at the moment – A, B and C grade. "A- grade" properties that are in prime suburbs, well positioned close to amenities, transport, shops and schools, are fully renovated and have outstanding features are still selling well – and there are still a few cases of properties selling over reserve price. "B-grade" properties that are still in good suburbs but located a little further from amenities and have less features and may need an upgrade, are selling at a good discount to long term value. This is an area of the market ripe for opportunity to pick up a potential bargain. "C-grade" properties are those in low demand suburbs, isolated from key amenities, on main roads and in need of serious renovation. Many of these are just not selling.
Click here now to:
A recent survey by NAB (which I take part in) of over 1000 property professionals has indicated prices are expected to decline from peak to trough in Sydney by 10% and Melbourne by 8% over an 18-month period. So, if Corelogic say we are already 6.1% down, then we may not be far off the bottom of the market.
Another survey by ANZ-Property Council of Australia also notes the shift in sentiment toward a market correction and expects interest rates to rise at some point, coupled with greater expectation that credit availability will worsen. On the bright side the Westpac Melbourne Institute consumer sentiment survey is tracked higher to 101.5 points despite lower housing prices. Bill Evans the Westpac Economist said that strong economic growth, strong labour market and ongoing recoveries in weak mining states resulted in more optimism.
Here's the summary. We've got serious headwinds in the property market which are:
Tighter lending restrictions, lower valuations, banking royal commission recommendations yet to announced, correcting market, vendor expectations lagging market reality, federal election in the first half of 2019 and the threat of negative gearing being wound back.
On the flipside, the opportunities in this market abound for:
Home buyers – seeking to tap into previously unaffordable suburbs where prices have come back slightly,

Upgraders/ Downsizers- seeking to capitalise on getting better buying value and not having to rush their decisions,

Investors – taking a long-term view, this is an excellent market to capitalise on cherry picking quality properties in good locations and negotiating hard while sentiment has softened.
What to do next?
My advice to home buyers and investors is speak to your finance broker NOW. Don't wait till lending restrictions become harder and tighter. Get pre-approval and lines of credit set up so you can take advantage of more motivated sellers. If there is a change of government, it could be worthwhile adding another property to your portfolio now before any changes to negative gearing legislation is introduced.
If you'd like help navigating this changing property market, please contact my friendly team of Buyers Agents who would be glad to assist - we give advice without the fear or favour as we are strictly on the buyers' side. Tell us your property brief or call us on 1300 655 615 today.