Pre-Christmas Market Opportunities - December Market Update



December 1, 2022 / Written by Rich Harvey
By Rich Harvey, CEO & Founder, propertybuyer
Written by: Rich Harvey, CEO & Founder
propertybuyer.com.au
Click here to watch Rich's Video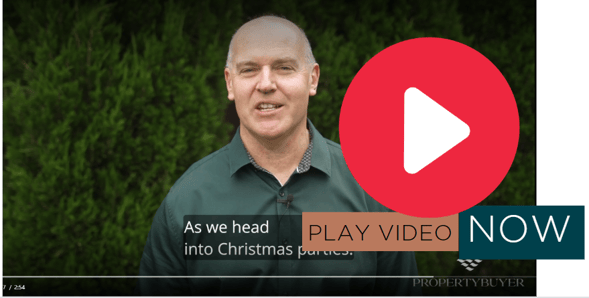 The home I am currently living in was purchased just three days before Christmas many years ago. No surprise we secured it for a fantastic price. We had found the ideal location and a motivated vendor willing to discount the price. I remember the very satisfying feeling of paying the deposit and the agent saying 'Congratulations Rich' - welcome to the neighbourhood.

Putting a property on the Christmas shopping list might seem a stretch too far, but the rewards are significant. You get your weekends back, you can stop scrolling the property portals, you can stop chasing up agents, running between inspections, estimating current value, negotiating with agents, or missing out at auction.

December is a busy month as we prepare for the Christmas holidays, finish our working year, attend various social, community or school events, end of year parties and more. No doubt your time is squeezed. But isn't it ironic that we all tend to make time for things we love to do….and we work better to the deadline of a holiday coming. I know I become incredibly efficient in the week leading up to a holiday. Must be the anticipation thing that releases the right chemicals in my brain and brings clarity and focus on getting important things done.

So why is December a good month to buy a property? Well, the answer is related to the deadline concept I just outlined. Both buyers and sellers are more motivated to transact before the Christmas Day deadline. Vendors are motivated to find certainty knowing their property is sold for a price, while buyers want direction, they are keen to lock in their next home or investment and move ahead with their plans.

My team and I have recently secured some excellent properties for our clients at a good discount to peak pricing last year.


Market Conditions
The property market will still be active right up to Christmas eve this year. There's plenty of pent-up demand from buyers and vendors that were not able to transact during the past 2 years and have delayed for the past 4 months.

The good news for buyers is that prices have come well down from their peak in some capital cities.

According to the official CoreLogic figures, property prices have declined over the past 12 months almost 11% in Sydney, 7% in Melbourne, while Brisbane, Adelaide and Perth are still in positive territory (but are now trending down).

Current median prices are shown below: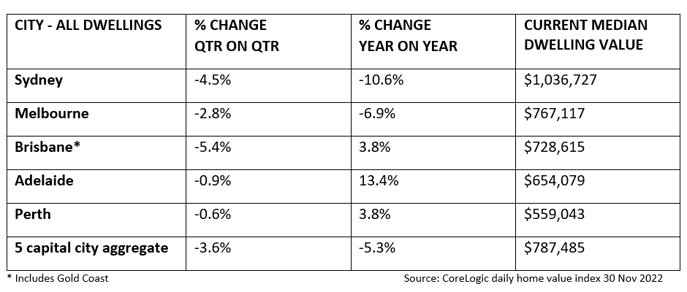 Market Outlook
I will be providing a more detailed market outlook for 2023 in my January newsletter, but for now the key point to highlight is that the bottom of the market is most likely to occur around the time that interest rates will peak – most likely in the first half of 2023.

Louis Christopher, Managing Director of SQM Research, one of the most accurate property forecasters has indicated that the property market will see single digit increases in 2023 under his base case assumptions.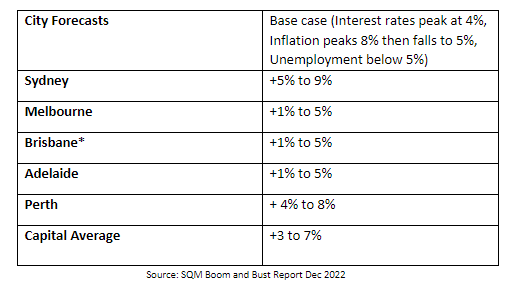 This forecast indicates the property market will move beyond the trough and into the recovery phase during 2023. The significant wave of migrants coming to Australia will help underpin this recovery and see prices move beyond stabilization into the next growth phase.

Reasons to Buy in December
In summary, the pre-Christmas period is a great time to buy property.
• Vendors tend to be more motivated to sell
• Less competition around from other buyers – they are likely to be off at Christmas parties or distracted by life events
• Agents are keen to wrap up the year with another their last sale
• The Christmas deadline helps create a sense of urgency for both buyer and seller
• It's a time of year to reflect on life plans and goals
One of my favourite quotes is this one…"A goal without a deadline is just a dream."
To make something happen you need to take positive action - not just think about.
If you are considering a property move (or know someone that is looking) consider our Appraise & Negotiate Only service if you have found a property and like help estimating the true market value and then negotiating the lowest price. Our professional buyers' advocates will help you every step of the way. Call us to have an initial conversation today on 1300 655 615 or click here to send your enquiry. Even better, just put Propertybuyer on your Christmas wish list and let us bring you the best Christmas gift ever, your dream property.

Wishing you all a very Merry Christmas and safe and joyful New Year!

See you in 2023.

Warm regards,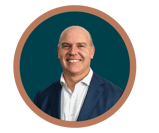 Rich Harvey
Click here to get in touch with the Propertybuyer team:
or call 1300 655 615