Why Have Listing Volumes Been Consistently Declining? - February 2022



February 24, 2022 / Written by Rich Harvey
By Guest Blogger, Pete Wargent,
Next Level Wealth

Why have listing volumes declined?
Total listing volumes in the housing market have declined considerably since 2015.
Having previously run above 375,000, at the last count listings had declined to only around 200,000, according to SQM Research figures.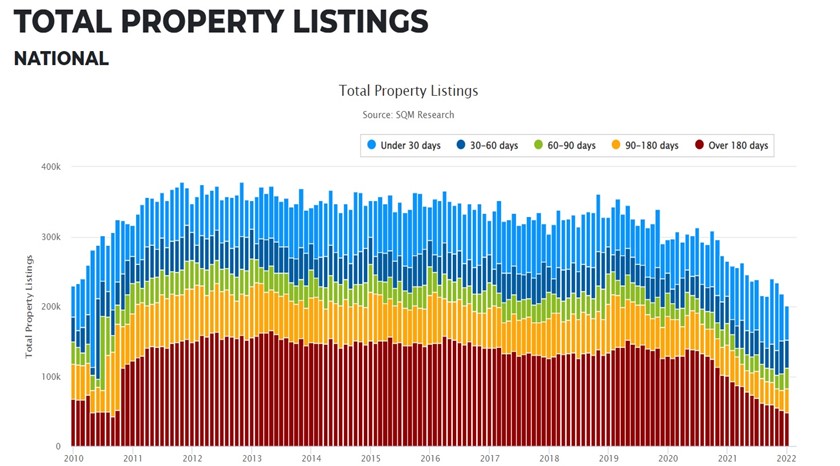 Source: SQM Research
As interest rates fell through the past couple of years, even the older stock listings have cleared, taking stock available for sale down to extremely tight levels, and in turn making life tricky for buyers.
In part this has been due to lower mortgage rates allowing investors to add properties to their portfolio, while the pandemic saw a surge in the purchase of second homes in regional and coastal locations.

Slower turnover
Not only are there fewer properties for sale, on average housing is sold less frequently that it used to.
The Reserve Bank of Australia has previously analysed housing turnover and found that properties are turning over far less frequently than was once the case, for 4 main reasons.

Firstly, the RBA found that housing turnover was exceptionally high during the early 2000s as households enjoyed disinflation, lower interest rates, and a greater borrowing capacity…but then this sugar hit wore off.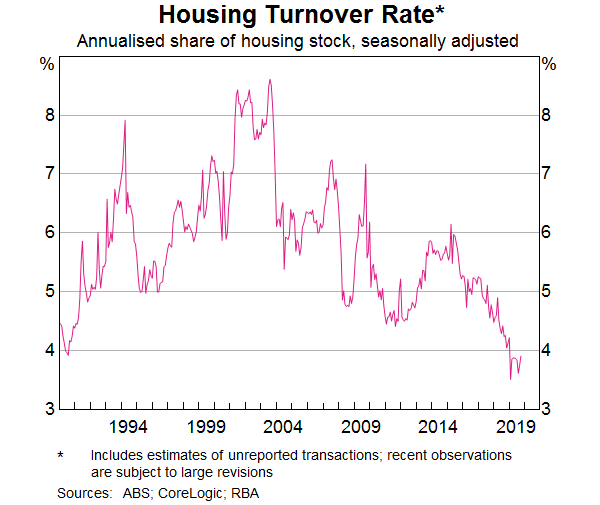 A second factor, according to the Reserve Bank, was a marked decline in interstate migration, after the boom in households relocating from New South Wales to Queensland after Sydney's 2000 Olympics boom.

Notably, south-east Queensland has seen a resurgence in interstate migration recently, this time from Victoria.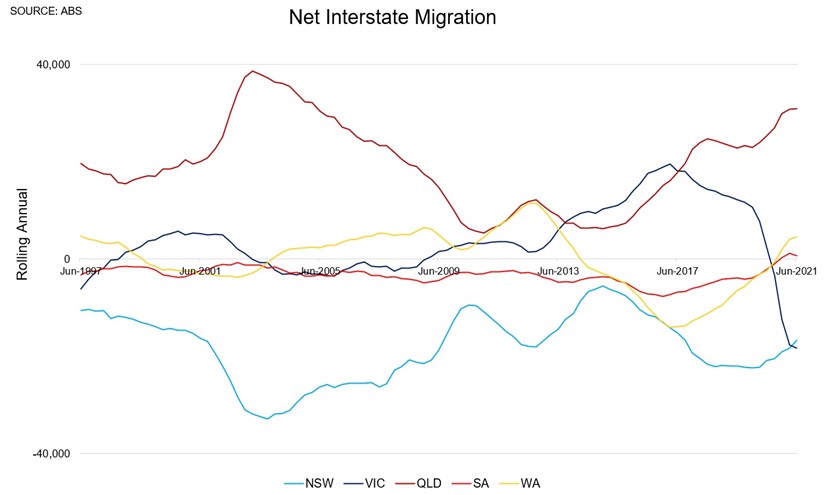 A third driver of lower turnover related to demographics and migration, with first homebuyers entering the market later in life than they used to.

Although you might expect the surge in immigration in Australia through the mining boom to be a boost for housing turnover, it transpires that most new arrivals look to rent initially, especially international students, a cohort which drove a large part of the immigration boom.

It's worth noting that were over 600,000 transactions in 2021, so the housing turnover rate has bounced a little from record lows, but overall, turnover as a percentage of the total housing stock remains much lower than it used to be.

The RBA predicted in 2017 – correctly as it turned out – that lower housing turnover could result in growing mortgage buffers.

Average hold period increases
Fourthly, it's no surprise to learn that one of the key barriers to moving has been stamp duty and transaction costs, with the stamp duty brackets having been originally designed with lower prices in mind.

Homebuyers are staying put and renovating…or undertaking knock-down and rebuild projects.
Because stamp duty costs are so high, the costs of selling and buying can be prohibitive, and the high total transaction costs have become an impediment to relocating.

The transaction costs involved in the buying and selling of real estate also increases the risk of losses for those looking to flip properties.

We caution that the costs of stamp duty, conveyancing, building surveys, and selling fees can increase the risks for those adopting a flipping strategy, especially in the current market conditions.

Longer hold periods
A longer average holding period serves an important function for owners of established dwellings - and that is a reduced risk of capital loss upon resale.

The long-term trend for nominal housing prices in Australia has been consistently upwards, despite periodic recessions and economic downturns.

CoreLogic's annual compound capital growth rates data shows that where owners have retained property for 10 years or more the risk of loss on resale is dramatically reduced, although even then then have been certain cases where prices have displayed negative growth over a decade (most notably in regional Western Australia in recent years).

The average duration of property ownership has increased over recent years, yet the data shows still 5 to 10 per cent properties can sell for a nominal loss, even in a hot market.

The available statistics show that such losses are often related to the purchase of new property which subsequently loses value, and also often relate to the resale of properties within a short timeframe.
Homeowners intuitively understand this, and the average holding period for houses has increased over recent years.

Recently due to low stock levels owners have feared being unable to execute a suitable move, and the average holding period for houses is now more than a decade across most parts of Australia.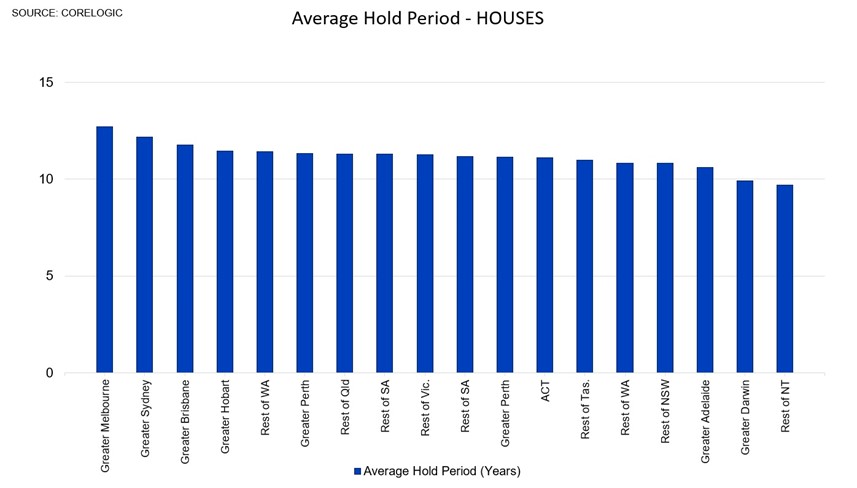 For units and apartments around the country, more commonly purchased and owned younger buyers and investors, the average holding period is typically shorter.

Here too, however, the average tenure of ownership is longer than it once was, with the average holding period for units in the two most mature capital cities, Greater Sydney, and Melbourne, now being close to a decade.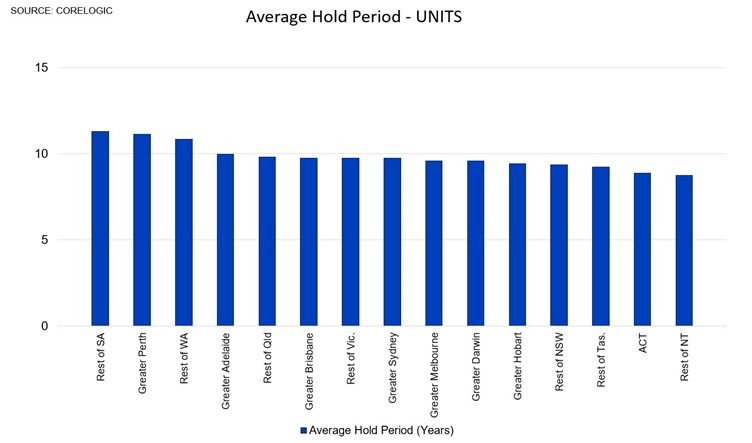 While the mobility of the workforce is important for the economy, the longer duration of ownership has reduced risks for most owners.

Impact on the market
How, then, to reduce risk when buying today?

Focus on properties with a scarcity value, a high land value content – detached houses where the budget permits for the location you're interested in – and take a longer-term view!

What is the impact of these trends on the wider housing market?

It means that, for now at least, it's tougher to find properties to buy, and skilful search and negotiation is important for buyers.

Will total listing volumes ever revert to the levels see saw pre-2015?

Well, markets move in cycles, so most likely we'll find that listings will increase again in time.
When the market goes into its next cyclical downturn, more vendors will become keen to lock in their capital gains.
To have one of the friendly Propertybuyer Buyers' Agents to contact
you in regards to buying property :
or
call on 1300 655 615 today.