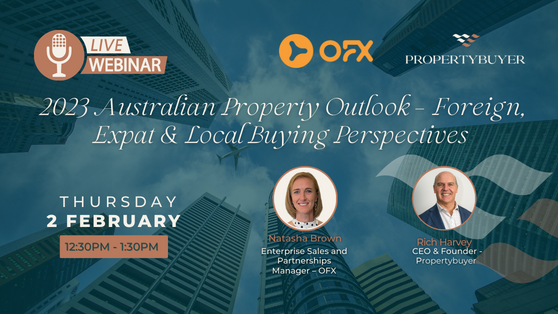 Date: Thursday 2 February 2023
Time: 12.30pm – 1.30pm
Presenters: Rich Harvey, CEO, propertybuyer.com.au
Natasha Brown, Enterprise Sales and Partnerships Manager, OFX
Where: Online Live Webinar
With further interest rate rises predicted in February and March, the Australian economy faces an uncertain future in 2023. Most economists and other property experts are predicting that we will have a "difficult" year ahead.
The era of cheap money is now over and the economic rebuilding after the COVID-19 economic impacts has begun. With migration set to surge and borders reopening what impact will this have on the Australian property market and which areas are set to benefit most?
If you considering a purchase or moving money internationally, you'll also need to carefully consider exchange rates variations. Leveraging specialist FX expertise, Natasha Brown is known for having a genuine interest in helping develop FX strategies to manage cash flows or take advantage of market opportunities to invest in the Australian property market, exchange rate fluctuations and market volatility in a dynamic global market.
We will cover:
• Australian property market update
• Surging immigration impacts
• Borrowing capacity revisited
• Property strategies for maximum ROI
• What drives FX rates – at a glance?
• Introduction to OFX – products and services available and the basics of transferring money internationally
• OFX tools and support available for clients.
Our presenters will be ready to answer any of your specific questions questions in the dedicated Q&A session live on the day. Book your place in our exclusive webinar event now.