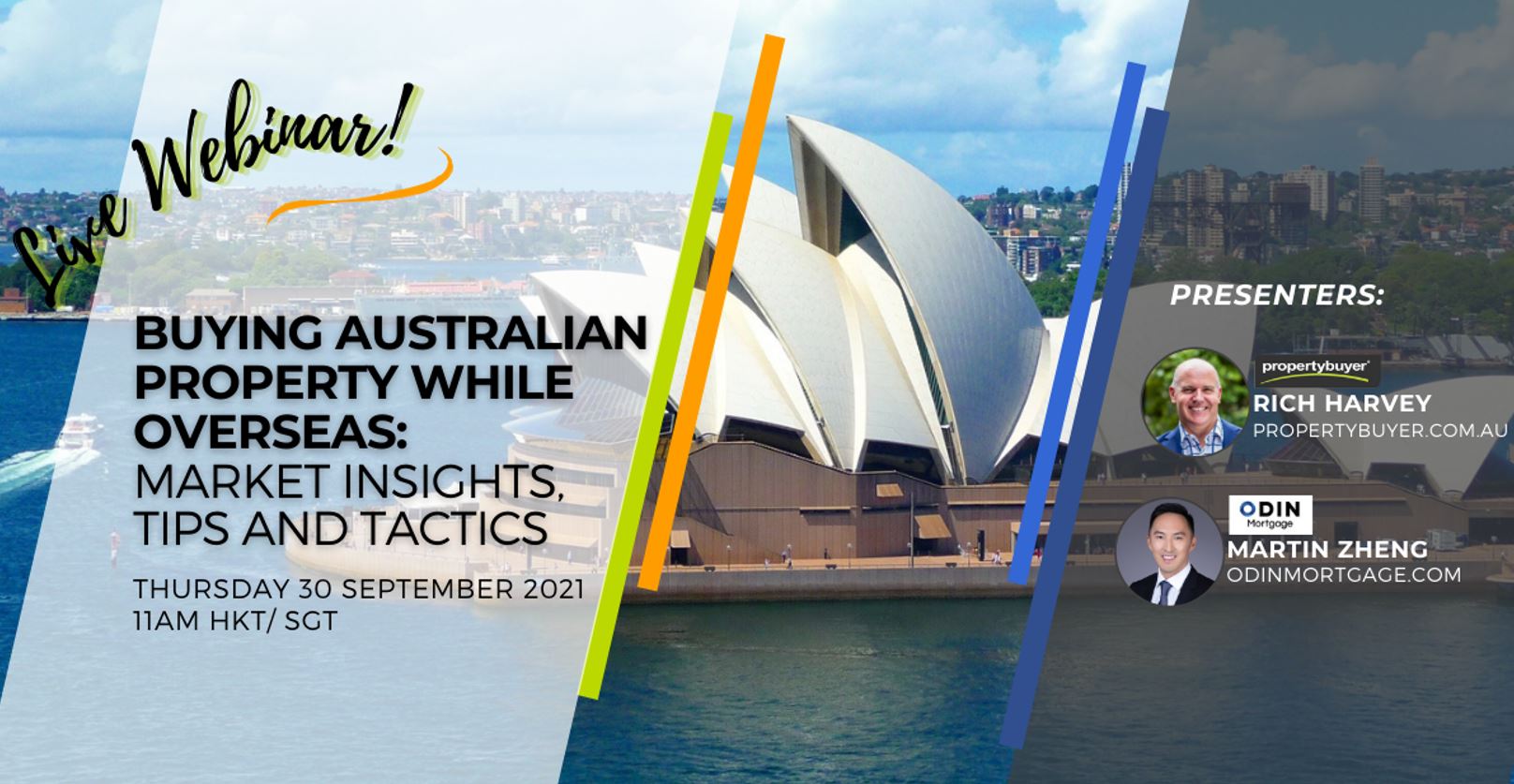 Date: Thursday 30th September 2021

Time: 11am- 12pm Hong Kong / Singapore time (1pm Sydney time)

Presenters: Rich Harvey, CEO, propertybuyer.com.au

Martin Zheng, Odin Mortgage

WATCH REPLAY
The Australian property market has shown considerable resilience throughout the latest lockdowns and extended COVID-19 period. We are witnessing significant price rises in all capital cities and most regional areas – especially attractive lifestyle areas.
Lockdowns have continued to suppress listing volumes creating pricing pressure and pent-up demand.
The property market has grown faster because of COVID-19 and accelerated many trends that were just a trickle before the pandemic.
The question everyone is asking is how long will this boom last?
Many economists predicted a dramatic fall in real estate values when Covid first hit - but the opposite has happened. The reality is that property prices are increasing strongly because of the pandemic.
In this live webinar Australia's most awarded Buyers' Agent, Rich Harvey, CEO of Propertybuyer and Martin Zheng, Co-Founder of Odin Mortgage will be discussing how the current drivers, outlook for the spring selling season and an overview of
the property market in the major capital cities.
• Should I Use An Expat Mortgage Broker?
• How To Avoid Settlement Headaches Via A Pre-Approval
• How To "Cash-out" Equity From Existing Properties To Use As A Down Payment
• How to obtain the most suitable mortgage while living abroad
• The truth about the bank's assessment processes and what options are available now
• The key drivers of this property boom
• How long can this boom last?
• Why the economists got it wrong
• Brief market updates
• Opportunities for home buyers & investors
• The impact of lockdowns on listing volumes & prices
• What a post lockdown property market will look like
• Getting prepared to buy
• Case studies
• Property finance updates
Everyone who registers for this webinar will receive a recording of the event. If you are unavailable to watch it live, please ensure you register so you can watch in your own time.