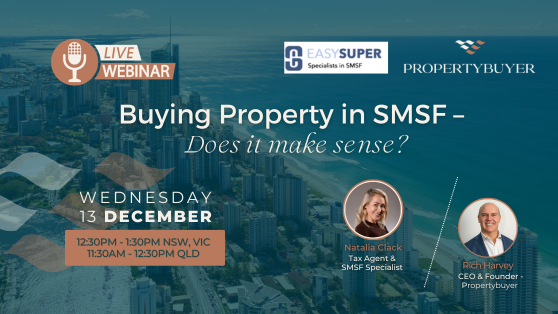 Date: Wednesday 13 December 2023
12.30pm – 1.30pm (Sydney time)

Presenters: Natalia Clack, Director, Tax Agent & SMSF Specialist
Rich Harvey, CEO, propertybuyer.com.au
Where: Online Live Webinar

REGISTER NOW
If you've ever considered buying property in a Self-Managed Super Fund (SMSF), but were unsure about the pros and cons, then this webinar is for you. Depending on your individual circumstances, setting up a SMSF could be a highly efficient and tax effective way to create a solid nest egg for your retirement years.
On Wednesday 13th December Rich Harvey will join SMSF specialist Natalia Clack in discussing a range of topics around buying property in SMSF. They will be discussing:
1. Advantages and disadvantages of SMSF?
2. Tax benefits of the SMSF
3. How to set up SMSF
4. What can I do and cannot do in SMSF?
5. What assets can I buy in SMSF?
6. How can I buy property in SMSF?
7. Can I borrow to buy property in SMSF?
8. Can I do property development in SMSF?
9. Can I buy a property with someone else?
10. When can I live in the property I bought in SMSF?
11. What fees are involved: establishment and annual compliance fees?
12. Is SMSF right for you?
13. What property types are best for your SMSF?