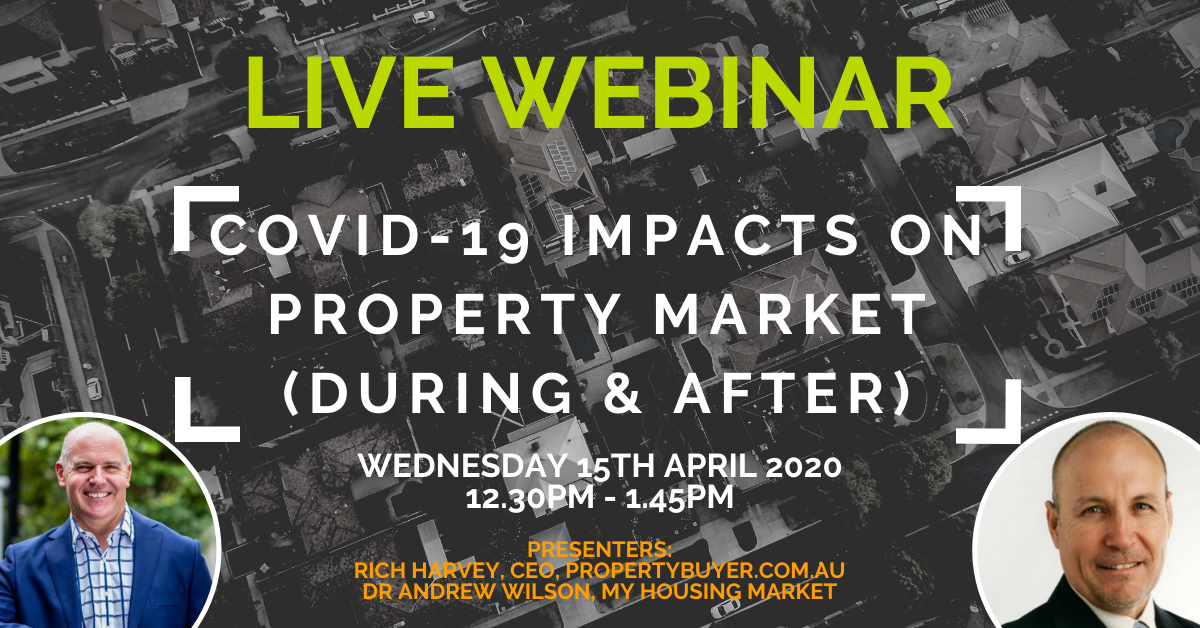 Date: Wednesday 15 April 2020
Time: 12:30 - 1:45pm (Sydney time)
Place: Online
Presented by: Rich Harvey & Dr Andrew Wilson
COVID-19 has impacted us all. It has created a dramatic economic shock worldwide and left many businesses and workers in turmoil. The impact is far-reaching and had an immediate dampening effect on property sentiment. But property fundamentals have not changed - they have just gone on hold and it's now a buyers' market.
We are already seeing signs that strict containment measures are slowing the rate of infection, but what exactly will play out in the property market?
There's no shortage of commentary, but how can you get a factual analysis of what is happening in the property market now and discover when things will settle down?
I've invited Dr Andrew Wilson Chief Economist of My Housing Market to provide some smart insights into the current situation in my next webinar.
Don't miss out, register now for tomorrow's webinar.
Dr Wilson is a long-term property expert and commentator and together we will be addressing the following issues:
Will property prices crash or hold up?

What is the worst case and likely outcome of COVID-19 impacts?

How does coronavirus compare to the GFC?

How should buyers approach the market?

How should vendors approach the market?

What direction for auction clearance rates?

Is this a good time for home buyers to consider a move?

What strategies could property investors employ in this market?

What are the first signs market sentiment is improving? When will it be better?

Banks – What will happen to lending during this crisis?

The Government stimulus package – Is it enough to get us through?

How the real estate industry is continuing to operate.
You will also have the opportunity to ask LIVE questions in real time during the webinar.