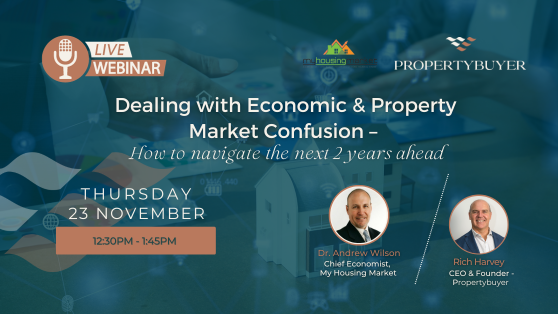 Date: Thursday 23 November 2023
12.30pm – 1.45pm

Presenters: Dr Andrew Wilson, Chief Economist, My Housing Market
Rich Harvey, CEO, propertybuyer.com.au
Where: Online Live Webinar

WATCH REPLAY
Please join our next LIVE webinar on Thursday 23rd November to get a clearer perspective of what is really going on in the economy and the housing market. With depressed consumer sentiment from 13 consecutive interest rate rises, buyer and sellers are becoming more confused about which way to move forward.
We are privileged to have Dr Andrew Wilson, Chief Economist of My Housing Market, to provide his expert insights on the current economic conditions facing all homeowners and property investors.
This webinar will also provide the opportunity a Q&A section to answer your personal questions.
We will cover a wide range of topics including:
• Property outlook for 2023
• Have interest rate rises peaked?
• Are we facing higher inflation for longer?
• How resilient are property prices to a slowing economy?
• Which cities are set to grow in value the most and which will struggle under high interest rates? And why?
• Cost of living pressures
• Will the Fiscal cliff eventuate or this overstated?
• Impact of 12 for interest rates rises
• Migration impacts – has this led to a structural under-supply for the next 5 years?
• How much more will rents rise?
• The impact of inflation on the property market.
• How should buyers and sellers approach the market over the next 2 years?
Learn valuable economic insights to help you make better property decisions by joining this webinar today.