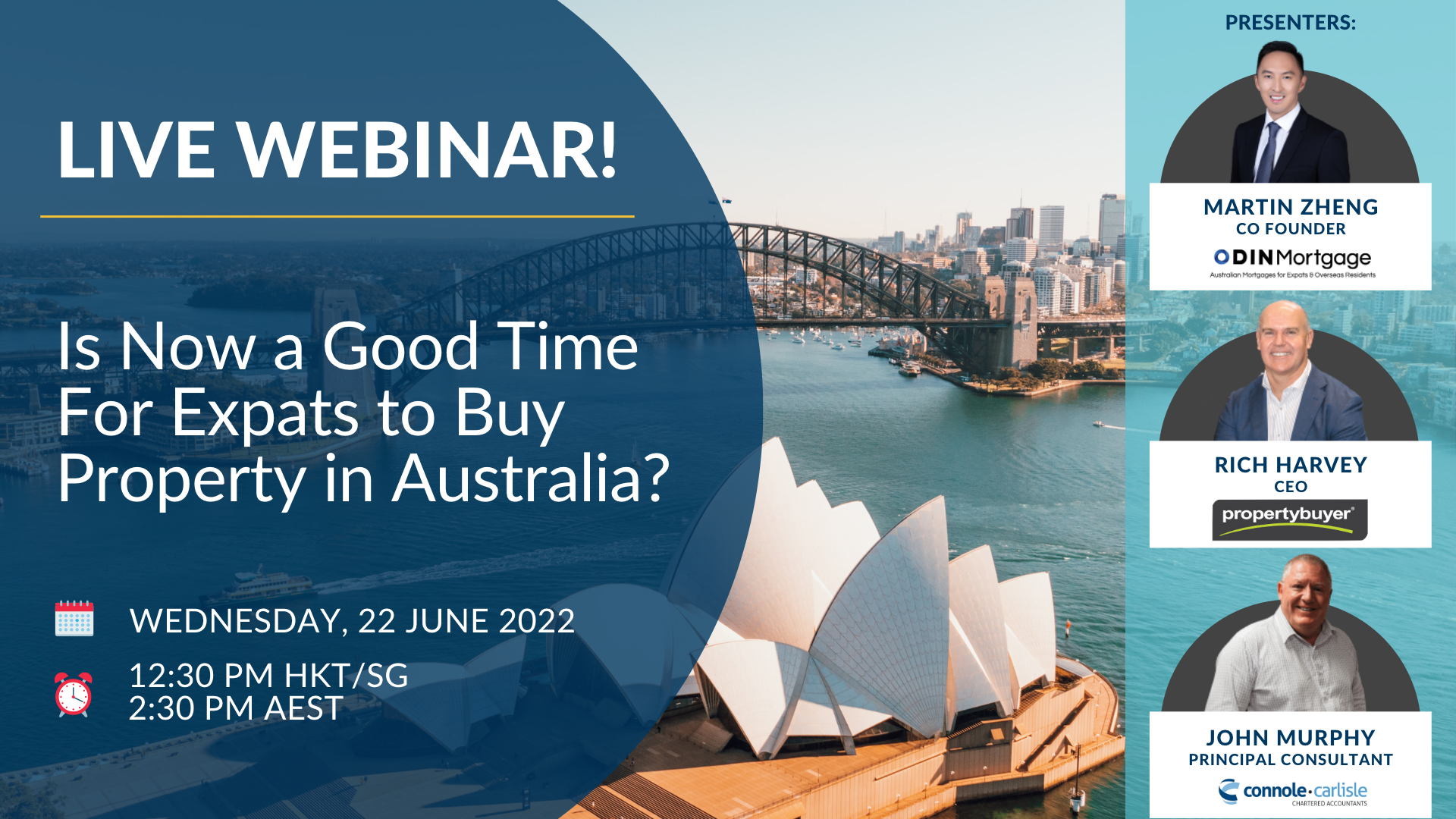 Date: Wednesday, 22nd June 2022

Time: 12:30 pm Hong Kong time, 2.30pm Sydney, Australia time

Presenters: Rich Harvey, CEO, propertybuyer.com.au

Martin Zheng, Co-Founder, Odin Mortgage

John Murphy, Principal Consultant, Connole Carlisle

Where: Online Live Webinar
Australia's property prices have swollen an already bustling property market, with some locations experiencing a 30% price surge- but the times are changing, and we are starting to see lower auction clearance rates and prices correcting and plateauing. We're also seeing interest rates increasing for the first time in almost 12 years.
Is now a good time for you to buy a property back home in Australia, or should you wait a little longer? Will the new Australian government provide any incentives for expat property buyers? Or will expat property purchases become more difficult?
To get the latest property market insights and finance updates join Martin Zheng, Co-Founder of Odin Mortgage, Australia's
most awarded Buyers' Agent
, Rich Harvey, CEO of Propertybuyer and John Murphy, Principal Consultant at Connole Carlisle and expat tax specialist as they discuss the current state of the market, and ensure you'll be ready to put your best foot forward.
The following topics and more will be covered by our experts:
• How will lending and the property market change with the new Australian government
• How will the increasing interest rates affect you?
• Should I buy property now, or wait?
• Key considerations when buying a property
• Australian property market update
• Where are the best places to invest in Australia?
• Tax considerations for expats buying while abroad
Our experts will be ready to answer your burning questions on the day. Find the solutions to your home buying queries and book your place in our exclusive webinar event now.