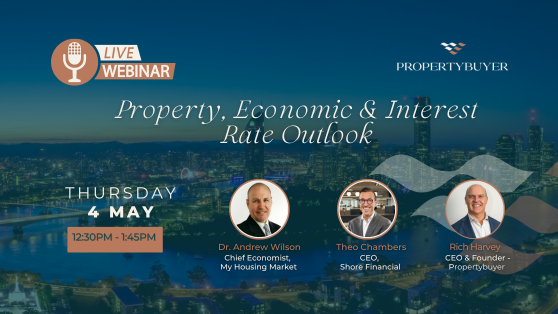 Date: Thursday 4th May 2023
Time: 12.30pm – 1.45pm

Presenters: Rich Harvey, CEO, propertybuyer.com.au
Dr Andrew Wilson, Chief Economist, My Housing Market
Theo Chambers, CEO, Shore Financial

Where: Online Live Webinar
We have special guest Dr Andrew Wilson, Chief Economist of My Housing Market, to discuss the rapidly changing market conditions and the future outlook for the property market, the economy, interest rates and other trends.
We will cover a wide range of topics including:
• How accurate are the current property figures? (discuss time lags with data)
• How did the economic doomsayers and economists' forecasts match up to reality of the market today (ie predicting 25% decline post Covid and we have around 12.5% decline)?
• Will the RBA move again on rates? Or is the tightening cycle done?
• Are we at the bottom of the market? – what are the signs?
• Massive migration impacts
• Rental crisis – how will this unfold?
• Which cities will recover first and why?
• How can buyers and sellers decide when to make their next move?
• Case studies of successful investors
• Mortgage rates – are they moving down?
• Tips for increasing borrowing capacity.
This webinar will give you incredible economic insights into the current market to help you make better property decisions.