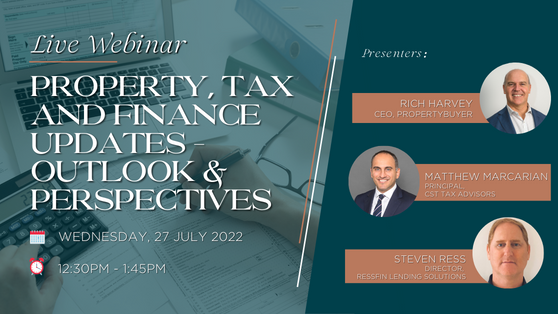 Date: Wednesday, 27th July 2022

Time: 12:30 pm - 1.45pm

Presenters: Rich Harvey, CEO, propertybuyer.com.au

Matthew Marcarian, Principal, CST Tax Advisors

Steven Ress, Director, Resfin Lending Solutions

Where: Online Live Webinar
With a rapidly changing economic environment midway through 2022, it can be easy to lose perspective of the long-term picture. Rising interest rates, high inflation and cost of living pressures, global share market uncertainty and falling consumer sentiment, can leave many of us wondering what is the best financial move to make?
While the media is full of negative headlines about falling property prices, it is in times of the greatest uncertainty where the best opportunities can be found. The data that is reported in the media is often out of date compared to what is happening on the ground. Find out in this webinar when we expect the property market to level out to a new plateau.
With the new financial year just under way, now is an ideal time to do a quick review of your finances, take stock and plan for your future.
In this revealing webinar, you will have the opportunity to hear from Australia's most awarded Buyers Advocate, Rich Harvey, CEO of Propertybuyer. He will be joined by two experts, Matthew Marcarian, Principal, CST Tax Advisors and Steven Ress, Director, Ressfin Lending Solutions. Together they will provide an insightful overview of these questions (and many more live on the day) including:
When is the right time to buy?
Borrowing capacity declining vs prices decline – which will drop faster?
Is property really an inflation hedge during these times?
Debt recycling – using your lazy equity
Rates are normalising – when will they stabilise?
What smart home buyers and investors do in times of uncertainty?
Classic mistakes most investors make around deductibility of Interest
Capital Gains Tax – myths vs reality
How to qualify for the Main residence exemption
The primary challenges around repairs vs Improvements
Five must know facts about Land tax
Latest property market update
Equity and cashflow strategies for investors
How long do downturns typically last?
Case studies of successful investors.
And much more