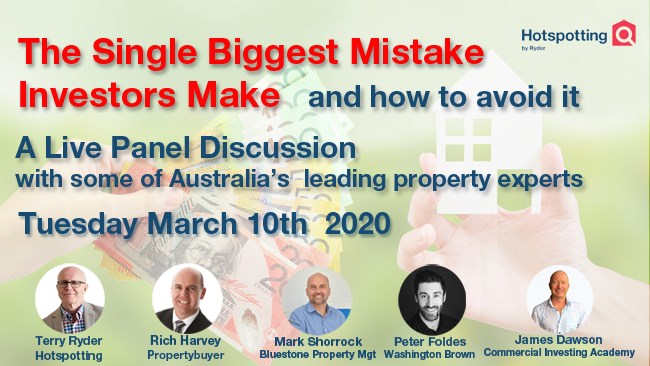 Tuesday 10th March
1pm - 2pm (Sydney time)
Most investors make one big mistake - and all other mistakes flow from this one fundamental error - not spending the time and money to do the necessary research.

Property investment has been described as a "mugs game" in a recent media article, because so many small investors fail to achieve the outcomes they had hoped for. But you will get a poor result if you don't do your preliminary research - spending sufficient time yourself and getting quality information from a range of experts in property and finance.
If you fail to do this research you will end up buying the wrong property, for the wrong price in the wrong location.

Join us for a live panel discussion moderated by Terry Ryder of Hotspotting.
Joining him are Rich Harvey of Propertybuyer, Mark Shorrock of Bluestone Property Management & Sales, Peter Foldes of Washington Brown Depreciation and James Dawson of the Commercial Investing Academy. The panel will be discussing the importance of treating property investment as a business not a hobby - and what you need to do to be successful and join the 1% of investors with multiple investment properties.