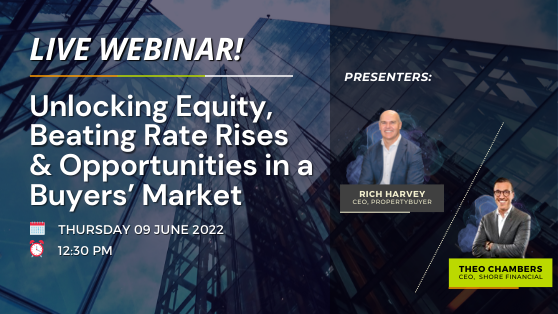 Date: Thursday 9th June 2022

Time: 12.30pm- 2pm

Presenters: Rich Harvey, CEO, propertybuyer.com.au
Theo Chambers, CEO, Shore Financial
In the face of rising interest rates, many potential buyers run for the hills, or sit on their hands waiting for clear market directions. But trying to pick the peak and trough of the property market is a very tricky game. Everyone is an expert in hindsight.
We now have a new Federal Labor Government, the war in Ukraine rages on, interest rates are now rising, inflationary pressures are impacting cost of living, construction costs remain at record highs and rents are going through the roof.
How does the ordinary home buyer and property investor make sense of all that is going on in the economy? Australia is very fortunate to have a stable and responsive economy and we have come through the pandemic in much better shape than many other advanced economies.
In this insightful webinar, we have two experts that will share many decades of experience, and address all your questions, including:
• Is now a good time to buy? Or should I wait?
• Is it really a buyers' market?
• Is it the right time to sell?
• How can I unlock the lazy equity I have in my property and start investing?
• How can I upgrade my home without being priced out of the market?
• Where can I find positive cash flow properties?
• What is the outlook for the property market in the year ahead?
Plus we will have an open question and answer time to address all your questions.