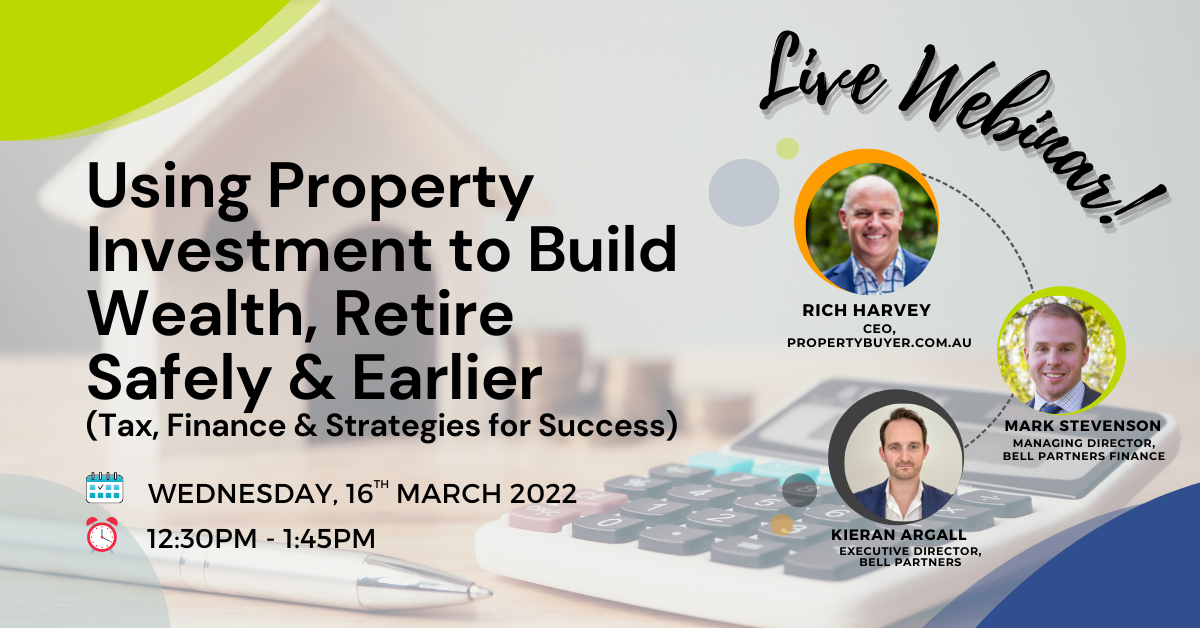 Date: Wednesday 16th March 2022

Time: 12.30pm- 1.35pm (Sydney time)

Presenters: Rich Harvey, CEO, propertybuyer.com.au
Kieran Argall, Exec Director, Bell Partners
Mark Stevenson , Managing Director, Bell Partners Finance


WATCH REPLAY
We've all thought about investing in property to create a secure financial future….but how many of us have taken action and actually bought a portfolio of quality investment properties that provide ongoing positive cashflow and strong capital growth?
It's one think to think about, research and analyse property options, but no amount of pondering will achieve your goals as compared taking a positive step forward and buying a property in today's market.
But you need to be careful about exactly what and where you buy. There's plenty of traps for the unwary and uneducated. Property spruikers abound and will sell you over-priced property in over-supplied markets. How can you get independent and unbiased advice and who should you trust when it comes to making property investment decisions?
In this revealing webinar, you will have the opportunity to hear from Australia's most awarded and trusted Buyers Advocate, Rich Harvey, CEO of propertybuyer. He will be joined by two experts, Kieran Argall and Mark Stevenson from Bell Partners. Together they will provide an insightful overview of these questions (and many more live on the day) including:
How many investment properties do I need to retire on $150,000pa?
Is now a good time to invest? Will the boom turn into a crash?
Residential vs Commercial? Which is better?
How will the property market perform this year?
What should I look for in my next property investment?
The biggest tax mistakes property investors make.
How can I legally reduce my tax?
Depreciation – is it worth it?
Debt/ finance structuring? How can I borrow more efficiently?
Fixed vs Variable? How do you decide?
How to maximise your borrowing capacity?
Case studies of successful investors.
And much more
This is one webinar you MUST ATTEND. Get real insights into real issues so you are confident with your property decisions.
We look forward to seeing you on the webinar.