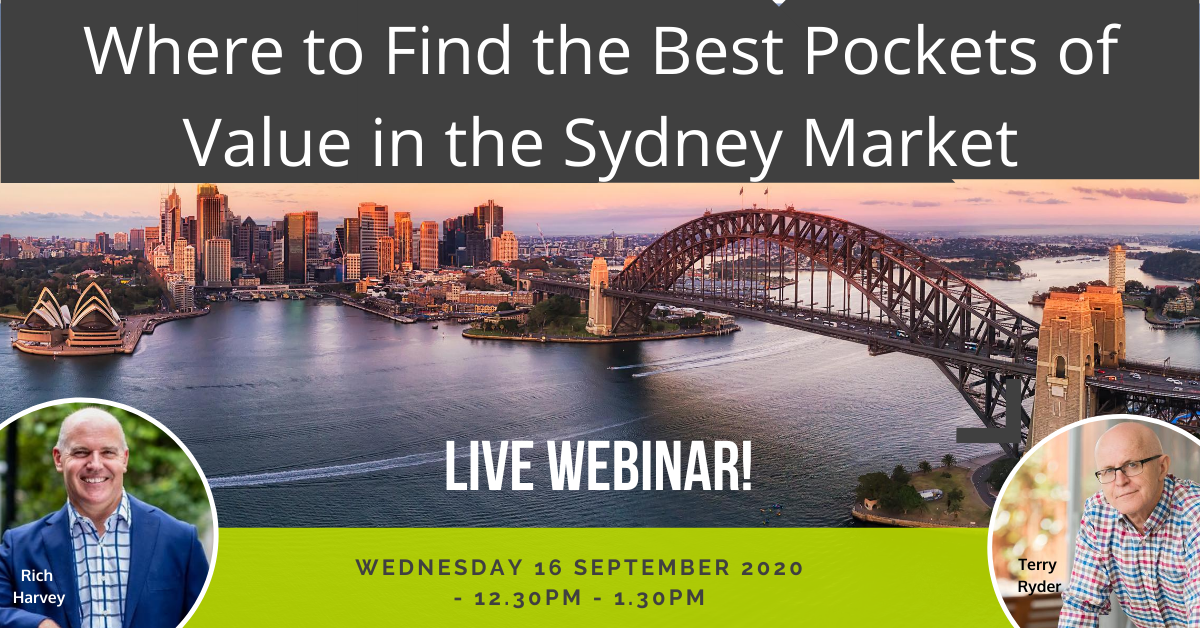 Wednesday 16th September 2020

Time: 12.30pm - 1.30pm

Webinar Replay

Presented by: Rich Harvey, Propertybuyer

Terry Ryder, hotspotting.com.au
Finding the best value property is the goal of every property buyer. But where can home buyers and investors find genuine pockets of value in Sydney's property market? Prices have declined but remain quite resilient in the face of the economic lockdown.
The spring property season has just commenced, and we traditionally see an increase in listings at this time of year. However, Covid has dented consumer confidence and the recession is starting to bite and the overall volume of listings is low, driving some buyers crazy.
In this live webinar we will be revealing the top 5 regions of Sydney where you can buy good quality properties with excellent value. Choosing a location to live or invest is not just a matter of hearing a hot tip – its about selecting a suburb that has strong fundamental drivers of long-term growth.
Multi-award-winning Buyers' Agent Rich Harvey, CEO of Propertybuyer and respected researcher and commentator Terry Ryder Founder of Hotspotting.com.au will review the current landscape of the Sydney market to help you discover the best pockets of value.
They will be discussing:
What's really happening in the inner, middle and outer rings of Sydney?
How should buyers navigate this changing covid impacted market?
Will the so-called "fiscal cliff" materialise once job-keeper finishes?
What suburbs are showing the best value in this market?
With prices coming back - how much further could they fall?
Are some regions holding up better than others and why?
When will listing volumes start to rise – what is holding vendors back?
What trends has covid created and will this continue once a vaccine is found?
Is now a good time for home buyers looking to upsize or downsize?
Is now a good time for investors?
What is happening in the rental market?