2023 Property Market Outlook - January Market Update



January 1, 2023 / Written by Rich Harvey
By Rich Harvey, CEO & Founder, propertybuyer
Written by: Rich Harvey, CEO & Founder
propertybuyer.com.au
Click here to watch Rich's Video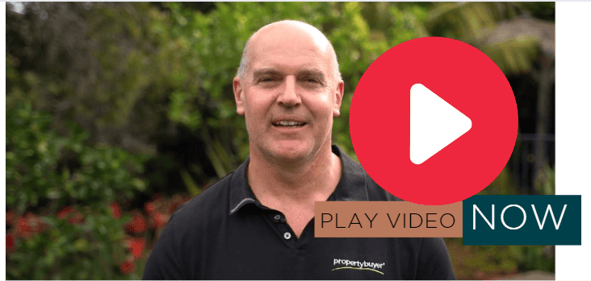 Welcome to 2023! I hope you enjoyed a wonderful Christmas and New Year break with family and friends. How is the property market shaping up for the year ahead? With swathes of borrowers coming off fixed interest loans, will there be mortgage carnage? How resilient will property prices be in the face of higher interest rates? And with demand surging from migration, will we see a rental crisis unfold? To uncover the answers to all these questions and more, see my insights below.
------------------------------------
At the beginning of 2020 we were just getting the first reports of a new virus called COVID-19 coming out of China - and plenty of fear and misinformation permeated the media headlines. It was predicted property prices could drop 30% and a major economic recession may potentially unfold. How wrong was that forecast! At the beginning of 2021, the property market exploded out of the blocks. There was a huge pent-up demand for property and buyers became gripped by FOMO. We saw property prices surge at their fastest rate ever.
In Jan 2022, buyers were fatigued and waiting for the natural correction to occur. The massive capital gains induced by ultra-low interest rates were about to be pegged back by the chatter of looming interest rate rises that were required to tame run-away inflation.
The tables below summarises where we finished the year in December 2022. The key takeaway here is that median house and unit prices for each of the capital cities are still well ahead of pre-covid levels even after allowing for current corrections.


In 2023 a wide confluence of factors will impact the property market. Here's eight key things to watch in the year ahead.
1. INTEREST RATES
At the time of writing, the cash rate is 3.1%. The RBA has indicated it is doing whatever is necessary to bring inflation under control and into its prepared range. I'm predicting interest rates will peak at 3.6% sometime in Q1 or Q2 (this is also in line with NAB's forecast). There is already good evidence that inflation has peaked, and the worm is now turning downwards. The question is just how fast will inflation decline? The inflation deceleration rate will determine the level of interest rates required to stabilise demand in the economy. However, I believe there is also likely to be two rate cuts in late Q4 or early 2024 to stimulate the economy again.
2. MORTGAGE PAIN
The real impact of previous interest rate rises will only hit the hip pocket nerve of consumers somewhere between six to nine months after they were introduced. Given that the first interest rate rise was May 2022, it is likely that consumers will feel the most significant pinch from Q2 onwards. This period also coincides at the time when a large number of borrowers come off fixed interest loan repayments of circa 2% and switched to variable interest rates of circa 5.5%+. I expect to see some borrowers quite stretched and worried, but I don't expect to see widespread mortgage defaults. Some property owners will panic and sell out while others will make adjustments to hold steady and absorb the higher repayments.
3. MIGRATION WAVE
The massive backlog of visa applications at the Home Office demonstrates the tidal wave of migrants coming and seeking to call Australia home. I would not be surprised to see the overseas migration cap lifted from the current level of 195,000 to something like another 30,000 plus places. Added to this is also a significant number of temporary visa holders that come for several years at a time. Australia is still desperately short of skilled workers in a whole range of industries, and for us to be competitive on the world stage we need to rapidly ramp up our national productivity. The sheer volume of migrants coming will place considerable strain on the already limited number of rental homes available.
4. RISING RENTS
During 2022 we saw average national rental increases of over 10%. Given the shortage of rental properties it is likely that we'll see rents rise a further 5% to 7% over the course of 2023. This is great news if you are a landlord as it will boost your yield, but this is challenging news if you are a tenant as you will have to budget for additional rent increases. Building approvals are trending downward due to increased construction and funding costs which will further exacerbate the rental crisis.
5. BORROWING CAPACITY
The rapid rise in interest rates has reduced borrowing capacity by 22% on average in the past year for most people. Any further rises will continue to diminish borrowing capacity. This has an immediate effect on the property market, as it limits the buyer's capacity to pay higher or even market prices. Don't expect to see too many auction records set during the coming year.
6. INVESTORS COMING BACK
I expect to see reasonable numbers of property investors enter the property market in 2023, chasing strong yield properties and seeking to get a foothold in to the property market for capital gain before it commences its next growth phase coming off the latest correction.
7. EXCHANGE RATES & EXPATS
With the Aussie dollar declining around 10% in value over the past calendar year, and property prices reducing 10% to 15% or more, this has made it the ideal conditions for expats and foreign buyers to consider a move to secure Australian property. With Australian interest rates likely to stay lower compared to other advanced economies, this will put downward pressure on the Aussie dollar and continue to make the exchange rate conversion attractive for expat buyers.
8. REGIONAL REGRET
A recent survey of over 5000 people by Real Insurance in conjunction with CoreData research group found that 58% percent of those who made a move to country or coastal locations away from the major cities regretted their move and were planning to return to the city (35% already moving and 23% within the next 2 years). This has implications for both regional and city locations. The continued migration to the Southeast Queensland areas of Gold Coast, Brisbane and Sunshine Coast looks set to continue strongly.
2023 MARKET OUTLOOK
The year ahead will see the property market experience some twists and turns, with much resting on when interest rates peak and the timing and flow through effects. The good news is that the property market is already well through the rapid decline period and should stabilise in Q1 or Q2 and find a floor, moving from correction phase to the next growth phase.
SQM Research Managing Director, Louis Christopher, is predicting the property market will see single digit increases in 2023 for all capital cities under his base case assumptions.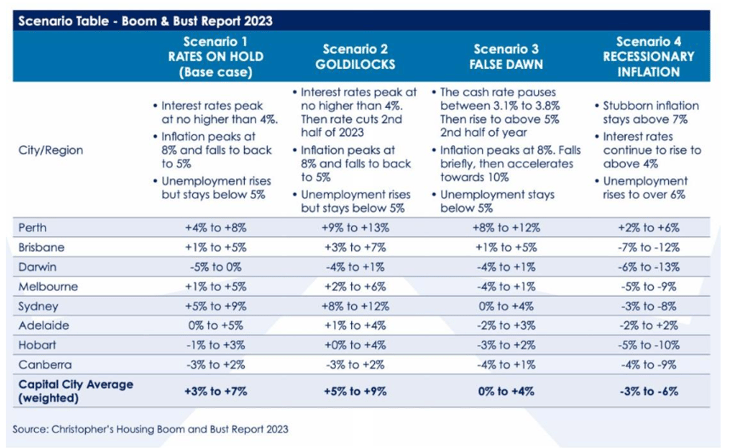 If you'd like to get your property plans on track in 2023, please reach out to my team of professional buyers' advocates for an initial no obligation discussion today. We'd love to assist you. I recommend you take a long-term perspective. Please don't buy property based on media headlines and sound bites. There will be some good buying opportunities this year. Buy when you can afford to buy!
Click here to get in touch with the Propertybuyer team:
or call 1300 655 615