3 Reasons to be a Patient Property Investor - November 2019



November 7, 2019 / Written by Rich Harvey
By Guest Blogger, Pete Wargent,
Next Level Wealth - www.gonextlevelwealth.com.au
Warren Buffett had this to say on investing:
'Successful Investing takes time, discipline and patience.
No matter how great the talent or effort, some things just take time.
You can't produce a baby in one month by getting nine women pregnant.'
Buffett has a unique way with words, it must be said.
And, as usual, he's on the money!
Here are 3 reasons why it pays to be a patient property investor.
1 – The big returns come later
Compound growth may be the most powerful force in the universe, but still it takes time to work in your favour.
Market timing is important, but time in the market matters just as much in real estate.
The significant transactions costs make buying and selling too regularly both costly and unattractive.
Look at how a well-chosen $1 million asset can grow your wealth over time.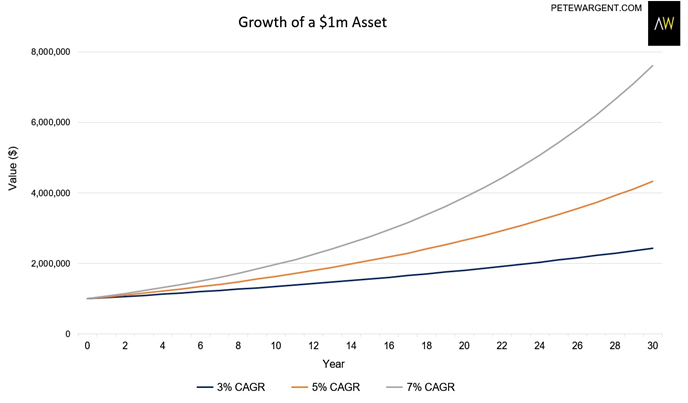 Which is, to say, steadily at first…and then dramatically!
The big payoff comes down the track.
Yet overwhelmingly investors tend to sell their investments within only a short few years.
A lack of patience can be a very costly trait over the long run!
The chart does underscore the importance of asset selection.
If you have a poor investment with few prospects then time can't cure that.
Time is, after all, the friend of the wonderful investment, but the enemy of the mediocre.
2 – Growth isn't linear
Although we might like to imagine a smooth line arcing ever skywards, in real-world property markets price growth is rarely so linear.
Instead markets go through cycles.
These cycles include periods of over-building and under supply, times went rents are flat or spiking, and times when selling prices may fall for a time before gapping higher when positive sentiment returns.
After two years in the doldrums from 2017 to 2019 we're now seeing a period of prices gapping higher again in Sydney and Melbourne.
Creating significant wealth in real estate - through the use of leverage and compound growth - normally requires you to be successfully invested through several such up-cycles.
And this means you need to show patience if you've bought investment grade property.
3 – Supply and demand wins in the end
With the rise and rise of online media and click-bait articles there is more scrutiny of the housing market than at any time in history.
As the cycles ebb and flow there will periodically be pressure on central banks and prudential regulators to tweak with policy settings to dial demand up or down.
Perhaps we'll see this more and more in the future.
But here's the thing: at the macro level policy can make a difference to median prices and market sentiment.
But at the micro level policymakers can never determine what plays out.
If you invest in assets where demand outstrips supply over the long run, you'll prosper regardless of market meddling.
It's easy to find the areas where supply is restricted if you have a basic level of competence with data.
And what drives demand for housing?
Population growth, employment opportunities, infrastructure, transport connectivity, and aspirational locations where income and equity growth are higher than average.
An experienced buyer's agent can help uncover the specific suburbs and streets where those investment grade properties can be found.
To have one of our friendly Buyers' Agents to contact you in regards to buying property :
or
call us on 1300 655 615 today.