Buying & Selling in Winter - July 2019



July 2, 2019 / Written by Rich Harvey
By Rich Harvey, CEO & Founder propertybuyer
Written by: Rich Harvey, CEO & Founder
propertybuyer.com.au
Click here to watch Rich's Brief Market Update: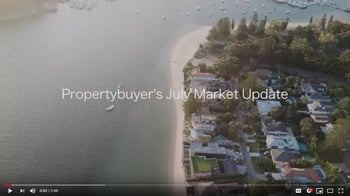 or continue reading below...
How important is the season to the psychology of buyers and sellers? What impact does weather play on our emotions?
Supply and Demand
Contrary to public opinion, winter is an excellent time to buy and sell real estate. The primary reason is that it comes down to supply and demand. During the winter months we typically see some hibernation behaviour by both buyers and sellers. There is not as many properties listed on the market, so there is a shortage of stock available for the buyer pool. There are still committed buyers out there looking despite the cold. There is less buyer competition in winter meaning you have a better chance at auction or in the negotiation phase to secure your home without an all-out bidding war.
Avoid the Herd Mentality
Most vendors wait until spring to list their homes for sale and many purchasers follow suit. Buying in winter may seem to be going against what the majority of buyers are doing – but this is precisely the strategy you need to employ to get a jump on your competition. When fresh listings come on the market in winter, buyers are watching and waiting for the ideal property to come up. Some vendors wrongly think that by waiting till spring they will get a better price. In fact, there are more listings in spring which may push your selling price down. Selling in winter may result in a better price.
As the property market nears the bottom and prices flatten out, buyers should not have a fear of missing out (FOMO). On the flipside, vendors should not expect the market to boom again anytime soon. We are likely to see a more stable and balanced property market.
Listing Seasonality
Agents sell properties all year round, but the two main peaks in the year occur in the lead up to Easter in March/ April and then again in spring during October/ November.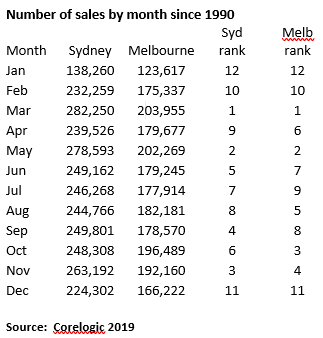 The slowest months across Sydney and Melbourne (based on long term average) are typically January, December, February. The strongest months are March, May and November for Sydney, and March, May and October for Melbourne.
What's Your Aspect?
The weather can influence our emotions more than we realise. Bright sunny days have us skipping along with a smile on our face, while a week of wet weather can see us tired and grumpy and kicking the dog. Searching for property on cold winter days requires commitment and persistence.
If you are selling a north facing or west facing home, this is ideal for a winter listing. The natural light streams in the windows and you can feel cosy and warm on the inside of the glass. However, if your property is south facing or in a deep gulley, it may be better to wait till spring when more sun can penetrate.
Here's my eight tips for why buying and selling in winter makes sense:
Why Buy in Winter
Less buyer competition
Test if enough natural light
Good properties still come up.
Avoid the Christmas rush
Why Sell in Winter
Less vendor competition
Buyers still motivated to buy
Tax considerations
Avoid the spring rush
Winter is an ideal time to sell or buy as any other time of year. The key is to understand that quality property trades all year round – it's just in winter you have less competition (and don't forget your coat!)
To speed up your search, tap into a wider pool of properties and negotiate the lowest price, speak to my friendly team of buyers' agents or send us your wishlist today.
or call us on 1300 655 615 today. We'd be delighted to help.