Fence Sitting Buyers - When To Jump Off? - October Market Update



October 1, 2022 / Written by Rich Harvey
By Rich Harvey, CEO & Founder, propertybuyer
Written by: Rich Harvey, CEO & Founder
propertybuyer.com.au
Click here to watch Rich's Video of the October Market Update:
When will the property market level out? This is the classic question I am asked everyday – or in other words, should home buyers and investors buy now or wait?
Rising interest rates are dominating the media headlines and making consumers very wary. There's a plethora of headlines sensationalising what's going on in the market and the globe. On the ground we are seeing good quality properties still in high demand and in a competitive buying situation. Yes, property prices in Sydney are down between 7% to 12%, Melbourne down around 5% and Brisbane is just starting to slow. But we are also seeing some solid results at auction for high quality properties, located in premium positions and presented well.
The good news for buyers is that prices are likely to correct another 5% but then they will level out. And it is during these times of extremely negative consumer sentiment and uncertainty that there is less buyer competition around which provides the best opportunity for buyers to negotiate the lowest price.
The time periods for these downturns is typically measured in months and not years. In my previous updates and blogs, I have outlined the extent of downturns over the past 40 years and in the chart by Dr Andrew Wilson, Chief Economist at My Housing Market, it is patently obvious that the savvy buyers did best when buying during the downturns.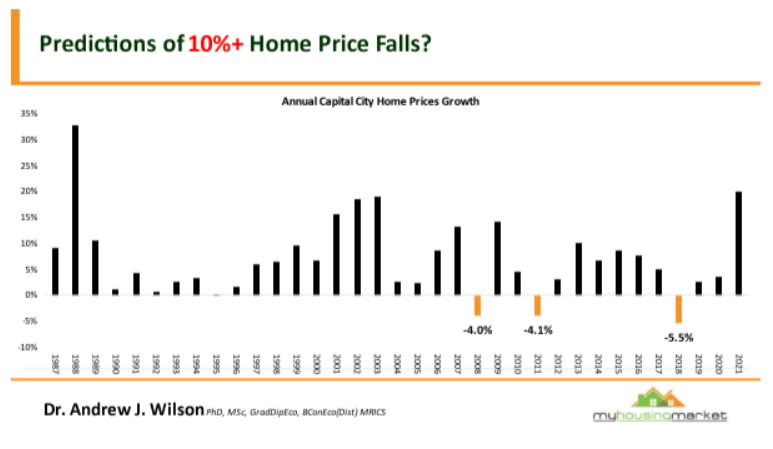 It's important to remember that the bottom of the market is not a specific date, but it's a process, and we typically don't know when we've reached the bottom of the market until a couple of months afterwards, as the data is backward looking.
So what exactly are the market signals that you could be looking for to identify if the market is potentially levelling out? As a buyers advocate in the market every day, I notice these particular trends before the average buyer.
We notice that the number of people attending open homes begins to pick up again. We notice that the conversations between buyers and selling agents starts to become more serious and we see multiple requests for contract reviews. Competition starts to rise, and a few more bidders appear on the sidelines at auctions. Mortgage brokers start to see an uptick in the volume of applications for purchasing rather than just refinancing.
At a macro level, the signs that the market has reached the bottom include a deceleration in price falls, auction clearance rates staying above 60%, and the days on market starting to fall again.
The giant elephant in the room is simply the question of how high interest rates will go. Bank economists keep changing their forecasts depending on the latest datasets. In my webinar with Dr Andrew Wilson last week, he highlighted that the inflation rate will peak a lot sooner than expected (likely around 7% by end of 2022) - which means that the rapidly rising interest rates will come to a screaming halt. It now seems likely that the cash rate will stabilise somewhere between 3% to 3.25% by early 2023.
What this will mean is that the property market will stabilise most likely by the end of this year or very early in 2023. We are then likely to see a more balanced market between buyers and sellers and an uptick in buyer activity. I always find it so strange that buyers tend to follow the herd mentality and do nothing. Dr Wilson pointed out that our housing markets are still seeing some price falls but are fundamentally robust and we are starting to see signs of recovery now emerging. In summary, Dr Wilson believes:
Key inflation drivers are easing – rates may now peak lower and earlier than predicted
Booming national economy is well-positioned to absorb higher rates
House price growth has eased through 2022 as rising affordability barriers from the 2021 booming markets sidelined buyers
Rising Interest rates have also constrained prices growth – and typically impact confidence in the shorter-term
Underlying demand however will remain above supply reflecting recent underbuilding and resumption of migration.
Covid outbreaks proved to be a temporary, short-term interferences to overall robust housing market activity
The shorter-term outlook is for easing home prices driven by the usual rising interest rates fear-factor (FOBI – Fear of Being Involved)
Early signs emerging that recent price declines may ease sooner than predicted – showing a remarkable net 4 year growth.
Reasons to wait
The psychology of fence-sitting buyers is they think that by waiting they:
Will be able to save more for deposit
Will pay a lower price because prices are still dropping
Outsmart the property market amidst an uncertain world economy
The fence sitter has a misguided belief they can pick the bottom of the market. No one has perfect judgement, and if you plan to hold a high-quality asset in an excellent location then picking the bottom of the market does not really matter. In fact, as a buyer you have two simple choices:
You can wait for prices to fall further and lose borrowing capacity, or


You can act now and get a good discount off the price anyway.
Reasons to buy now
But there are two FUNDAMENTAL differences that will apply to fence sitters that try to outsmart the market:
If you wait till the market stabilises, then you will be competing with a herd of other buyers that also see the market in this light, and hence you'll have a stack more competition.


Your borrowing capacity maybe severely impacted so that you can no longer afford to buy the property that you desire. Your borrowing capacity will decline at a faster rate than what the market prices are declining. So your bank or broker may tell you that you may need to seriously reset your finance amount and property expectations.


The other very compelling reason to consider buying sooner rather than later is the massive wave of immigration that is set to hit Australia. The immigration ramp up has barely begun and yet we have rents rising at more than 20% per annum, vacancy rates at 1% or less and a critical vacancy shortage in our capital cities.
The most likely scenario that will play out is that migration and population growth will steamroll all other macro-economic factors and continue to drive rising demand for housing over the next decade.
So many buyers lament not buying during the COVID downturn – you now have a rare second chance. At Propertybuyer we are seeing a very strong uptake in clients looking to capitalise on these market conditions. Join them before it's too late!
Next Steps.
If you'd like to discuss your property plans, please call my professional team today on 1300 655 615 or click here to make an enquiry. We'd be delighted to help.
Click here to get in touch with the Propertybuyer team:
or call 1300 655 615