Five Signs of Buyer Fatigue - June Market Update



June 1, 2021 / Written by Rich Harvey
By Rich Harvey, CEO & Founder, propertybuyer
Written by: Rich Harvey, CEO & Founder
propertybuyer.com.au
Click here to watch Rich's Video of the June Market Update: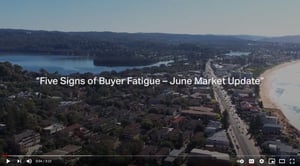 In a booming property market, it's easy for buyers to become disillusioned and disheartened. The market became white hot between February and April this year, but I've seen some fresh signs of small moderation and now classify the market as red hot.

Prices continued to rise during May but at a slower pace than what we've seen in the previous quarter. The latest Corelogic figures reveal that during May, Sydney saw a monthly rise of 2.7%, Melbourne 1.6%, Brisbane 1.7% and Adelaide 1.6%.

The depth of buyers is still quite strong, but the numbers of bidders at auction and open home inspections has reduced from the ridiculously high levels that we saw during March and April.
Buyers continue to scramble over each other to get a slice of the property market and push prices higher, leaving behind a trial of frustrated and severely disappointed buyers.

Here's five key signs you may have "Buyers Fatigue":


1. Overlooked by agents
In a hot market, real estate agents are typically hammered with enquiries within hours of a new listing going online. The sheer volume of enquiries often makes it very difficult for the agents to call everyone back. I've heard several stories on social media of potential buyers trying to put in offers with selling agents straight away when listed and the selling agents are not getting back to them and the property has then been sold to someone else without a call to the buyers when they would have been happy to pay more.


2. Overwhelmed by the competition
Standing at an auction with your bidding card in hand and surveying the backyard with 25 other registered bidders can no doubt be intimidating. The majority of free-standing homes in Sydney and Melbourne are being sold via the auction method in this market. Watching the auctioneer do his song and dance routine to extract the highest offer and seeing the price sail $400,000 or more over your limit can leave you feeling helpless. Auctions are a pressure cooker environment where your emotions can run high and get the better of you if you're not careful. Attending the first open house and standing in line behind 60 other people to get in the front door can also be a disheartening experience.


3. Constantly Changing the Brief
When you've been looking for over 12 months and seen the prices jump so quickly you may need to adapt your search criteria, cast the net a little wider and moderate your expectations. But for super fatigued home buyer, changing the brief on a weekly basis won't help you.


4. Thinking Price Guides are a Joke
Well – let's face it - some price guides really are a joke and significantly under quoted. Some agents are far more transparent and will quote a very accurate range within which the property may sell (usually at the top end or just over). Other agents engage in "bait pricing" reeling in the unsuspecting buyers thinking they have a chance, creating strong competition and then watching the property sell for 15% to 20%+ above the guide.

In a highly competitive market like we have now, it is vital to review the sold prices for comparable properties and see what has transacted in the past few weeks (not 3 months ago).


5. Underwhelmed with stock
Do you find yourself scrolling the real estate portals each night and day and becoming more annoyed that the "right" one is just not coming up? The volume of new listings is starting to tick up at a faster rate than what we have seen in the first quarter of this year as vendors seek to take advantage of a rising market. But total listing volumes are still well below long-term averages.


So how do you overcome these classic signs of buyer fatigue?
Firstly, I would recommend you engage a buyers' agent to help you navigate this difficult market. Getting professional help has never been more relevant than in the market we face today (and looks likely to continue for the next 18 months). Getting into a rising market early means you can start building your equity sooner and put the tricky search phase behind you and just get on with the next chapter of your life. A buyers' agent will help you stay motivated and focused on the search and remove the time-consuming process of evaluating each option.

Here's a summary of my key buying tips for frustrated buyers today:

• Get your finance approved early and have your deposit ready in cash.
• Create multiple buying options. Don't just have your heart set on ONE property – you need to be constantly looking and have several options to consider in your price range. This may also mean considering adjacent suburbs.
• Access "Off-Market" opportunities – creating relationships with local agents and finding off market deals is what we do as buyers' agents every day!
• Evaluate carefully - don't over pay (the bigger the mortgage the longer the repayment time).
• Exchange super-fast – once your offer is accepted, use a solicitor that acts with lightning speed. You can't dilly dally in this market.
• Be persistent and consistent – don't give up too early and watch the market sail away from the sidelines. You must be in the game to win and look for symptoms of buyer fatigue.

Please get in touch with our friendly team of buyers' agents as we would love to have a conversation about your next move. Send us your wishlist or call us on 1300 655 615.
Click here to: