How Close is the Property Market to Peaking? - May Market Update



May 4, 2021 / Written by Rich Harvey
By Rich Harvey, CEO & Founder, propertybuyer
Written by: Rich Harvey, CEO & Founder
propertybuyer.com.au
Click here to watch Rich's Video of the May Market Update: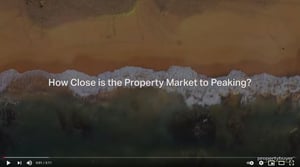 New median price records are being set on a weekly basis in the property market as we move through the autumn season. Many of us are questioning when the property market will peak and take a breather. The rapid rate of price growth over the past 4 months is obviously unsustainable over the long term and has created exceptionally challenging conditions for buyers and sellers.
I would describe the conditions of this market as a perfect storm which is resulting from a combination of historically low interest rates, massive government stimulus spending, greater savings by households during the Covid lock down, pent up demand for lifestyle and housing improvements and a faster than anticipated economic recovery. One of the unique factors about this market boom is that is very much being led by owner occupiers rather than investors.
The well-respected valuers, Herron Todd White have updated their national property clock. I have never seen a clock quite like the one below which shows that virtually all the major capitals and regional centers across Australia currently positioned at 9:00 o'clock representing a rising market!!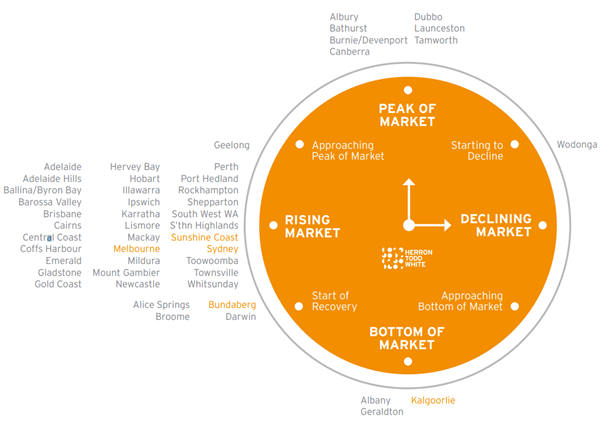 Source: Herron Todd White
There are five key signals that I am seeing in the current market that demonstrate we are approaching the peak.
1. Buyer fatigue
At open inspections and recent auctions, I'm hearing plenty of conversations from extremely frustrated buyers about how they're just so over this market. There are obviously many people missing out at auction, as prices go racing above the original price guide and comments of severe under quoting are passed through gritted teeth. Some buyers are responding by giving up, while others press on like wounded bulls charging ahead without regard for long term value and going above their set limit at the next auction to avoid the pain of continued searching. At some point soon, the "wounded bull" buyers will be out of the market and we will see some of the high intensity bidding and heat come out of the market.
2. Increased listings
As news of higher house prices pervades the media waves, vendors become more motivated to list their property on the market. Corelogic report that in the four weeks ending April 18th saw 26,470 newly advertised capital city properties added to the market which was the largest number of new listings for this time of the year since 2016 and 17% above the five-year average. However, total advertised stock levels (ie new listings plus re-listings) remain low, tracking -17.5% below the five year average.
3. Auction clearance
Auction clearance rates have edged marginally lower over the past four weeks from a high of 83.1% in March to 78.6% in April. Auction clearance rates are not entirely accurate, but they do provide a good leading indicator of immediate buyer demand and there is a strong correlation between the level of auction clearance rates and the rate of house price increases.
4. Building approvals rising
During the pandemic year building approvals dropped quite dramatically. Approvals for new dwelling construction are at record highs, and dwelling commencements over the December quarter were almost 20% higher than a year earlier and 5.5% above the decade average. The surge in new building activity is skewed towards houses rather than units.
5. Price rises slowing
The rate of housing price increases over the first four months of this year has been dramatic to say the least. Domain have just released their March quarterly data which shows that Sydney house prices soared $100k to a new record of $1.3 million for a house and $751,000 for an apartment. Melbourne prices on the other hand surged $45,000 to give a median house price at $974,000 and median apartment price of $568,000. The results for all other capital cities are shown in the table below: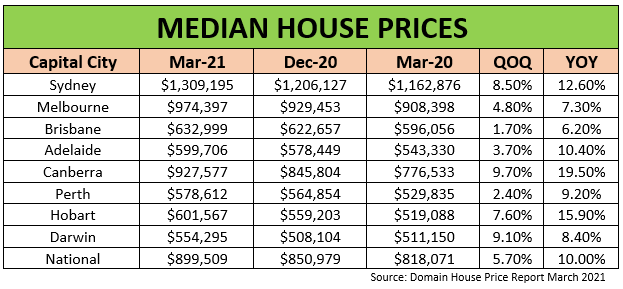 Despite the unique challenges a boom market brings for both buyers and sellers, there are still plenty of opportunities to participate and transact in this market. There are opportunities for downsizers and upgraders to find their ideal home as they can obtain a higher price for their home and use their built-up equity to improve their living accommodation. There is also an opportunity for investors to consider targeting the apartment market for city and city fringe apartments that have been rented to students or short-term accommodation rentals for tourism purposes that have suffered a significant downturn during Covid. There may be some vendors feeling the pain and considering selling, but this apartment market should pick up once the borders reopen, and student and tourism numbers resume as normal.
The key takeaway from this month is that while we are approaching the peak RATE of price rises, housing values are NOT going to suddenly drop. We are likely to see the property market continue to grow steadily but at a more sustainable rate of capital growth.
Please get in touch with our friendly team of buyers' agents as we would love to have a conversation about your next move. Send us your wishlist or call us on 1300 655 615.
Click here: