How Long Will The Property Surge Last? - February 2021



February 9, 2021 / Written by Rich Harvey
By Guest Blogger, Pete Wargent,
Next Level Wealth
Tighter markets

If you've thought about buying property so for this year you'd have noticed a couple of things: firstly, there's a lot of buyers out there, and secondly, there's not much stock available for them to buy!

In fact, in early 2021 total listings have been about as low as we've seen in recent year, according to CoreLogic's national numbers.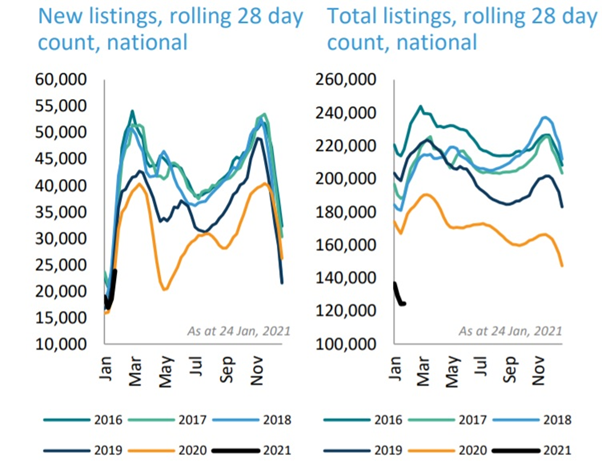 Source: CoreLogic
There's a bit of variation between cities and regions, and buyers will face less competition for inner-city apartments than they might for suburban or coastal houses at the moment, for example.

But overall, there is stiff competition for quality property, and this is expected to lead to rising prices in 2021.

Market drivers

For once in Australia, demand for property has not been driven by population growth this year.
In fact, with the international borders effectively all but closed, population growth will be the lowest we've seen in years, mainly comprising only the natural growth of the population (i.e., births minus deaths) plus a trickle of returning expats.

Internally there have been some demographic shifts of note, away from the major Central Business Districts.

Folks seeing space have moved towards the Central Coast, the northern New South Wales Coast, as well as to the south coast and Shoalhaven, and across the borders to Gold Coast, Sunshine Coast, Brisbane, and even to Darwin, to name but a few of those regions.
But the real driver of the spike in demand has been the lowest mortgage rates on record.
In February 2021 we got a feel for how low record low interest rates are likely to be with us, which is to say, probably for several years to come.

Economic recovery

The Reserve Bank of Australia Governor Philip Lowe noted that Australia's GDP would likely be back to pre-COVID levels by the middle of 2021, while total employment could comfortably reach record highs at more than 13 million in the first half of this calendar year.
Thanks to Australia's sound management of the health crisis the unemployment rate also peaked far lower than previously expected or feared at 7½ per cent.
But it's still expected to be quite some time before we see the desired 4-5 per cent unemployment rate to drive wages growth and inflation.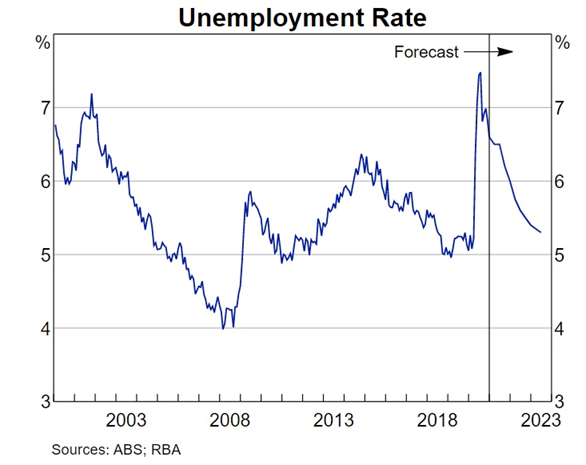 Indeed, Lowe mentioned that the desired for unemployment and inflation targets likely won't be met until 2024, and meanwhile term funding facilities remain available for lenders and the central bank is extending its bond-buying programme.

Bumps in the road

The above dynamics might suggest that Aussie housing as an asset class is in for a bullish run for at least the next three years then.
But what could disrupt this base case?
A surprise virus outbreak or mutation is one possible risk, while a prolonged extension of the international border closures could certainly cause headwinds for inner-city rental markets.
The risk of higher interest rates appears to have diminished given the commitment to full employment and observing actual (rather than projected) inflation outcomes.
But if investor lending comes back at breakneck pace then macroprudential tools might be deployed by the regulator to slow the market down.
But that's not on the agenda anytime soon.
More borrowers than ever are paying down mortgage debt, and the recovery has overwhelmingly been driven by homebuyers to date, not investors, so expect 2021 to a big year for property.

If you are sitting on the sidelines waiting for another market crash, then I'm sorry to say you will be disappointed. The smart buyers are getting finance approval in place and then seeking out the best opportunities, taking a pro-active approach without the fear of missing out.
To have one of the friendly Propertybuyer Buyers' Agents to
contact you in regards to buying property :
or
call us on 1300 655 615 today.