Interest Rate Lags And The Related Cliff - February 2023



February 9, 2023 / Written by Rich Harvey
By Guest Blogger, Pete Wargent,
Next Level Wealth
Long and variable lags
It typically can take many months for the real impact of interest rate rises to be felt by consumers once the Reserve Bank of Australia increases its cash rate target.
We have had nine successive interest rate rises since mid-last year putting pressure on household budgets.
How long does it take for interest rates to typically wash through the economy?
It used to be said that it could take 18 months for the impacts to be felt in full.
In truth, though, the impacts and the lags can be "long and variable."
For example, there could be an immediate impact on consumer confidence as households plan to cut back on spending.
However, the impact on the construction cycle could take a couple of years or more to fully play out.
Construction cycle points to housing shortage
While monthly building approvals were running at around 23,000 per month during the pandemic HomeBuilder stimulus, we're now down to around 16,000 per month, and with new home sales plunging further declines appear likely.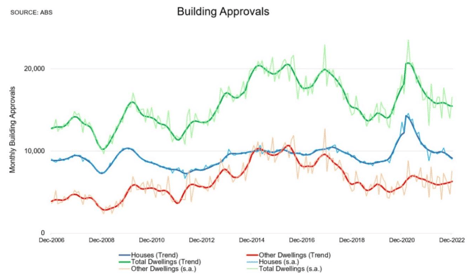 Building approvals figures are quite volatile, but looking through the noise annual approvals of below 190,000 and falling are the lowest in 24 months.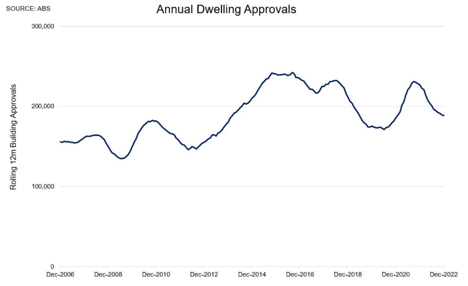 After accounting for demolitions, dwelling construction is going to fall far short of the required housing over the next decade, with total population growth now running at a record high of more than 450,000 per annum.
It often takes 2 to 3 years for a medium-density development to be approved, sold, constructed, and delivered to the market.
With foreign buyers largely taxed out of the market, over the next couple of years we're clearly heading for a dramatic housing shortage in Sydney, Melbourne, and Brisbane as immigration resumes in full in 2023 and as international students return to Australia.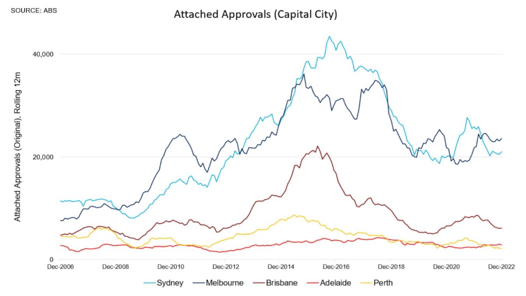 Looking further ahead, Master Builders Australia sees building approvals failing to recover to above 200,000 per annum until the 2027 financial year, pointing to a chronic shortage of housing characterising the next few years.
The fixed rate 'cliff'
Through the pandemic Australia saw a record surge in fixed rate borrowing, with some borrowers able to secure fixed rate terms of 2 per cent or lower, the lowest mortgage rates on record.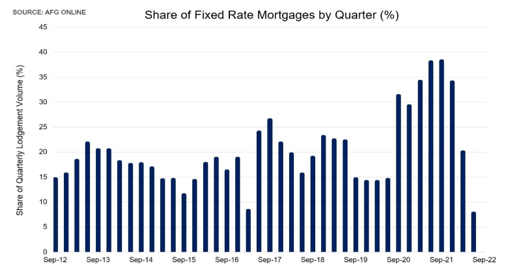 Since the most common tenor of fixed rate mortgages in Australia is two years, this means that many such mortgages are just beginning to reset in earnest right now.
While we still have full employment and incomes are now rising - at least in nominal terms - a fixed rate mortgage resetting from 2 per cent to nearer 6 per cent is bound to hurt.
Meanwhile many borrowers are trapped in a "mortgage prison" and unable to refinance due to the extraordinary 300 basis points lending assessment buffer, which has been built into lending serviceability expectations since October 2021.
With record low vacancy rates and full employment we probably won't see too many forced sellers, but this will have a knock-on impact to household consumption in 2023.
When will interest rates peak?
Looking ahead, economist views range from Australia being at or near the top of the interest rate cycle, to several more hikes being required to tame the inflation beast.
In reality this has been an unprecedented few years, and nobody can say for sure, though it is very likely that inflation peaked in the final quarter of 2022.
With population growth now running at record levels the labour shortage caused by the international border closures should be fixed very soon.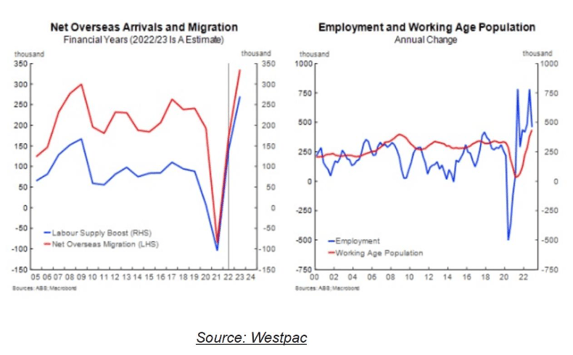 In terms of mortgages, Australia's key 3-year bond yield benchmark has settled in at a little under 3¼ per cent, which is some way down from the 3¾ per cent we saw in the middle of 2022.
This may go some of the way to explaining why there have been some cuts in fixed rate mortgages, and strong competition for market share has also seen some sharpening up of variable rate offerings lately.
Investors will be circling looking for opportunistic buying opportunities this year given also the ongoing rapid rise in rental yields, but many are waiting for confirmation that the interest rate cycle has peaked before they pull the trigger.
To have one of the friendly Propertybuyer Buyers' Agents to contact
you in regards to buying property :
or
call on 1300 655 615 today.