Is a Rental Crisis Looming? - December Market Update



December 1, 2021 / Written by Rich Harvey
By Rich Harvey, CEO & Founder, propertybuyer
Written by: Rich Harvey, CEO & Founder
propertybuyer.com.au
Click here to watch Rich's Video of the December Market Update: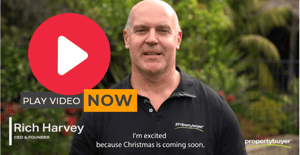 While there's increasing talk of property prices rising, falling, or stabilising and plenty of chatter about the impact of potential interest rate rises, it is important to consider what is happening in the rental market.

But before I do that here's what is happening on the ground….
The volume of sales listings is significantly rising which is finally giving buyers more choice. The frenetic and over-zealous bidding at auctions that we saw during the lockdown periods appears to have passed.

Melbourne is still rising steadily, and Brisbane demand is very strong. In Sydney, the number of attendees at open homes has reduced by half in some areas as buyers are more cautious and also limited by the lending restrictions by APRA. We are seeing a slight pull back in pricing and vendors are having to adjust their lofty expectations. More auctions are passing in and days on market is starting to become longer again. These are all natural parts of the property cycle and not a reason for buyers or sellers to worry.

Now – back to the rental market. Throughout the pandemic there has been a dramatic rise in rental demand in regional areas as some people fled the cities seeking a lifestyle change and enjoyed working from home. Vacancy rates in some regional areas has been sub 1%.

In Melbourne and Sydney there was a drop in demand for inner city units due to the absence of international students, tourism and migration. Even with weak population growth, internal migration to other lifestyle areas has put incredible pressure on rental affordability.

Rental prices have increased 9.2% over the past 12 months according to CoreLogic figures. And there is more on the way.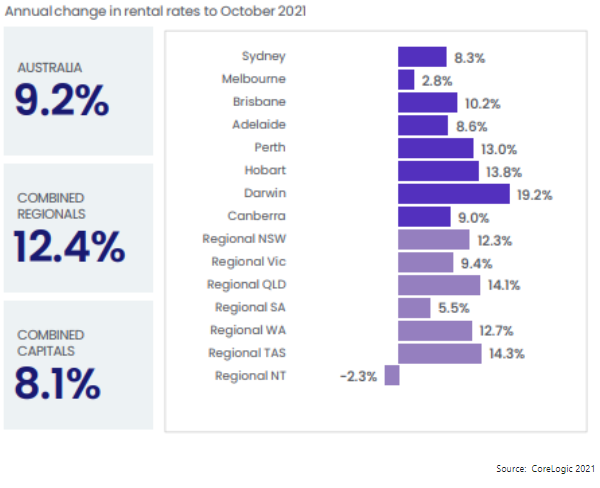 Gross rental yields have continued to trend lower over the past 5 years, but we are now at a stage of the property cycle where I expect to see consistent and significant rent rises which will see yields gradually rise. This is very positive news for property investors but challenging news for those in the rental market seeking affordable accommodation. There are between 150,000 to 200,000 students awaiting return to Australia.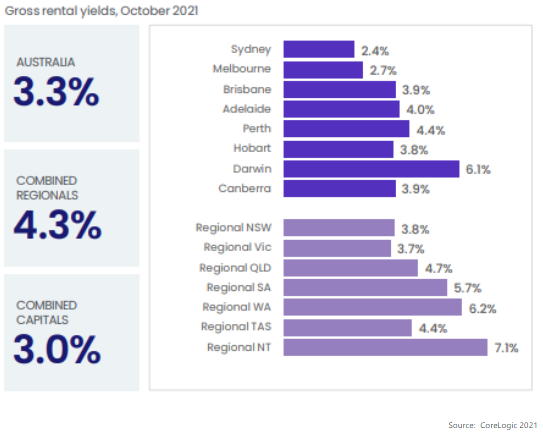 With a serious skills shortage in the Australian workforce, the government is moving quickly to open up the international borders for foreign workers and students to fill the gaps. More workers, along with expats returning, and tourism ramping up will see rental price growth on a continued upward trajectory.

If APRA step in and curtail investor lending, then this could lead to a lingering rental shortage in many markets and even more housing distress.

During the pandemic around 231,000 dwelling (building) approvals were recorded, however many of these "approvals" are yet to progress to "commencement".
The future pipeline of apartment approvals has been declining which means a further tightening in the rental market.

Rents are predicted to rise 5% per annum rises over the next five years in major rental markets according to new research by JLL's Q3 2021 Apartment Market Overview.

Many developers have been focused on delivering higher quality downsizer stock in premium areas. There has been a lot less high-rise development that caters for investors and foreign buyers due to border closures. The volume of apartment approvals has fallen around 7% in the last quarter according to JLL. The pipeline of apartment approvals has been falling the past 5 years (see chart below).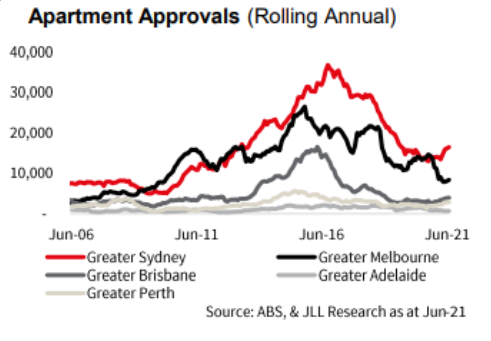 Our population growth (see chart below) is getting back on track with the opening up of our domestic borders to interstate travel and national borders to international travel. Once the flow of immigrants and foreign students kicks into gear, this will put pressure on rental demand in Australia's capital cities again.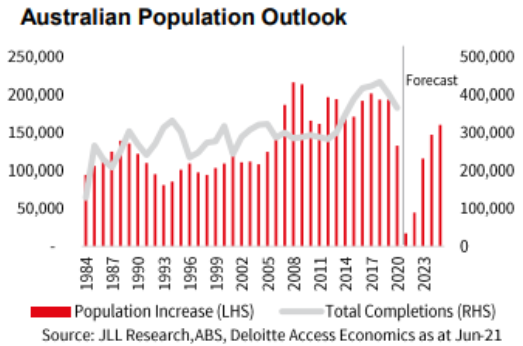 Inflation is likely to kick up strongly over the next two years as supply chains are still broken and wages growth is also likely to pick up.

All of these factors point to a property market that will continue to move forward and show strong resilience in the face of economic headwinds and worldwide health impacts.

Don't make your next property buying decisions based on the latest media headlines but rather independent research. This often means taking a contrarian view to the headlines.
I am out there personally buying at the moment as there are always opportunities.

If you are in the market considering buying a new home or investment property, please reach out and start the conversation with us today – We'd love to help you on your property journey.
Click here to:
or call 1300 655 615