Is The Market Stabilising Or Declining? - March 2023



March 21, 2023 / Written by Rich Harvey
By Guest Blogger, Pete Wargent,
Next Level Wealth
A process, not an event
There are many mixed signals in the housing market.
Rents are surging, some data providers are recording rising prices, while other analysts point out that many fixed rate mortgages have yet to reset, and others still are warning of a significant slowdown in the economy.
The truth is that the bottom of a market cycle is typically a process, not an event.
The bottom of the market in 2019 was unusual, in that was an immediate V-shaped recovery, driven by an election result, a favourable outcome from the banking Royal Commission, and an interest rate cut…a trifecta of positive news within a matter of a few days.
There are many cities and towns across Australia, and there are markets within markets, this time around the recovery will be slower, and not so easy to identify.
Let's take a look together at what's happening.
Around the traps
With so many mixed messages in media report, the average buyer can become very confused about the property market direction and pricing.
Is the market stabilising, or does it have further to fall? Or is it even rising in certain pockets?
Typically, headline figures such as the median price of a home in Melbourne or Sydney are reported in news articles, so the real truth of what's happening on the ground is not always clear to the average buyer.
Charted below are the median home price figures since the 2019 election.
Despite some ups and downs along the way, median prices are overall higher than they were at that time, especially in Adelaide and Brisbane/Gold Coast, and to a lesser degree in Sydney, Melbourne, and Perth.
Recently prices have stopped falling, and are even recording moderate increases in Sydney and some other markets.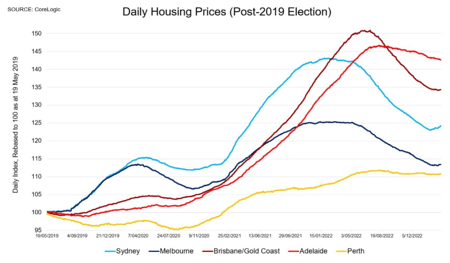 Devil in the detail
It's far more rare to see articles giving insights into specific suburbs showing the median price of houses and apartments and, say, the volume of turnover in that particular suburb.
In 2023 to date, a significant lack of stock for sale is really driving market momentum forward in the major capital cities, and this has underpinned prices.
Compromised properties are struggling to sell, but A-grade properties are seeing some fairly intense competition in many cases.
Some prominent agents like John McGrath are calling the bottom of the market right now, as interest rates approach their peak, with markets weighing up lower interest rates over the next few years.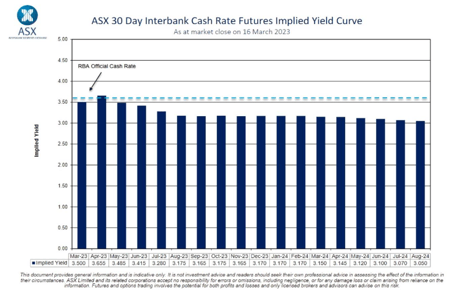 The great standoff
Many buyers and sellers seem to be sitting on the fence, waiting to get confirmation that we are actually at the bottom of the market before making a move.
The problem with this approach is that it only takes one other bidder to be interested in a property and suddenly the whole negotiation dynamic is changed.
What is happening at property auctions? Well, it's a bit of a mixed market with mixed signals at the moment.
For A-grade properties we are seeing 20 to 30 registered bidders in Sydney and Melbourne in some cases, though not all that register are confident enough to make bids.
Clearance rates have been very solid to begin the year, partly reflecting the dearth of stock listings, and this has pushed prices up a little.
Rush to the regions reverses
There are still parts of the market that you see which have a way to fall.
In some regional parts of Australia prices were bid to extreme levels through the pandemic as there was race for space.
Now we are seeing vacancy rates rise in many regional areas as employers increasingly want to see employees back in the office, at least for 2 to 3 days per week initially.
Primed for recovery
Are there any pockets of the market which we think are primed for small increases in the coming 12 months?
Yes. Blue chip inner and middle rings suburbs in the capital cities with lack of stock appear to stabilising the market.
What signals can we expect to see to indicate the market has generally bottomed out.
Firstly, remember that the bottom of the market is a process not an event.
Even when interest rates stop rising, there will still be some stressed borrowers seeing their fixed rate mortgages resetting to much higher rates.
Initially, we will see discussion of increases in the cash rate being paused, and then fixed rate mortgages will start to be cut as bond yields fall.
Then as immigration increases to record highs there will be reports of a chronic housing shortage.
Rents will begin to rise sharply, which encourages first homebuyers and then investors back into the market.
The recovery proper will begin in the second half of 2023 as median prices begin to rise, but buyers will have missed the best of the opportunities by then.
To have one of the friendly Propertybuyer Buyers' Agents to contact
you in regards to buying property :
or
call on 1300 655 615 today.