Is the Property Market Cooling? - March Market Update



March 2, 2022 / Written by Rich Harvey
By Rich Harvey, CEO & Founder, propertybuyer
Written by: Rich Harvey, CEO & Founder
propertybuyer.com.au
Click here to watch Rich's Video of the March Market Update: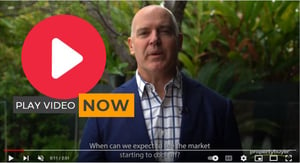 After spectacular and considerable price increases in 2021 across most of Australia, when can we expect to see the market start cooling off? What are the core signals to look for that will demonstrate that the market is really cooling?
My team of buyers' agents have observed that demand for high quality property is still running strongly. While there has been talk of potential interest rate rises at some point this year, this has not deterred the majority of buyers who are actively seeking to get into the market. The reality is we can't typecast the status of property market into one clichéd answer!
In Sydney, the number of buyers attending open for inspections has declined and the frenetic pace of bidding at auction has slowed compared to the same time last year. Price guides are becoming more realistic (compared to last year where the sale results were 15% to 20% above the guide!)
In Melbourne, there is still strong demand for housing, stock levels are still tight, but there are no signs of price reductions, and the market is holding steady.
In Brisbane, we are seeing queues of up to 50 groups trying to get into some properties and a mini traffic jam in the street! Prices are rising with very high demand from both investors and owner occupiers and interstate migration.
Here's the summary results for each of the capital cities in 2021.
Index Results as of January 31, 2022

Here's what I would be looking for as some of the key indicators for a cooling market:
Median price growth slowing
Days on market increasing
Auction clearance rates trending downwards
Attendance at open homes declining rapidly
Number of bidders at auction lower
Pace of bidding slowing
Reports about over-reserve prices waning
Sales Agents desperately calling buyers to attend auctions to bump up the numbers.
ANZ bank recently revised their property price forecasts for 2022. It now expects Brisbane to lead the pack with a 16% price rise, Adelaide 11%, Sydney, Hobart and Canberra 9%, Melbourne 5%, while Perth and Darwin remained unchanged at 3%.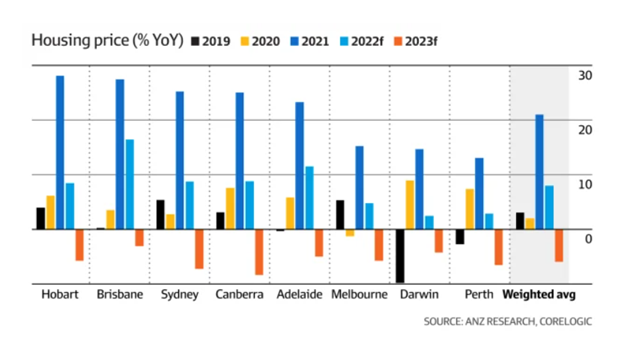 The bank economists have a fairly diverse opinion on the timing and impact of interest rate rises on the property market. But they all have a fairly consistent general consensus that once we get three or more interest rate rises then we should start to see the market cooled considerably. It appears likely that there is still capital growth left in the Sydney and Melbourne property markets during the first three quarters of 2022. But even if we do get a slight correction in 2023 – this will only even out the gains that we've had this year.
An excellent report that appeared in the financial review last week revealed that Australia is facing a decade-long housing supply crunch.
If you are worried that you've missed the chance to take advantage of future price rises....then don't stress.  The long-term drivers of capital growth will swing back into action over the next 10 years. But those that continue to sit on the sidelines will miss the boat.
The latest State of the Nation report from expert housing advisors today points out some significant numbers to watch - which predicts demand to once again outstrip housing supply: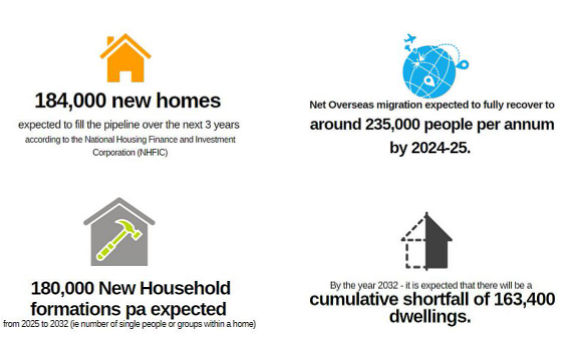 What should you make of all the speculation about a cooling market? Lie low or investigate more?
If you are a potential buyer….then now could a time to seriously think about getting into the market and searching. With your competition potentially sitting out for a while you may be able to get a foothold into the preferred markets you desire.
If you are a seller – now would be the ideal time to consider listing your property for sale. If you want to take advantage of the last phase of this current property cycle, then you are wise to consider selling in the next three to six months. We offer a vendor advocacy service whereby we can help you select the best local selling agent.
If you are a renter…. I would be looking at the opportunity to lock in a two-year lease, if possible, as the rental market is very tight and likely to get tighter. Vacancy rates in most areas are still quite low and as the wave of overseas migrants and workers starts to build up there will be more competition for rentals. Rental prices are expected to rise 5% per annum for the next five years.
If you are an investor…. then now is an ideal time to get your strategy in place and buy your next investment property. As shown by the figures above it won't be long before we move through the market adjustment phase and into the next growth phase of the property market. Property investing is all about the long term, and while we won't get spectacular capital growth in the coming year, you will be seeing rising yields as rents start to catch up.
Give us a call at Propertybuyer on 1300 655 615 to have a chat about your property needs in 2022 or
Click here to: