March 2015 - Buy First, Then Sell?



March 11, 2015 / Written by Thirst Creative
By Rich Harvey, Managing Director propertybuyer
Buying and selling in a hot market can be a frustrating process – especially in the Sydney market. Is there any wisdom in buying first, then selling or is this fraught with danger?
With so many buyers missing out at auction there is widespread frustration and pain – are you experiencing buyer fatigue? In this update we cover the latest market stats and steps you need to take to protect yourself.

For our first event for the year we've got respected commentator Terry Ryder coming to reveal his hotspots for 2015. See details below. Also check out my most recent blogs and client stories.
In this edition we look at:
Buy first, then sell?
Q & A with a Buyers' Agent, Matt Corbett
Seminar - Forecasts & Hotspots for Property in 2015 - 18th March
Client Stories
Inspiration Corner
1. Buy First, Then Sell?
Conventional real estate wisdom says you should always sell your home first then buy as you need to know exactly what price you will achieve for your home to be able to set your budget for the next home. This has been our advice in the past to ensure that clients don't get caught out having two mortgages or require bridging finance during the changeover period in selling houses.
However, in the current Sydney property market, convention does not apply. The market is exceptionally strong and finding a suitable buyer at a solid price is almost assured. Sydney's auction clearance rate on the weekend was 83% from 677 auctions (RP Data) and the clearance rate has been running at above 80% since the market re-ignited in February. There are frequent reports of properties going well over the reserve price at auctions in Sydney and we have witnessed many sales going above a reasonable price as two or more bidders battle it out. With continuing low interest rates and Sydney's chronic under-supply situation, there is nothing to suggest that the market will slow down anytime soon.
Buying a property first is a strategy that only works in a hot market. It will give you certainty about your next address and will also help motivate you to get out there and find something suitable. As for selling your existing place, you can have confidence that there are plenty of other frustrated buyers out there looking for a home! The latest figures show that it takes just 29 days to sell a house in Sydney and 26 days for apartments. Compare this with Melbourne at 43 days for houses and 61 days for apartments (or Darwin with 106 days for houses and 117 days for apartments).
Which leads us to the next question. What happens if you just stay out of the market for now and wait till the buying frenzy subsides? Many buyers are no doubt questioning what will happen to prices in the future and wistfully hoping prices will drop at some point. Over the past 25 years, research by Residex has shown that Sydney's median house price has increased from $175,000 to $911,500 which represents an average rate of growth of almost 7% pa. Sydney tends to have very strong spurts of growth followed by slow growth or flat line pricing. Even massive external shocks like the GFC only put a small dent in Sydney's long term upward trajectory – prices retracted just 5% then recovered significantly in subsequent years.
The frustration of Sydney home buyers is widespread. A quality home in the inner and middle rings of Sydney may attract 50 to 100 groups inspecting and 10 to 15 registered bidders on auction day. Yet just one of them will walk away smiling, while the others feel despondent wondering if they will ever find a property. The hassle of organising your solicitor to review the contract, getting pest and building inspections completed in time and arranging finance all goes to waste each time you miss out. Then, you may well come up against other frustrated buyers on the next property.
Buyers are getting "buyer fatigue" having to inspect so many properties that end up out of reach. It's tough out there! Here's my perspective on the range of emotions that buyers are feeling at the moment…..it can be a roller coaster ride.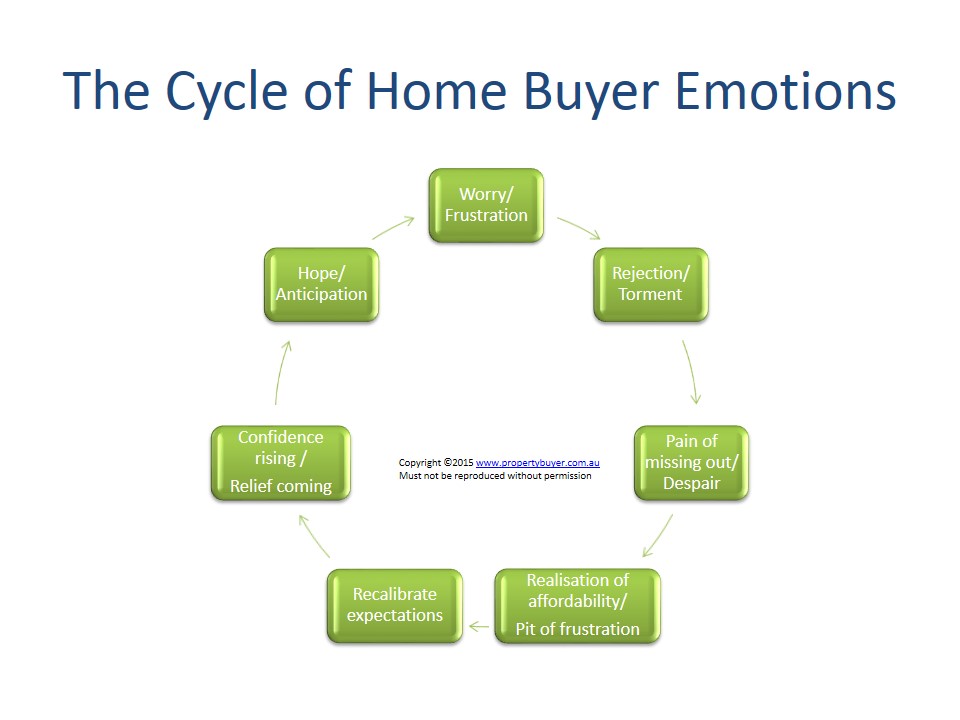 We are also seeing some buyers having to re-think their original plan. If you have been out of the market for over a year, you may be very surprised to see just how much prices have moved. Buyers and sellers are having to re-calibrate their expectations on pricing. If you had your heart set on a specific suburb close to the kids' schools and walk to shops, you may have to compromise now as the market has jumped (or find those extra dollars).
Our team of buyers agents have recently helped a number of clients find their next home and navigate this hot Sydney property market. The common thread in their feedback was that they would not have been able to find the number of properties we shortlisted, work out fair value and then exchange with speed without our help.
The message is clear; Don't be afraid to enter the market, do your research and be cautious about what you buy and how much you pay. Many people are forward paying capital growth now just to get a foothold. Think about the long term value of the property and who will buy it after you.
Please contact us today on +61 2 9975 3311 or email your wishlist to engage our buyers agents to give you the edge in this competitive market and avoid the constant frustration of missing out.
Rich Harvey is founder and Managing Director of www.propertybuyer.com.au, Australia's most awarded Buyers' Advocates. Propertybuyer helps property investors and home buyers search and negotiate the right property at the right price, everytime. Visit www.propertybuyer.com.au or call 1300 655 615.
2. Q & A with a Buyers' Agent, Matt Corbett
Buyers' Agent: Matt Corbett
Area of Specialty: North Shore & Northern Beaches of Sydney
Q: What is a common mistake you see buyers make or traps they can fall for?
Matt: Getting swept up in the current market, becoming frustrated and overpaying. And not fully understanding the buying process, negotiation tactics and mistiming the offer.
Q: Has there been a client or purchase that always stands out for you?
Matt: A recent purchase of an apartment in Mosman. We exchanged quickly at $820,000 and had an offer of $960,000 before the six week settlement period. This was a unique situation but regardless, it couldn't have happened without my client instantly putting his faith in me.
Q: Was there a suburb or area you wished you invested in, and why didn't you at the time?
Matt: I wish I had purchased a house in Forestville or Narraweena about two years ago when I was telling everyone to do so. It's funny in this job that you are often too busy working for others that you don't seem to get around to doing it for yourself.
Q: Tell us about a purchase that wouldn't have been able to happen without a buyers' agent facilitating it.
Matt: One example was recently in the current under supplied market. Anything on the market was achieving prices over our appraisals so we managed to secure an off-market duplex in the Lower North Shore. Solid, professional relationships with agents are often the key to avoiding the crazy competition.
Q: What are your must have's when purchasing a property?
Matt: Have your finance approved and a 10% deposit immediately available. Do your research so that you know when a good opportunity arises. Then, don't procrastinate. Do your due diligence and act on it.
Q: When looking for properties for a home buyer, what are the key things that you search for?
Matt: It is imperative to listen closely to your client's needs and get into their head space. Establish what is essential and what is preferable as soon as possible. This usually requires more than conversation. You also need to take the time to initially show your clients options slightly outside the box and give them a better understanding of what is out there. Providing your clients with this experience and information will be most beneficial to them short or long term.
Q: If you were investing in a property, what are the key features you would want in the property?
Matt: Good location, close to transport, shops and the amenities. Ideally you want a property in an area with little to no chance of new surrounding development and one that appeals to the majority of the market (ie. the current rental pool and future buyers).
Q: What are the current market conditions like? Do you think it will continue like this for a while longer?
Matt: The market is still very strong with low interest rates and low supply. Ideally we need more stock to level the playing field but one major issue with home buyers is that they are looking to buy before they sell, which is sensible in the current market. This is why relationships with agents are even more critical than ever to locate off-market opportunities or at least provide the best possible chance to secure those on market.
If you are in the market to purchase a property, we would be delighted to help you. Please call my friendly team of Buyers' Agents on 1300 655 615 or complete your buyers wishlist today.
3. Seminar: Forecasts & Hotspots for Property in 2015 - Wednesday 18th March 2015
You are warmly invited to our first seminar of 2015.
We're kicking off the year with a very knowledgeable and respected author Terry Ryder, founder of hotspotting who will share his valuable insights into what markets are likely to perform well and just as importantly, which markets to avoid.
What better way to fast-track your research into the property market than to hear from someone that lives and breathes property research every day. Terry has an amazing ability to pick areas that hold significant potential for future growth.
This event is likely to book out so reserve your ticket early.
Topics covered at this special event include:
Where to now for Sydney house prices?
Is Brisbane really set to shine?
Regional vs metro markets- which is better?
What are the new factors driving capital growth and yield?
Where are the no-go zones?
Where are the 5 top locations for capital growth?
Picking a property strategy that's right for me
What elements create a hotspot?
Now I've found the suburb, how do I find the ideal property?
How to finance multiple purchases
Turning research in property $$$
Date: Wednesday 18 March 2015
Time: 6.30pm registration, 7.00pm start to 9.00 pm
Venue: SMC Conference & Function Centre, 66 Goulburn St Sydney
Cost: $19 single ticket, $29 double ticket
Telephone inquiries: 02 9975 3311
Limited seating is available so book early to reserve your spot today!
Speakers:
Terry Ryder, Founder and Director, Hotspotting.com.au
Terry Ryder has been a specialist researcher/writer on residential property for 32 years and has published four books. In 2006 he created hotspotting.com.au, which helps investors find the best places to buy. He is regularly interviewed by television, radio and print media on real estate issues.
Rich Harvey, Managing Director and founder of propertybuyer
Rich is a buyers' agent, property investor and professional economist with over 19 years experience in the property industry. He is a research expert and highly skilled in investment analysis and negotiation techniques that can deliver real savings for his clients. Rich and his team have purchased over 1900 properties for their clients. As Australia's leading Buyers Agent, Rich has won 25 major awards including the prestigious National Telstra Business award in 2007 and also named the winner "Best Buyers Agent in Australia" by the Real Estate Institute of Australia (REIA).
4. Client Stories
Stepehen & Debbie's Story
"Would have no hesitation in recommending."
Buyer type: Home Buyer
Location: Lower North Shore Sydney
Buyer's Brief: Apartment with spacious living and close to transport and amenities
Our Goal
To purchase a smaller property with closer proximity to the Sydney CBD. I felt daunted about doing it on my own and my main fears was my little knowledge of the target area, time poor and (offshore) relocation deadline.
Our Solution
Propertybuyer provided excellent location advice. Took a great deal of time to properly understand our preferences. Communication was timely and effective. Gave us other choices outside our profile. I felt relieved, happy, and confident that we had made the right choice. I would have no hesitation in recommending Matt Corbett. Straight forward advice with deep knowledge of the Lower North Shore property market. Excellent communicator.
"Relieved, happy and confident that we had made the right choice."
Buyer's Advocate, Matt Corbett
Stephen and Debbie were seeking a 3-4 bedroom apartment in the Lower North Shore with good transport links into the CBD. Their time frame was limited as they were moving overseas and needed to secure a property within the month. They wanted a property in good condition and privacy was essential. There was not a lot of opportunities and those properties on the market were hotly contested. Consequently, we managed to locate an off-market duplex in Cammeray that met all of their requirements and Stephen and Debbie were very happy with their purchase.
5. Inspiration Corner
"Success is liking yourself, liking what you do, and liking how you do it"
Author unknown but greatly appreciated
"When you're trying to motivate yourself appreciate the fact that you're even thinking about making a change, and as you move forward, allow yourself to be good enough"
Alice Domar
"All that we are is a result of what we have thought."
Buddha