Winds of change – Should you change tack? | Propertybuyer Market



October 16, 2017 / Written by Thirst Creative
By Rich Harvey, Managing Director propertybuyer
With Sydney's market contracting just 1.9% last quarter, what does this mean for home buyers and investors sitting on the sidelines? Melbourne's market growth slowed to just 1.3% and is cooling too. Find out the what is driving these winds of change and how you can capitalise on a dynamic market. You can also catch me speaking at the Sydney Property Buyer Expo on Oct 20-22 presenting on "Sydney's New Treasure Map – Where to find value".
This October update includes:
1. Winds of change – Should you change tack?
Each time I see a new headline with the words slump, crash, bubble, plummet, collapse etc, I start to cringe. Some journalists are looking for a scoop and want to sensationalise the changing property market but fail to put the most recent figures into the context of the longer term. Giving too much weight to short term median price movements can be misleading. While quarterly figures provide some indication of market direction, it is far better to look at yearly figures.
So what has happened over the last quarter? Here are the results from Domain:
To give yourself the best possible edge to secure your next home or investment property, talk to one of my professional team of buyers' agents who will make your property dreams actually happen. Instead of just thinking about it, call us on 1300 655 615 or tell us your enquiry / wishlist today.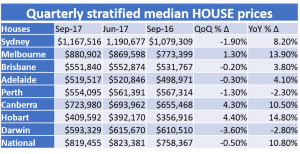 To put this in context, the 1.9% drop in price equates to a $23,000 drop in equity for the average Sydney home owner. While some home owners may whinge about this, they should look at the glass half full which shows that Sydney's median has risen a staggering 116% or $627,528 since June 2007. That gives home owners plenty to smile about and the ability to leverage that into other investments and opportunities.
What is driving the drop in prices?
Consumer expectations are that we will have a slowing market – this is reflected in auction clearance rates, private treaty results and reduced attendance at open homes. APRA's credit restrictions on lending to investors has had a significant impact on cooling the market. Had APRA not stepped in at the time we may have seen a faster drop.
Wages growth has not kept pace with property inflation so house price to income ratios are now quite high, causing affordability issues for buyers that are looking to enter the market.
The slow down in price is a good thing for those considering entering the market. Eventually every market needs to take a breather. See the worm turning in the chart below.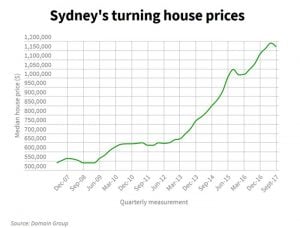 The key take- away from any historical chart of capital growth is that slowdown or correctional phases are typically short-lived. These are the ideal times to capitalise on slower activity to enter the market and take advantage of more mailable vendors. However, it will take some time before the news gets out to some "pie-in-the-sky" vendors who are yet to revise their price expectations to be more realistic.
Putting a floor under the housing market, particularly in Sydney, is continuing infrastructure development, population growth and jobs growth. Sydney's Metro plan will see some excellent opportunities for both investors and home buyers seeking to tap into new growth areas around transport hubs and technology parks.
I expect the next few months will see a soft landing for the housing market – we will see mixed results from different suburbs with perhaps some more slight declines or flat line price growth the next 12 months. On the positive side I expect to see interest rates staying on hold, vendors becoming more negotiable and overall the pendulum swinging back towards a more balanced market.