Opportunities in the Property Market for 2021 - January 2021



January 22, 2021 / Written by Rich Harvey
By Guest Blogger: John Lindeman, CEO
Lindeman Reports
With all of our property markets moving into growth, property market guru John Lindeman gives us his take on the outlook for 2021, revealing which areas have potential for the biggest price rises and where to avoid.
Buyer demand is pushing housing prices up almost everywhere as home buyers respond to lower borrowing costs and repayment buffers, plus grants, incentives and stamp duty waivers. Not only are these easier and cheaper borrowing conditions encouraging more buyers to enter the market, but they also give buyers more borrowing power.
The charge is being led by first home buyers, which is why the price growth has been highest in the cheapest capital cities, where more homes are priced within their reach.
As the graph shows, the percentage change in prices for the last quarter of 2020 was greatest in lower priced cities and lowest where median prices were highest.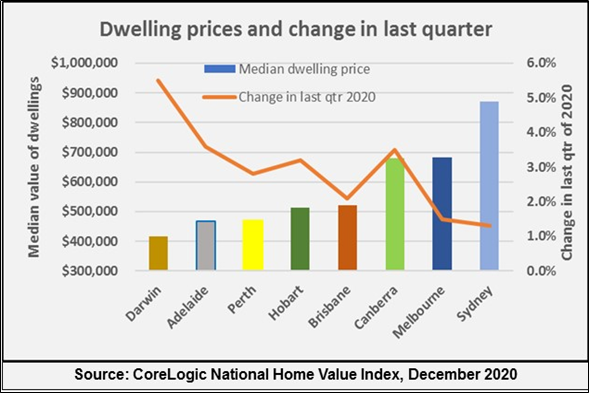 The one notable exception was Canberra, whose property market continues to outperform the State capital cities as I publicly predicted in the property media in June last year.
When will this demand slow down?
When prices once again become unaffordable for first home buyers, will demand slow down? The answer is that the growth in lower priced areas will encourage existing home owners to use their increased equity and the availability of cheaper finance to upgrade to better homes in more suitable areas. This means that demand will ripple to those areas, putting pressure on prices to increase there as well.
Once prices have reached the higher borrowing capacity of upgrading buyers, the market will slow down again, but right now, growth is occurring almost everywhere and this is likely to continue this year.
Suburban house prices, especially in the more sought after beachside, bayside and harbourside locations may rise by ten per cent and more this year, increasing until the new affordability limits of home buyers have been reached. This means that the longer that intending buyers wait, the more difficult it will be for them to find a suitable property at a price they can afford.
Areas to avoid right now
The situation in our first home buyer and home upgrader suburbs is totally different to that occurring in our inner urban high density unit rental markets. These locations are suffering from a collapse in short term rental demand from international border closures.
Melbourne's CBD, Docklands and Southbank precincts are the worst impacted, followed by Sydney's CBD and Brisbane's CBD, with asking rents falling as rental vacancy rates reach record highs. Investors should definitely avoid them right now.
Areas where overseas migrants tend to settle and rent homes on their first arrival in Australia are also seeing the numbers of rental vacancies climbing because there are no overseas migrants arriving in Australia right now. Investors should also avoid those areas, which tend to be the older well established but ungentrified suburbs of our major cities with large percentages of rental properties.
Areas with the best potential
The irony of the current state of play is that the areas which have little to no appeal to investors right now are highly likely to be the best areas for investors once our international borders are open again.
With rental vacancy rates rising and asking rents falling in the most heavily impacted locations some investors are deciding to sell and others may have to sell, leading to an increase in properties listed for sale in those suburbs.
This will cause a slide in sale prices, even as property values keep rising in other parts of the market, but it will also lead to a reduction of rental stock in these locations as investors sell of their empty houses and units.
Then when our international borders re-open, we will experience a surge in rental demand from overseas arrivals and clever investors who have purchased properties in currently depressed areas when prices are at their lowest will do very well as asking rents and then prices shoot up again.
John Lindeman is the In-Depth columnist for Your Investment Property Magazine and a popular contributor to property related media. John also authored the landmark best-selling books for property investors, Mastering the Australian Housing Market and Unlocking the Property Market, both published by Wileys. Visit www.lindemanreports.com.au
To have one of the friendly Propertybuyer - Buyers' Agents contact you:
or
call us on 1300 655 615 today.