The reality of affordable Sydney



December 4, 2017 / Written by Thirst Creative
By Rich Harvey, CEO, propertybuyer.com.au
More than a few observers believe the idea of finding affordable property options in Sydney is akin to a phoenix riding a unicorn over a rainbow to retrieve their pot of gold – a work of pure fiction.
According to these folks, the imaginary world of the 'easy buy in' is extinct – expired – over! The new normal means a whole generation are locked out of homeownership forever. The stay-at-home middle-aged child is the future!
Except… I'm not convinced.
The key to finding affordable options among Sydney bricks and mortar does involve using your imagination, but more to form a strategy rather than a fantasy.
Low-priced buyers must embrace the concept of compromise and realise there are options to own property in Sydney and it's surrounds, but you must be prepared and realistic.
What is affordable?
For the sake of discussion, let's look at price points. According to the latest numbers from CoreLogic, Sydney's median house price sits just shy of $1 million while the median unit price is a touch over $700,000.
Buyers hunting for homes in the bottom end of the price range will want to stay well below these figures and it is with that in mind that we must consider the options.
The trade off
If you're hoping to jag a waterfront mega-mansion for the price of a bedsit, I have some bad news. Unless you inherit or win it, there's little opportunity to unearth a bargain in the harbour city under our free market capitalist system.
The best way to locate affordably price point is to consider the elements that drive up values and find your points of compromise.
Here's what to consider
Location is paramount – that's why it's called the three most important elements of a great property.
Location has a direct impact on land value and the truism here is the closer you are to the coast or CBD, the more expensive your options. So, if you're willing to look at the fringe addresses, there will be options to buy where the price is right. The trick is to stay close to transport options. Even if you're at the end of the train line, you'll still get a traffic-free commute to town. Another added bonus – first on the train gets the best seats in the carriage!
There are savings to be made with property type too. As a general rule, houses are more expensive than units. This is related to the value of land, but also factors in elements of dealing with an owners' corporation and its ongoing fees as well as sharing your common areas.
Herein also lies the advantage with the harbour city – Sydney buyers are more accepting of unit living than in any other capital in Australia. Owning a unit still leaves you open to a reasonably sized buyers base and that's a good thing come resale.
Condition is another factor. Pristine property, particularly brand new stock, attracts a premium. It's somewhat like a new car. Once you drive it out of the showroom, you may just hear the leather start to crack.
Looking for a property that requires a little love is a great way to get your foot in the door. A lick of paint, some new floor-covering and a flat-pack kitchen can do wonders for a home at a surprisingly low price.
There is a myriad of other factors that help drive prices, but working within these three elements helps you understand how to crack into affordable property in our town.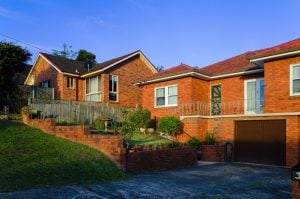 Some simple suggestions
Applying the above principles, I've come up with a few examples where property is not beyond the realm of first time buyers who have up to $500,000 to spend. The list is not exhaustive and won't suit everyone's requirements, but they do paint an affordability picture.
For example, older units from the 1970s in Fairfield in the south west might be to your liking. If so, keep it low density (e.g. a three-storey walk up complex) and as close as possible to facilities and transport. The other benefit with these is they can be fairly inexpensive to renovate. Older units make great first portfolio holdings too because once you've built some equity, tenant demand is reasonably good.
Older dwellings requiring renovation in the very far western fringes can still be had for around the mid-$400,000s to $500,000s. These will take a bit more elbow grease, but you do have a little bit of land to play with so that's a nice thing. Check out areas around Blacktown to find detached housing at reasonable price points and with the ability to reach the growth zone of Parramatta as well.
If you want to be closer to the big smoke, it is possible. Bedsit style units can be within your budget in the eastern suburbs. Once again – look for fundamentals that will help shore up value. Great locations with a floor area as big as possible. As a trade-off, look for a renovation prospect because a few weekends with a paint can will do wonders.
Affordable Sydney exists, but it's become selective. Before you resign yourself to renting forever, it would pay to contact an expert. We can sit with you and discuss the options, look at your must-have inclusions and see where flexing on the luxury add-ons can save dollars.
Don't be beaten, just make sure you build a strong support team and you could be in for a win!