Securing your forever home



November 30, 2017 / Written by Thirst Creative
By Rich Harvey, CEO, propertybuyer.com.au
There's a popular question property people like to ponder.
"What's my end game?"
Some seek retirement with the opportunity to flit from one corner of the globe to the next, weighed down by a passport full of ink and memories.
Others like the idea of their special project, whether it be saving the planet, wayward youth or defenceless animals.
But for keen bricks-and-mortar folk, one of the most common flags pitched on the mountain of success is the 'forever home'.
Smart investors know that with the right strategy, discipline and assistance, their forever home is much closer than it may first appear.
If you fail to plan…
Whenever you attempt to realise any goal, moving forward without a plan is a foolish endeavour. This is absolutely the case when it comes to the forever home.
What does your forever-home success look like? Think hard because this is your residential benchmark - your ultimate abode. It'll have a balance of lifestyle, practicality and aesthetics. It should be a joy to raise the garage door each evening.
Here's where a bald faced reflective moment by you and your significant other is important.
Do you have a family? Are you planning one? Where do you hope to work, play and educate yourself and your brood? What about beyond the family years?
A forever home needs to adapt to the seasons of your life, so take the time to think how that might play out in the future.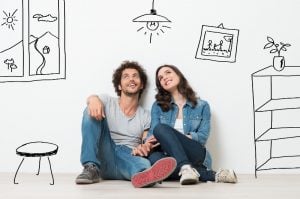 Key considerations
The first contemplation for your forever home is often location. Decision on your eventual homes will be full of discussions on size, layout and aesthetics and where you might compromise, but one thing you can't change is location.
Next – have a think about your tastes. Are you a colonial rambler type of owner? Does a sharp, contemporary home suit your style? Perhaps you're a penthouse dweller?
Answer these questions first so you know where and what you are looking for.
Finally - finances are a major limiting factor when buying your dream home. If your pockets are deep, your options are broad. That's fine for the one-percenters, but what about the other 99 per cent of us? Seek early advice on what you can afford to spend so you don't go into the process wondering.
Finances will also influence you acquisition strategy. Can you adopt a process to achieve what you want sooner? Does it involve a series of small projects or strategic investments?
Having a chat with an experienced property expert will set out a path to get you where you need to be.
What's are the options?
There are three options available to the homebuyer looking to own their ultimate pad.
Firstly – buy 'as is'. This is simply stumbling upon a property riddled with your most desired forever-home attributes. It could be the wrap around verandas and large courtyard, or views across the water. It might be the classic high ceilings, convict-era stone walls, or terrace design with a steep staircase.
Whatever the reason, you may just find your forever home already exists – good for you!
The second option involves seeking good bones and creating the home you want. This is about securing the spot and checking your tick-list items can be achieved with a little extra work. If your dream home includes a pool, then yard size and even topography might be a determining factor. If you're adding levels or extending, best ensure you can achieve the design you want within the building code.
The final option is to build. The blank canvas in your perfect location is obviously a terrific way to make sure you get exactly what you want. Locating this dream-in-waiting can be a struggle, but building from the ground up is a foolproof approach to having what you desire.
Finding your dream home is a journey of bold self-assessment and strategy. It's well worth the effort, but navigating the path to reveal your golden property requires a wealth of experience. If you'd prefer to speed smoothly towards your dream home, rather than stumble on the rocks, give us a call.