Super-Prime Property In Brisbane - June 2023



June 16, 2023 / Written by Rich Harvey
By Rich Harvey, CEO & Founder, propertybuyer.com.au
One of the many things I love about being a buyers' advocate is staying abreast of market movements. I know it sounds a little "property nerdish" but I have the best job in the world and a big part of that is immersing myself in real estate happenings around Australia and watching how things unfold.
And one sector which is getting plenty of attention at present is Brisbane's super-prime residential housing.
The River City has been a shortlist destination for deep-pocketed buyers over recent years. It's unsurprising really. Not only has the city evolved into a cultural hub of international standing, but a combination of fabulous lifestyle and impressive property at relatively affordable prices has seen high-end buyers want to make it their home base.
And the progressive march towards ever-higher price records in Brisbane shows no signs of slowing.
Let's look at the luxury market in the Queensland capital and why it's so hot right now.
Limited listings meet rising demand
One reason why Brisbane has seen fewer high-end sales historically than Sydney or Melbourne is that there's wasn't an appetite among owners and developers to create multi-million-dollar abodes. It would have been considered risky to pour millions of dollars into a palatial home given buyers at those high price-points were few and far between.
Sure, there have been many landmark properties created in Brisbane over the decades - places on Hamilton Hill such as Christopher Skase's (remember him?) mega mansion or Keith Lloyd's pink palace in Norman Park. But spec homes comparable to Sydney's best harbourside estates are rare here.
That's changing now. According to Knight Frank's Australian Prime Residential Review Q1 23 report, Australia's ultra-high net worth population (net assets of $30 million or more) grew by one per cent in 2021. The study also forecasts this demographic to grow by another 31 per cent over the next five years.
In addition, Knight Frank's report indicates we're potentially at the start of an upswing in prime property activity (regarded as $2 million-plus in Brisbane). In their report, Knight Frank Research forecast Brisbane prime property prices to increase through to the end of 2023 with a further uptick of four per cent in 2024, and again in 2025. Of note is that while sales volumes have retracted recently, so have days on market. Put another way, prime property is selling quicker in Brisbane than it was last year and the year before that.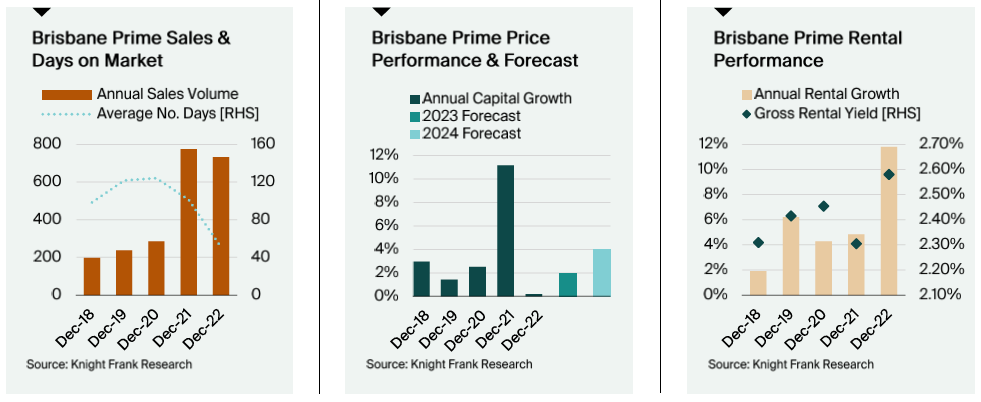 Source: Knight Frank
There are positive factors common across all localities at the top end too. For example, buyers at these price points are often less reliant on finance. As such, movements in interest rates don't tend to affect their purchasing decisions. They will also have the resources to secure a home that meets their needs i.e., price will be less important than quality and location.
Another factor is the scarcity of prime properties. A quick search of realestate.com.au shows there are only around 72 out of a total 5853 listings priced at or above $5 million in Greater Brisbane. In other words, $5-million-plus homes make up just 1.2 per cent of all publicly advertised listings in Greater Brisbane.
Another factor is that despite the success of listing portals more generally, most homes in the prime price sector tend to trade off-market. Privacy is a valuable commodity among these stakeholders. They don't want to hold open homes where everyone can traipse through their stunning abodes. These sellers would rather deal directly and discreetly with pre-qualified buyers who won't waste their time. That's why most properties are sold via the buyers' advocate/selling agent network.
Top Brisbane sales
As I mentioned there have been some standout sales in Brisbane recently. Let's have a look at a few.
The Brisbane sale price record was broken in April this year when Amity at 101 Welsby Street, New Farm went under contract for $20.5 million.
This was an off-market transaction to an undisclosed buyer. The house itself was constructed in 1892 and is the last 19th century riverfront home in Brisbane. The house has four-bedroom accommodation and includes surround verandas and original features such as 3.6 metre ceilings and double-sided vertical joint walls. While the home is impressive, there's little doubt that the 2127 square metre site with 30-metre frontage to the Brisbane River was the property's primary attraction – even more so that this included a 617 square metre separately titled vacant allotment.
One of the most impressive recent sales of a contemporary home in the River City is the $10 million result achieved in just seven days for Scorpia – a three-level, five-bedroom, five-bathroom, six-car spec home built at 25 Grays Road, Hamilton by Graya, a renowned local company specialising in prestige home and unit development. Scorpia is positioned high on Hamilton Hill and delivers panoramic views across the Brisbane River and to the CBD skyline. The property is all concrete, timber, stone and glass with architectural curves that would set the most discerning hearts aflutter.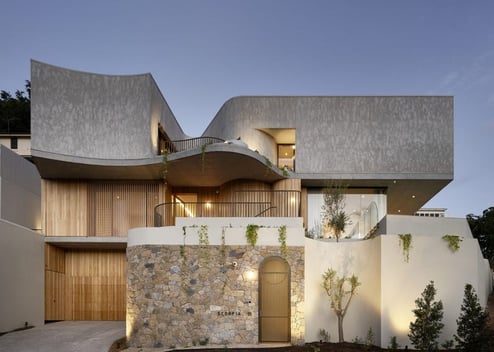 Scorpia, 25 Grays Road, Hamilton (source: realestate.com.au)
Apartments are also stepping up in Brisbane's top end too. A two-level penthouse in the yet to be completed Moray House project located at 65 Moray Street, New Farm sold off-the-plan for $15.75 million earlier this year. The cheapest sale in this riverfront development of six full-floor apartments was $9 million.
However, this sale could pale in comparison to the $30 million listing of the penthouse in the city's renowned hotel/apartment complex, Emporium. The 891 square metre suite on the 21st floor of the South Bank hotel has hosted Hollywood celebrities and international pop stars who have paid $15,000 a night for the privilege of staying there. The penthouse includes four bedrooms, three bathrooms, a 15 metre infinity pool, a six-car garage, private lift access, a 5000-plus bottle wine cellar and unrivalled South Bank Parklands, Brisbane River and CBD views. A bonus is that the new owner will have access to the hotel's five-star service, including a concierge, housekeeping, dog walking, car washing, room service, in-room massage services and a personal chef.
As you can see, Brisbane's luxe sector is on fire as the well-heeled look to acquire some of the Sunshine State's most impressive housing – all in the lead up to a golden decade for the River City that will include the 2032 Olympic Games.
Of course, unlocking the door to these fabulous properties requires insider access – the type that can only be provided by a well-connected buyers' advocate. If you're keen to secure a luxurious Brisbane home, reach out to Propertybuyer and let our local specialists take care of your needs.
To have one of our friendly Buyers' Advocate's contact you, click here to:
or
call us on 1300 655 615 today.