Super prime property in Melbourne - June 2023



June 30, 2023 / Written by Rich Harvey
By Rich Harvey, CEO & Founder, propertybuyer.com.au
While Sydney has its harbour and Brisbane its climate, the charms of Melbourne are historic and cosmopolitan.
Old money combines with urban cool in the Victorian capital to draw visitors and immigrants from around the globe. As you can imagine, the city's ultra-prestige market is steeped in both history and high-end design. And of late, the luxe real estate market is on the upswing.
According to the Quarter 1 2023 Knight Frank report Australian Prime Residential Review, Melbourne's ranking on the Prime Global Cities Index has risen from position 21 to 19 in just a year. This spot is higher than Berlin, London and San Francisco. In fact, Melbourne is the top-ranking Aussie capital on the scorecard, beating out both Sydney at 29 and Brisbane at 32 on the list.
Melbourne Prime
According to the Knight Frank report, home sales in Melbourne above $3 million saw a value increase of 3.5 per cent in the December Quarter 2022. While their analysts predicted a more subdued 2023 at the time of the report, there's up-to-date anecdotal evidence suggesting this year will be another strong one.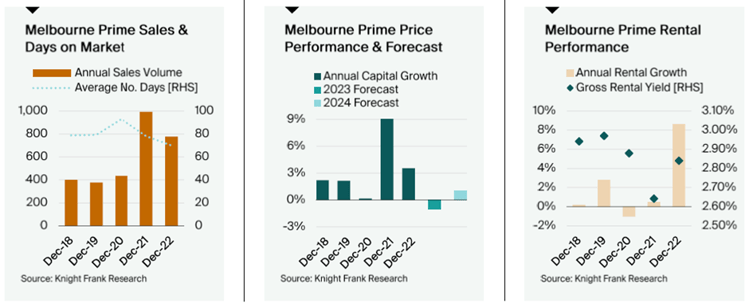 To give a local perspective on $10-million-plus transactions, I chatted with Amanda Jones, principal of Propertybuyer Melbourne. She let me in on what she's observing in Victoria's premium market right now.
According to Amanda, the upper echelon markets of Toorak and South Yarra are seeing extraordinary levels of activity with open homes drawing incredible crowds.
Buyers are a demographic mix of high-net-wealth individuals, although the proportion of overseas purchasers (predominately from China and Vietnam) has been on the rise. Amanda also described the flood of "new money" coming into the market led by much younger buyers. Many are crypto speculators and start-up successes vying for homes to add to their growing collections of wealth trophies. Interestingly this generation is conscious of its "brand" and is particularly drawn to real estate with providence. Amanda described how celebrity homes – such as Ricky Ponting's recent sale – attracted a celebrity premium with the new owners paying a little extra to be a part of the property's story.
As with many of our high-end markets at present, stock levels remain an issue for buyers. Vendors are coy about listing and this is part of the reason such extraordinary prices are being achieved. Purchasers at these price points are rarely deterred by interest rate movements and any broader economic bad news. Many are, in fact, cash buyers and if they see a home that lights their fire, they have the means and hutzpah to secure it.
There is also more room for prices to grow in this market as the year progresses. Last year a property traded for $81 million, and while 2023 is yet to see anything as high as this, Amanda believes it's only a matter of time. Amanda describes Portsea and Sorrento on the Mornington Peninsula as suburbs to watch. There's no reservation among this buyer group about spending tens of millions on a "holiday home" if that's what takes their fancy.
Significant Sales
There have been a few sales and listings of note in and around Melbourne this year. Here are some we've collated via Amanda's inside knowledge and through use of our data sources.

Ricky Ponting's seven-bedroom mansion in Brighton recently traded for $16 million. The former Australian Test Captain bought it for $9.25 million in 2013, so he's made a good return on his original outlay. Along with the palatial home, the estate includes private access to the bay, landscaped gardens, a pool and tennis court all set on around 1900 square metres of land.
And in a case of the stars also wanting to become entrenched in the history of a property, Ponting and his wife Rianna have shifted to Shane Warne's old home in Toorak which they bought for around $20.75 million.

One listing worth watching will be 27-29 Kent Street, Brighton which is being sold by the renowned Zegame hospitality family. The property has price expectations of around $25 million to $26 million. It's a five-bed, six-bath, eight-car standalone home (one of only three in this precinct) with extensive bay views, and it's all on 1150 square metres of land.

Adrian Portelli has made a name for himself over the past year, most prominently as the buyer who broke the bank during last year's season of The Block. He's bought himself another winner this year after paying $39 million for an apartment in the Sapphire by the Gardens development. The 34-year-old success story also one-upped everyone by having a $3 million McLaren sports car craned into his unit's living space.

Property developer and entrepreneur Ron Walker recently listed his home at 55 Albany Road, Toorak and invited offers of $55 million to $60 million. The property has now sold with the price undisclosed. It's a six-bed, seven-bath, eight-car home on 3300 square metres of land.

Property has been selling fast too. Avon Court – a four-level circa 1890 Victorian mansion at 20 Shakespeare Court, Hawthorne – sold in just 12 days despite its eye watering $38 million to $41 million price tag. This one-of-a-kind home has seven kitchens, an 18-seat teppanyaki kitchen, and an 18-seat home theatre. These in addition to its eight-bedrooms and seven-bathrooms are all set on 4251 square metres of land.

1 Whernside Avenue, Toorak sold in April for a reported $34 million. Positioned on a 2125 square metre site in one of Toorak's most exclusive streets, the property comprises a circa 1998 mansion that has been extensively extended in recent years. Accommodation includes six bedrooms, seven bathrooms, indoor pool, gym, massage room, yoga room, games/theatre room and a six-car basement garage.

In the same suburb is 3 Macquarie Road, Toorak which sold for $29.5 million in February. This is a six-bedroom, seven-bathroom, six-car architectural home of supreme fitout is set on 2100 square metres of land. Ancillaries include manicured lawns, pool with pool house and a tennis court.

As you can see, Melbourne's premium property is running hot. What's perhaps most telling is that buyers and sellers at these price points crave the ability to trade quietly – and that means using experienced professionals to make deals happen. As a local buyers' advocate with extensive networks throughout the region, Amanda is perfectly positioned to help any high-end buyer secure one of Melbourne's most desirable dream homes.
To have one of our friendly Buyers' Advocate's contact you, click here to:
or
call us on 1300 655 615 today.