Super-prime Property In Sydney - April 2023



April 11, 2023 / Written by Rich Harvey
By Rich Harvey, CEO & Founder, propertybuyer.com.au
Those of us in the property space would confess to a love of luxury homes. They are a glimpse into a world where someone's imagination has been left to run untethered. The binds of budget are rarely considered. These properties are craved by purchasers with the means and motivation to acquire something spectacular.
So, as a well-connected Sydney-based buyer's advocate, I am privileged to be able to inspect some of this city's super-prime real estate. What might surprise some readers is that this upper echelon of housing is a sector running red hot right now.
Let's explore the mega-luxe market in Sydney and why it still enjoys surging demand.
The demand/supply equation
So, what's pushing demand for the very best properties on the market?
It's essentially that purchasers who require the top one per cent of real estate aren't as impacted by broader economic drivers as the rest of us, because their wealth has flourished over the past few years. These buyers often don't require high borrowings to purchase their homes, so they're relatively unaffected by interest rate increases.
According to Knight Frank's Australian Prime Residential Review Q1 23 report, Australia's ultra-high net worth population (net assets of $30 million or more) grew by one per cent in 2021. The study also forecast this cohort to grow by another 31 per cent over the next five years.
Knight Frank also reported property sale volumes in the sector trended up by 14 per cent in the December 2022 quarter.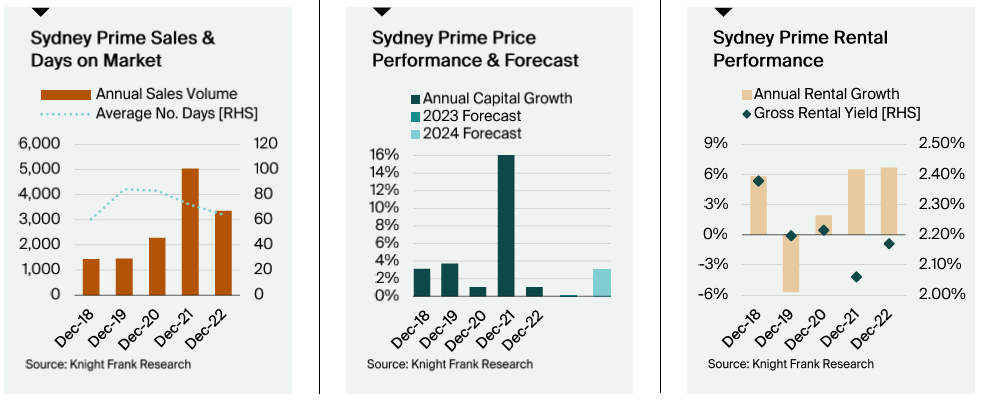 There are universal factors that keep prices elevated in the ultra-prestige market too.
For starters, most homes are unique and there's a limited quantity of them in each area. Ask any economist and they'll tell you that scarcity elevates value. Position, size, fit out, design, views, presentation, land area… whatever its standout elements, a prestige home is a rare gem.
Despite how desirable they are, most people seldom hear of one being advertised for sale. That's because the buyers and sellers who operate at these rarefied heights tend to be extremely private.
Of course vendors want to list their mega-million dollar homes for sale, but these owners are extremely picky about who gets to know about their business, let alone walk through their beautiful property. Potential buyers need to be qualified before they're invited to visit.
But purchasers with pockets deep enough to acquire are covert as well. In addition, these purchasers have built their fortunes by using their limited time wisely. Most have no interest in studying listings and traipsing through multiple homes. They simply want to provide a scope of "must haves" to a qualified professional who can do all the legwork.
As a result, around 70 per cent of super-prime homes are traded off-market through professional networks of buying and selling agents.
If you have more than $15 million-plus to spend on a property, then the only way you'll access all the available listings is by employing a buyer's advocate to represent your interests.
Top sales
Let's have a look at some of the most substantial sales over the past few months in the Sydney market across three prestige price bands.
The first is 39 Palmerston Street, Vaucluse which sold in November 2022 for $15.5 million. Set on a 525 square metre waterfront site in one of Sydney's most sought-after addresses, this property delivers a four-bedroom, four-bathroom, four-car home of understated beauty. This home is a classic for waterfront living where you step straight from the yard to the beach.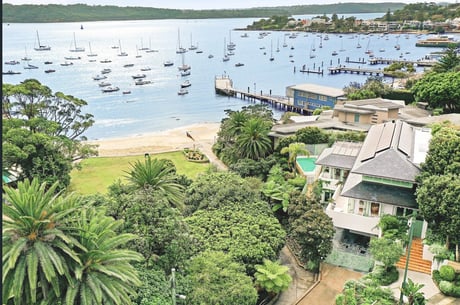 39 Palmerston Street, Vaucluse (source: Domain.com.au)
Taking it up a notch, 2 Reddall Street, Manly found its buyer in October 2022 at $21.5 million. This is a five-bedroom, three-bathroom, three-car home set on 400 square metres of beachside land in this renowned location. This three-level brick dwelling is considered a Sydney classic by locals. The views from every level are expansive and breathtaking.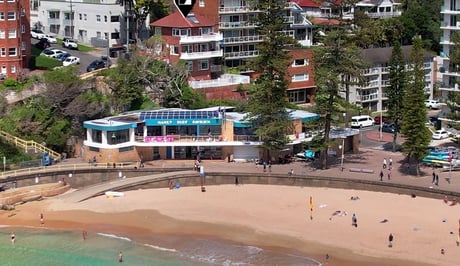 2 Reddall Street, Manly – flagged by black and white markers (source: Domain.com.au)
Finally, among the $30 million-plus sales, there's 16 Iluka Road, Mosman which sold for $30.5 million in October 2022. The Shaun Lockyer designed home provides five-bedroom, six-bathroom, three-car accommodation set across three levels of luxury living. The home sits on a 1720 square metre waterfront site in a suburb considered the epitome of prestige in Sydney.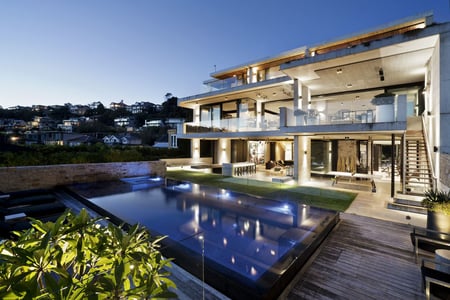 16 Iluka Road, Mosman (source: Domain.com.au)
Sydney remains the epicentre of Australia's most remarkable housing. If you're in the market to purchase a super-prime property, be sure to contact our team. We have access to all the most desirable homes throughout Sydney.
To have one of our friendly Buyers' Advocate's contact you, click here to:
or
call us on 1300 655 615 today.