The Biggest Danger In Booming Markets - October 2021



October 26, 2021 / Written by Rich Harvey
By Rich Harvey, CEO & Founder, propertybuyer.com.au
It may sound unlikely, but there are ways to lose serious money during a booming market.
Firstly, I know the hot price run on property is already getting plenty of interest, but let me give a personal perspective on just how strong things are.
Over the course of my 20-year career in this industry, I have never seen anything like the market we are experiencing right now.
It isn't just the prices being achieved or that sales occur within a day or two of listing. We've been through periods of extraordinary growth before in our cities – that's nothing new.
No – what I'm talking about is the breadth of this boom. Price gains have been almost universal across the Aussie real estate landscape.
Here's an example. One of the more useful tools for describing Australia's market performance is via a property clock.
I often refer to the Herron Todd White's monthly graphic. This clock is based on the qualitative opinions of local-expert property valuers around the nation. These are professionals renowned for their calm and collected approach to analysis. They can be guarded, and a little conservative at times, but they don't make public observations without personal evidence to back up their positions.
I say all this because in two decades, I can't recall ever seeing a valuer produce a property clock like this: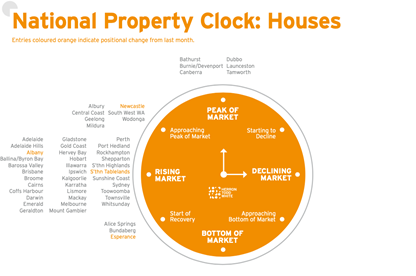 All the cities and regional centres are in the rising hemisphere of the clockface.
The crazy thing is that this situation is showing no sign of slowing in the near term. In fact, as we traverse into the next phase of pandemic recovery, where businesses and borders reopen, I believe Sydney and Melbourne will see even more market activity. Brisbane's interstate migration number (and property market) are set to run even hotter as well.
All this would suggest that you can't lose on Aussie real estate at the moment, no matter where or what your buy.
But I'm here to tell you that's a dangerous myth which could cost you plenty.

Some boats have holes
There's a saying in the property game – "A rising tide floats all boats."
It suggests that when markets run hot, every property is set to benefit.
But there's a flaw in this metaphor because some boats will take on water and sink.
If you don't step beyond the facade of thinking you can buy whatever you want wherever you like and make a motza, then you are in for a world of future financial hurt.
You must apply consistent, rigorous, and fearless due diligence to whatever you're purchasing. You still need to identify the drivers of long-term growth and strive to secure assets that will shore you up against the inevitable markets softening.
I assure you markets will soften at some stage.
Pick locations with easy access to major employment hubs, excellent convenience facilities and nearby essential services. You want areas enjoying gentrification, with great schools and other desirable attributes like parks and water access.
A valuer I know says you get the chance to sell a poor-quality property on a busy road about once every ten years – and he's right.
Every decade or so we get a market where buyers throw normal convention out the window. FOMO becomes so overwhelming, they look past the obvious flaws in some properties and do whatever it takes to buy whatever they can.
And that market is now upon us. Trust me, you do not want to be the bunny holding a lousy piece of real estate when the market goes soft.
Not only will you have challenges like finding decent tenants or dealing with the consequences of your secondary locations, you'll also be missing out on an extraordinary opportunity. That's the chance to buy a quality house or unit that will experience sustained and above-average capital gains over the long term.
In short, buying the best property you can is even more important than during hot markets.

Best way to mitigate the risks
Selecting the right property for your needs takes time, effort and experience. The best way to avoid buying the wrong property when market run hot is to rely on the services of an experienced, well-connected buyers' agent. We have our finger on the pulse and understand what makes for outstanding performance in our speciality markets.

A buyers' agent can ensure even when buyer competition is hot, you don't miss out on purchasing the best possible property for your needs both now, and in the future.
To have one of our friendly Buyers' Agent's contact you, click here to:
or
call us on 1300 655 615 today.