The Bottom of the Market is Nigh - June 2019



June 4, 2019 / Written by Rich Harvey
By Rich Harvey, CEO & Founder propertybuyer
Written by: Rich Harvey, CEO & Founder
propertybuyer.com.au
Click here to watch Rich's Brief Market Update: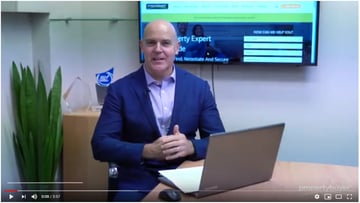 or continue reading below...
It's been said that a week is a long time in politics, but a week in property has also shown a dramatic turnaround (due to the politics!)
Since the Coalition Government had a surprising win at the Federal Election, we have started to witness a significant turnaround in property market sentiment. There are four main factors that will impact the market significantly over the next 6 months and bring forward the bottom of the market. These include:
1. Fear of negative gearing policy and capital gains tax changes coming off the table,
2. At least two interest rate reductions of 0.25% each (priced in by financial markets),
3. APRA removing the minimum 7% interest rate serviceability buffer for mortgage loans, which was first introduced in December 2014, and
4. The new First Home Loan Deposit Scheme.
I believe that we are now virtually at the bottom of the market. Many investors were bracing for change under Labors' policy to remove negative gearing and cuts to CGT, but with this threat out of the way, property investors feel more secure and less rushed in their approach to build real wealth through property. CoreLogic's hedonic pricing index which has the most comprehensive database of property values, has shown that prices in Sydney, Melbourne and Brisbane have substantially decelerated or plateaued. See charts below:

Source: CoreLogic 2019
The RBA is primed to provide two rate cuts -one in June and another likely in August or September, which will help end the slide in house prices. Many economists are now revising their forecasts for the property market as a result. Shane Oliver from AMP (very conservative economist) said the market will turn around in the next six months instead of in mid-2020. Similarly, Paul Bloxham economist at HSBC, expects house prices to stabilise this year. However, Christopher Joye, maverick Economist and writer for the Financial Review, predicts property prices will recommence rising 5% to 10% over the 12 months following the second rate cut.
The big game changer for the property market is the APRA change to serviceability requirements. Bank credit policy has been extremely tight which has crimped lending to both home buyers and investors. Since December 2014, APRA has required that banks assess borrowers at a minimum interest rate of 7%. The actual rate that borrowers pay is typically between 3.5% and 4%. So APRA has proposed to replace this fixed benchmark rate with a loan interest rate buffer 2.5% above the banks actual lending rate.
My friends at Goldman Sachs have analysed the impact of this change and estimate that every 0.5% reduction in the minimum assessment rate increases maximum borrower capacity by around 6%. See the chart below which demonstrates how relaxing the assessment rate improves borrowing power significantly. Christopher Joye's group estimate that the APRA change will enhance borrowing capacity by 14% (and if interest rates cuts are passed on in full could enhance borrowing up to 20%). It is also important to note that most banks indicate that only about 10% of people will borrow at their maximum capacity.
Increase in maximum borrow capacity, flexing assumed assessment rate floor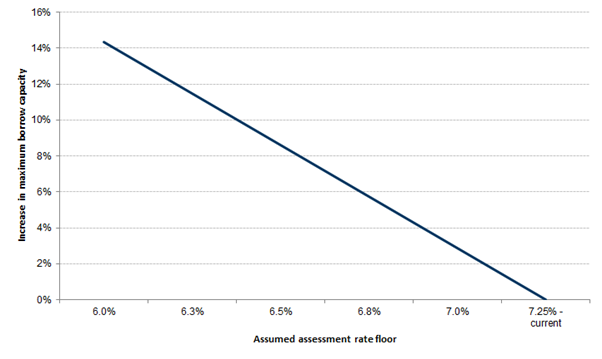 Source: ABS, APRA, Goldman Sachs Global Investment Research
The new First Home Loan Deposit Scheme, offering first home buyers a 5% deposit option (and government underwriting the remaining 15% so they avoid paying mortgage insurance), will help struggling first home buyers accelerate their plans to get into the property market and stimulate demand and the lower end of the market.
Signs of turnaround
In the week after the election we experienced more buyer inquiry and saw greater positivity in the market. Many finance brokers we speak to regularly are reporting more activity and inquiry from potential borrowers. My team of buyers' agents are noticing a rise in the number of buyers at open inspections and many sales agents are reporting more listing enquiries through their offices.
The key take-away message here is that the four major changes outlined above will see greater stability and confidence return to the property market. Buyers and sellers sitting on their hands will not have the fear factor of a crashing or booming market. We are likely to see a more balanced market and an increasing volume of transactions.
Vendors should not take all this talk of positivity too far. It will take some months for the APRA changes in borrowing capacity to filter though, and there is typically a lag effect from the impact of interest rate reductions. But equally there is a good opportunity for buyers to capitalise on the rare moments where we are truly at the bottom of the market before its resumes its steady climb. Last month I posed the questions whether it was crazy or smart to buy in times of uncertainty. The answer to that seems more obvious now.
If you're seeking quality and independent advice on your next property purchase, click below to:
or call us on 1300 655 615 today. We'd be delighted to help.