There's No Market Downturn For Homeowners - June 2022



June 9, 2022 / Written by Rich Harvey
By Rich Harvey, CEO & Founder, propertybuyer.com.au
You can feel panic rising among some property owners as they react to the market's changing mood.
If you've seen as many property cycles as I have, you quickly recognise the first inklings of fear fuelled by a slowdown in price growth. But you also know that much of it is reactionary – a quick response to negative news reports and gossip among friends, work colleagues and family.
When prices are rising, everyone has an 'expert opinion' on what's happening. The same applies when markets cool too.
But most amateur pundits don't have the analytical or practical experience to truly understand what's happening and how real estate prices will react to drivers – particularly for homes as opposed to investments.
So, here are the reasons why I believe homeowners shouldn't panic about the recent downturn in activity, and why it's actually presenting an excellent buying opportunity.
The price cycle is natural
Australian house prices – particularly those in capital cities – have an established long-term habit of rising sharply, softening a little, then plateauing for some time before rising again. This is usually across a seven-to-12-year cycle.
Look at this PropTrack chart. It's a very long-term picture of Aussie house prices, but the section I like is from around 1970 onwards. See how periods of growth are punctuated by short-lived retractions?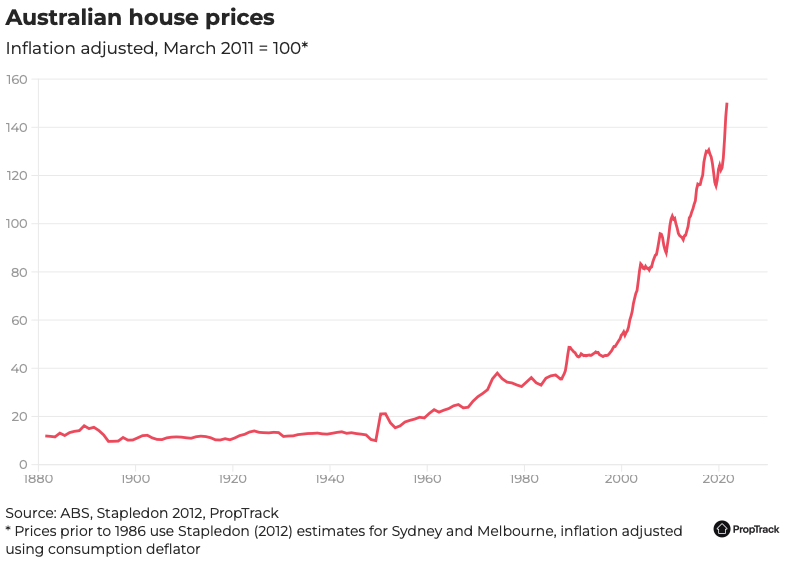 Current market conditions are no different.
Gains made in property values over the past two years have been extraordinary with a 20 to 30 per cent uptick across most major capital cities. Even if national home values were to retract by 10 per cent (something that's rarely, if ever, happened) homeowners are still way ahead. Their equity is hundreds of thousands more that it was just two years ago. This equity buffer will be their safety net when making financial decisions in 2022 and beyond.
Our home finances are good
Interest rate rises were inevitable as we exited emergency settings imposed during the pandemic.
But here's the thing, most households are now in a secure financial position. There's a cache of household savings and boosted wealth because of the pandemic years. From increased balances in share portfolios and super funds, through to heightened savings and higher property values, our household balance sheets are incredibly strong.
Most Aussie homeowners will be able to weather interest rate increases and that means they can make smart, pressure-free decisions about their property. I am not expecting some mass sell-off in response to interest rates. On the contrary, if recent years have taught us anything, it's that those who don't have to sell won't. They'll simply hold tight and wait for markets to return to balance.
High construction costs boost established home values
The cost of building a new home or carrying out extensive renovation has ballooned to extraordinary highs over the past couple of years. High demand for materials and labour combined with production slowdowns and supply chain delays have seen costs increase 20 to 40 per cent, depending on where you're building and what materials you'll need.
This is good news for established homeowners. Premiums are already being paid for finished, ready-to-move-in homes throughout all cities. Also, costs aren't set to retreat anytime soon, so expect the flow through benefit for established housing to continue.
Quality property delivers long term security
Think long-term "buy-and-'gold!'" property.
The first chart in this article demonstrates just how strong property has performed over the decades. Central to your success, however, is buying the right home in the right location.
I imagine a few people out there are thinking, "But hasn't the horse bolted on making gains via holding on throughout multiple price cycles?"
My answer is… of course not. Here are some numbers that prove appealing homes in great locations are resilient and deliver long-term growth throughout market cycle ups and downs.
In Brisbane, for example, have a look at Paddington. A buzzy, café-centric inner-west address full of classic Queenslander and colonial homes.
As can be seen from the SQM Data chart of median asking price, since around 2010 the long-term trend of house prices has been extremely positive. Downturns may have come in the form of tighter lending conditions (2016) or the pandemic (2020) but across the last decade or so, median prices have risen from around $750,000 to $1.703 million – a 127 per cent gain.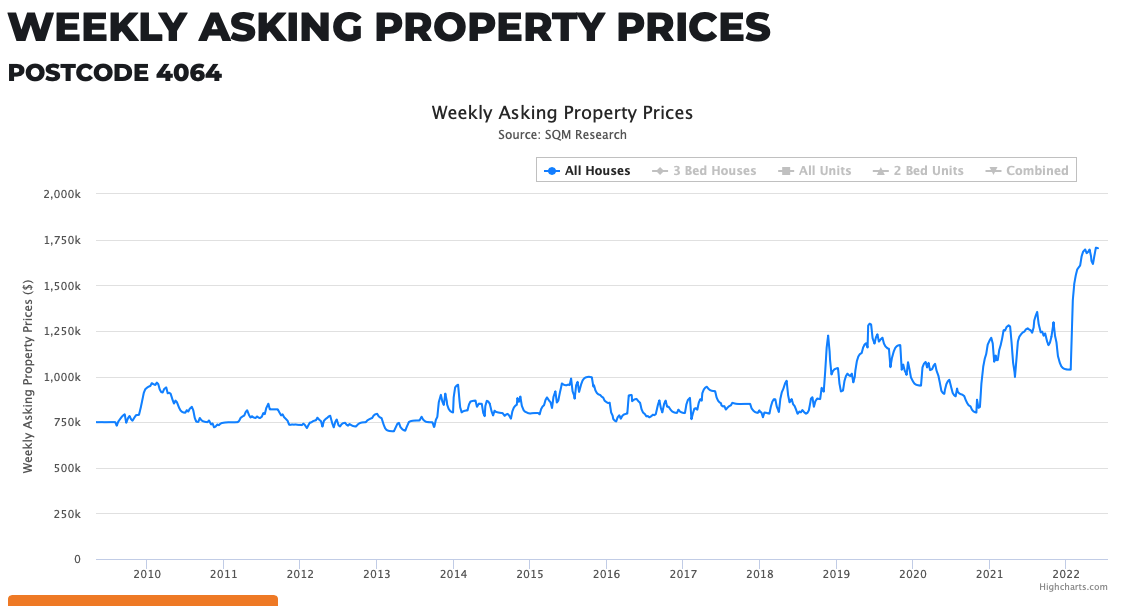 Another example is Yarraville in Melbourne. It's another suburb that draws in homeowner demand. Filled with beautiful gabled homes mixed in with renovators and contemporary design-abodes, Yarraville has a wide range of options for buyers. Meanwhile restaurants, cafes and even a renowned cinema add to the lifestyle appeal of this inner-west gem.
And it's played out in the price too. Yarraville housing has seen its median asking price rise from $488,781 in 2010 to $1.195 million on the latest numbers – an increase of 144 per cent.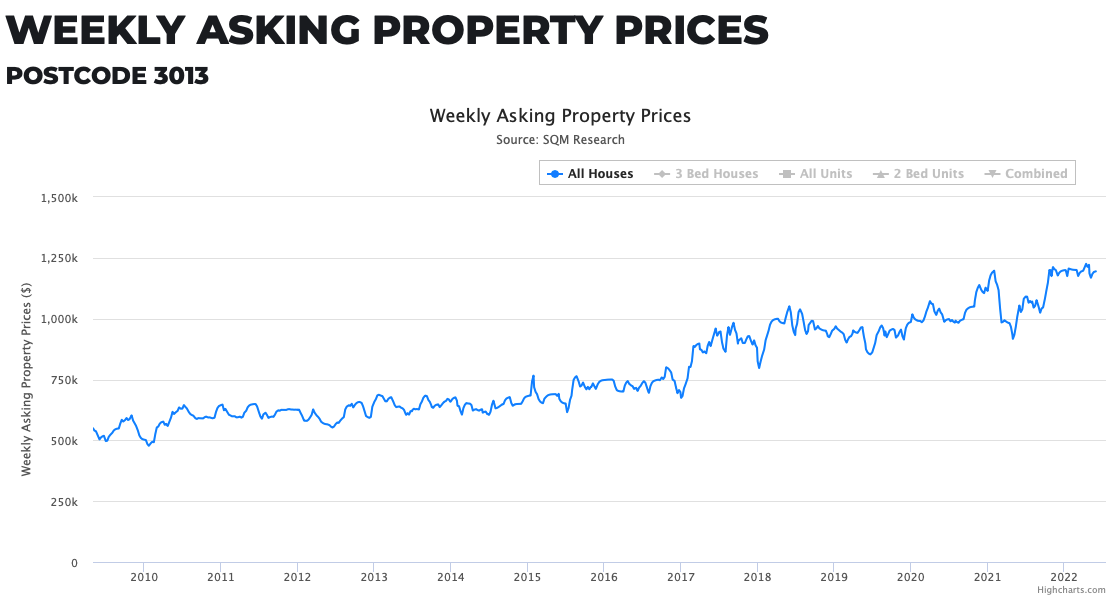 In Sydney, I love Frenchs Forest as an example. Wonderful family facilities, beautiful homes, great schools and plenty of the conveniences people love to be nearby. Prices have increased from $841,606 in 2010 to $2.35 million today, reflecting a gain of 179 per cent.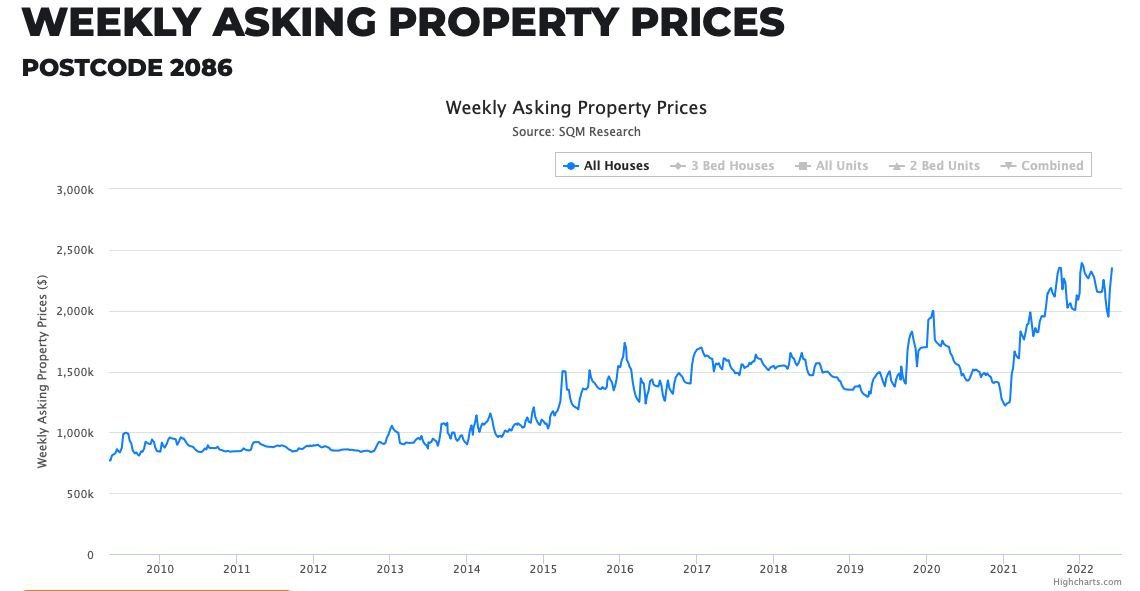 So, yes, I recognise there are some short-term challenges but, no, I'm not concerned for homeowners. The essential ingredient is selecting the right property when you purchase to shore up your home's value for years to come. That's why utilising the skills and networks of an experienced buyers' agent is essential. We can assist in locating and securing a home that not only meets your needs but also provides a wealth base that will continue to grow into the future.
To have one of our friendly Buyers' Agent's contact you, click here to:
or
call us on 1300 655 615 today.