What to Expect in Spring - September Market Update



September 3, 2019 / Written by Rich Harvey
By Rich Harvey, CEO & Founder propertybuyer
Written by: Rich Harvey, CEO & Founder
propertybuyer.com.au
Click here to watch Rich's Brief Market Update: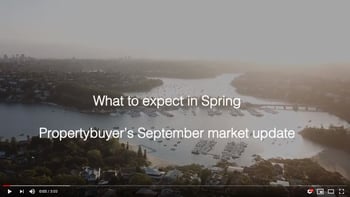 or continue reading below...
Warmer days, blooming gardens, new beginnings and fresh hope. The hallmarks of spring are here, but how do they impact the property market? Will listings increase? Will the property market maintain momentum? And how fast will prices recover?
Spring is the traditional time when owners decide it's a good time to sell. Why? Because there is a new positivity in the air, the gardens look better and the weather is warming up. The optimal time for viewing property is between the bitter cold of winter and the extreme heat of summer. Agents want buyers to feel comfortable and have a pleasant experience when viewing their potential new home and become emotionally connected.
Will listings increase?
We've had a drought of listings this past winter with vendors selling more due to circumstance rather than seasonal factors. CoreLogic reports that the number of new listings is down 31% over the last 12 months. The lack of stock has led to prices rising more rapidly during the recovery phase than first thought. The buyers are more buoyant and there's lots of new buyers around – often from out of the local area seeking better value and lifestyle.
The long winter period has also seen many frustrated buyers that simply can't find what they need. But this should be turning around in spring as more properties come to market. Many agents I speak with are gearing up for a strong run of listings right up to the Christmas period. This is welcome news for buyers that have been sitting on the fence and will also lead to the recent price spike moderating. What we don't want to see is a Mexican stand-off between vendors and buyers waiting for the perfect market conditions.
Off market opportunities
Another reason vendors have been holding off selling is they are worried they won't find their next home within a reasonable time frame. Those looking to upsize their home have a greater variety of choice than those looking to downsize. The downsizer seeking medium density and low maintenance living in a townhouse or larger 3-bedroom apartment are finding the task of buying incredibly challenging due to lack of stock. Bring on more "missing middle" medium density style properties closer to amenities and transport links and we'll have much happier downsizers!
A recent trend with some owners is to commence their sales process via an off-market campaign. This means the property is only shown to buyers' agents and a select few qualified buyers that are on the selling agent's database. It can be a very effective way for vendors to save money on advertising too, but the only way to access these properties is to use a buyers' agent or have deep networks with many agents.
Is the market in recovery?
Recent auction clearance rates for Sydney have been around 75% and this is a leading indicator on the strong demand in the market. SQM Research reports that asking prices for Sydney property have risen 2.9% and Melbourne 0.3% for the past month showing that vendors are becoming more confident.
Another key indicator that the market is definitely past the bottom of the cycle is looking at the quarterly and annual changes in dwelling prices. The charts from CoreLogic below show that the worm has turned up in both Sydney and Melbourne and prices are once again on the increase.
I expect there will be a longer and slower recovery over the next cycle rather than boom like conditions that we experienced over 2015-2017. The recent spike in prices is a post-election and winter phenomenon.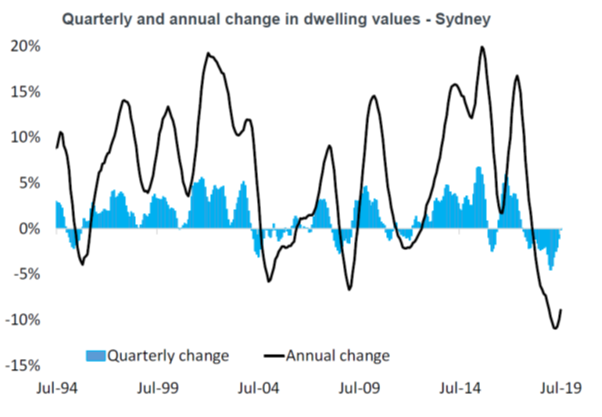 Source: CoreLogic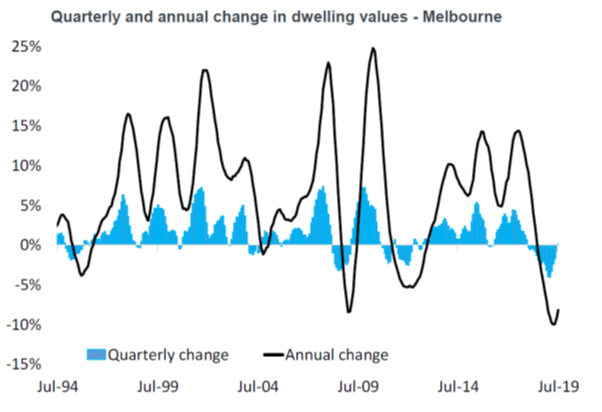 Source: CoreLogic
Advice to Buyers
Now is a good time to buy again before prices rise significantly. Buying in the early stages of a market recovery means you can ride the wave of the market moving steadily upward.
Interest rates are likely to stay low, or go lower, for quite some years, so this is welcome news for borrowers seeking to pay down mortgages. Credit controls are starting to relax a little, but loans are still being heavily scrutinized by the banks.
One of the keys to buying well is knowing your budget and having your finance pre-approved. Don't go property shopping without it! Then you can create your buyers wish-list and start targeting the best suburbs that meet your commuting and lifestyle needs. The market is dynamic and changes weekly. Consider seeking independent advice on how to make the most of your next move.
If you're seeking quality and independent advice on your next property purchase, click below to:
or call us on 1300 655 615 today. We'd be delighted to help.