What To Expect In Spring - September 2021 Market Update



August 31, 2021 / Written by Rich Harvey
By Rich Harvey, CEO & Founder, propertybuyer
Written by: Rich Harvey, CEO & Founder
propertybuyer.com.au
Click here to watch Rich's Video of the September Market Update: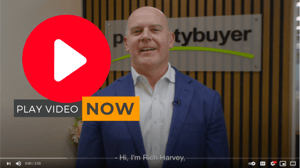 Lockdown has not deterred buyer demand. However, continued lockdowns in Sydney and Melbourne have really put a dent in the volume of property listings. Prices are still rising because of a serious lack of supply. Auction clearance rates have continued to perform relatively strongly across most capital cities – but the volume of auctions is lower than usual, and we're seeing many more property sold prior to auction.
Buyers have seemed to have embraced the online auction system quite well - but I find they lack the energy and usual theatre that you see when standing out the front of a home with the auctioneer doing their thing.
ANZ bank recently came out with a revised property forecast for the next two years as shown in the chart below. Sydney, Melbourne, Brisbane, Hobart and Canberra are all predicted to show over 20% capital growth this year – followed up by 6% to 8% rises in 2022.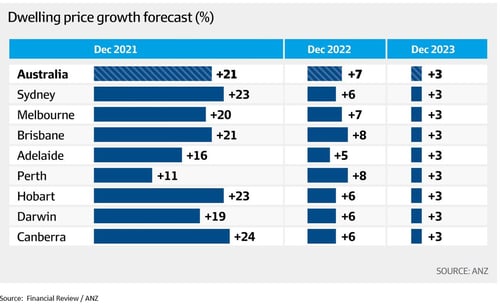 These rapid price increases really are amazing, frightening or motivating depending upon which way you look at this….

Amazing - because we have seen one of strongest property market rebounds I have ever seen coming off the back of a major economic shock. The property market has proved resilient (if not defiant). The doomsayers have been proven wrong. Covid-19 has in fact been a major catalyst for rapid property price increases as it has accelerated a number of major trends – working from home, home buyers upgrading, expats returning home, lifestyle seekers, reduced need to commute etc.
Frightening – because many of us wonder how our children will be able to afford to get into the property market. Many buyers have been priced out of the market in one area and now re-evaluating their options or considering other forms of housing. Or they are considering moving to another city – following the exodus to lifestyle choice.
Motivating – for those fortunate enough to have strong borrowing capacity, now is an ideal time to buy with immediate growth prospects. I get asked several times a day "Is now a good time to buy?"
My usual reply is "the best time to buy was ten years ago - but that boat has well and truly sailed, so the next best time to buy is now". If you are considering waiting till after Christmas or early next year, then be prepared to pay a higher price.
What will the Spring market look like?
This spring market will be very different to previous years. Traditionally listing volumes ramp up and October sees the peak volume of transactions.
But due to persistent lockdowns we will see a much more muted volume of properties offered up for sale this year.

Buyers will be out in force, hungry, frustrated and highly motivated to secure their ideal property.

Vendors will be anxiously looking at the market and hoping to see an increase in listings so they can make an easy transition to their next property.

Once we come out of this draconian lockdown situation there is likely to be a frenzy of activity. I predict that the speed at which transactions will be done will be much faster than we normally see in a spring market. The hunger and ferocity of buyers to secure their piece of real estate will be something to watch!

Vendors do not want to get caught being "out of the market" for too long – they prefer simultaneous settlement where possible. Requests for longer settlements are likely to be the norm during spring as vendors need more time to secure their next home.

Expect to see some extra conditions in contracts related to covid impacts too (if one party catches covid and needs hospitalisation).

We are unlikely to see many "super Saturdays" in spring this year (ie massive volumes of auctions). New stock listings are more likely to come to market around 30 days after we exit lockdown (allowing time for vendors to get styling and preparations completed for inspections).

We could also see a late rush of listing right up to Christmas during late December, and most likely see the real estate market kick off much earlier in the New Year as agents will be looking to make up for lost time during lockdowns.

Getting access to as many opportunities as possible is essential for buyers in this tight market. As Buyers' Agents we are highly skilled and connected to uncover off-market opportunities in all areas and available to show our clients at any time.

Please reach out to start the conversation about how we can assist you today.
Click here to:
or call 1300 655 615