Where Would Housing Prices Be Without COVID? - July 2021



July 30, 2021 / Written by Rich Harvey
By Guest Blogger, Pete Wargent,
Next Level Wealth
Luck versus skill

Michael Mauboussin discussed in The Success Equation the relative roles of skill luck in sports, business, and investing.

Generally speaking, he finds, we like to downplay the role of luck when things go well and attribute our successes to skill.

On the other hand, when things run against us, we tend to blame…bad luck!

Part of the problem is that we never get to see the counter factual.

We only see one of the possible outcomes and thus build narratives around a small sample of events.

The remedy is to focus on good processes over outcomes, to be humble in respecting honestly where luck has played a role in our journey, and to build our skills while making plans to deal with possible turns of bad luck.

Trends accelerated

It's important to recognise that many of the trends we are now seeing were already underway before the onset of the pandemic.

For example, flexible working arrangements have been a trend for many years, but the virus restrictions accelerated the trend through necessity.

The same point applies to homebuyers seeking lifestyle treechange or sea change locations.

Similarly, although prices are now surging in the housing market, it's noteworthy that the market was already trending higher since the May 2019 election result – the virus initially disrupted the trend, but the bull market has now reasserted itself.

3 impacts of COVID

If we didn't have the pandemic – would have prices have risen as much as they have now?

Well, there have been many short-term impacts from the virus. Let's take a look at three of them.

Firstly, there has been a shift in demand away from density, so on average house prices are rising faster than unit prices (although unit prices are now rising too as affordability constraints bite).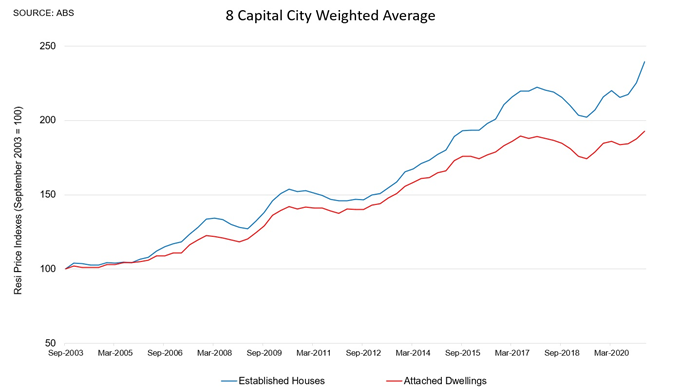 Secondly, borrowing capacity has increased significantly as the Reserve Bank of Australia has embraced quantitative easing and the Term Funding Facility allowed banks to make loans at ultra-cheap mortgage rates.

We might expect to see nominal housing prices rising by 25 to 33 per cent through this cycle across the country as a result of these factors plus the stimulus which has bolstered household income and balance sheets.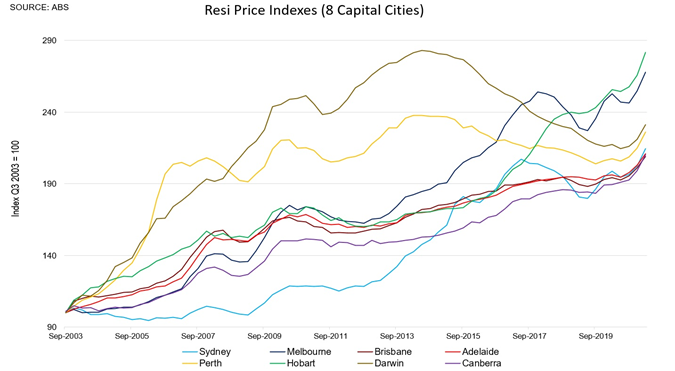 And thirdly, although rental vacancies are relatively high in the CBDs of Sydney and Melbourne at around 6 per cent, overall vacancy rates are dropping towards record lows, placing dramatic pressure on many rental markets around the country…and rents are surging.

This is somewhat surprising given border closures, but on the other hand there have been shifts away from higher density living choices, such as share houses, and investor lending has been severely stymied since 2016, reducing the potential supply of available rentals.

Asking rents are up by more than 15 per cent for houses over the past year and are up by about 6 per cent for units, with rents in Sydney and Melbourne also now beginning to rise.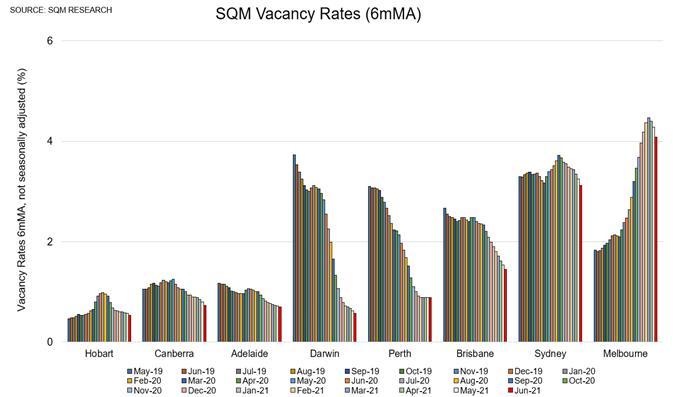 Long-term impacts?

What are the longer-term effects of the virus on the property market?

Over the long term, we might expect to see some level of equilibrium to return.

International borders will likely reopen in 2022, and capital city living will almost certainly become the most popular choice once again.

Supply and demand tends to get out of whack periodically, but these are immutable laws, and the pendulum tends to swing back towards a point of balance.

Flexible working is likely to be here to stay, to some degree, although many businesses will want to retain an office presence in the city.

Some of the skepticism about high-rise living will likely persist for some time, due to factors such as construction defects, the problems of living with shared amenities through the pandemic, the cladding crisis, and indeed quarantine measures imposed on certain tower blocks.

In the short term many of these existing trends will continue alongside the border closures, but over a longer time horizon markets will return towards a level of normality.
To have one of the friendly Propertybuyer Buyers' Agents to contact
you in regards to buying property :
or
call us on 1300 655 615 today.