Why Are Economists Predicting 7% Property Price Rises? – November Market Update



November 2, 2023 / Written by Rich Harvey
By Rich Harvey, CEO & Founder, propertybuyer

Property prices continue to soar, defying gravity and rising month after month. But exactly how much have they increased in each city this year, and why are top economists predicting continued increases next year? In this update, we review the current factors driving the market and ask how sustainable these price predictions are.
Why are Economists Predicting 7% Property Price Rises?
The most recent figures are showing that the pace of property price growth is slowing on a quarterly basis – but in spite of this, top economists are predicting that the national property market will deliver a solid overall 7% growth rate in 2024.
During October, CoreLogic figures show that the national home value index rose 0.9% which is only 0.5% below the historic high recorded in April 2022. Sydney recorded a rise of 0.8%, Melbourne 0.5%, Brisbane 1.4%, Adelaide 1.3%, Perth 1.6% and Canberra 0.1%. See the table below to put the monthly rises into context over a full year period:

Source: CoreLogic Home Value Index Oct 2023
At the current rate of growth, we are likely to hit a new record high sometime in November or December. With an uptick in the volume of listings coming onto the market during the spring selling season, there is concurrently a slowdown in the quarterly rate of price growth. Total listing volumes in Sydney rose by 9.3% and in Melbourne they climbed 10.7%. This has given buyers more choice in selection of properties available, but overall listing volumes are still down 18.8% on the 5-year average.
The slowing momentum in the property market can be attributed to depressed consumer sentiment, seriously constrained affordability and the potential for another interest rate rise in either November or December.
Tim Lawless, National research Director at Corelogic, notes that with the acceleration of new listings coming onto the market, it is unlikely that buyer demand will be able to keep pace, meaning a natural slow down in price growth.
Over the past 12 months, dwelling prices have risen 12% in Sydney, 5.7% in Melbourne, 12.5% in Brisbane, 10.7% in Adelaide, 16.1% in Perth, 4.3% in Darwin and 2.4% in Canberra.
Looking back over the past few years at the recent housing cycles it is very apparent that the market in various capital cities has seen a sharp downturn, followed by a quick upswing. One of the key messages here is the resilience of the Australia property market – it pays to ride out the cycles and not get bogged down in trying to time your entry into the market to perfection. Buying when you can afford it and holding for the long term pays the highest dividends. Time in the market has shown consistent results. Note in the table below that the correctional downturn cycle has in most cases been reversed, as the market is making a full and robust recovery.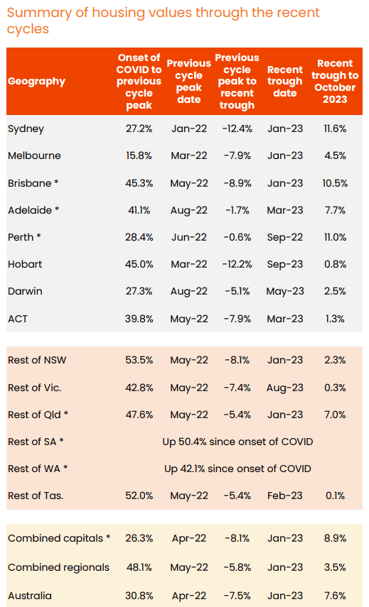 Source: CoreLogic Home Value Index Oct 2023
A recent survey of 10 economists by the Financial Review has found that prices are set to rise 7% nationally next financial year. These economists pointed to a faster than expected housing recovery which was underpinned by relatively low listing volumes and resurgence in demand. (See predictions below).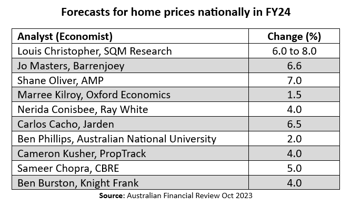 One of the biggest drivers is the surge in demand stemming from the massive migration influx over the past year with figures purportedly in the 400,000 to 500,000 range – one of the biggest population increases we have seen in decades. This is resulting in strong competition for rentals and creating ultra-low vacancy rates in most capital cities.
Other factors driving demand for property prices are:
Strong household savings buffers – This "buffer" is however being severely tested with higher interest rates eroding household balance sheets. A recent survey by Finder revealed that the average Australian had $40,617 in savings in October and that just one in four people could last six months or more off their savings.
Low mortgage delinquency rates – Shane Oliver from AMP believes the rise in mortgage arrears would be moderate and manageable by the banks unless a recession was to occur. Other economists like Louis Christopher are closely watching the volume of distressed sales as an early indicator of mortgage delinquency. To date it appears that the fall out from the so called "mortgage cliff" has been significantly over-stated.
Some economists have judiciously noted that there may be a longer lagged impact of higher interest rates in early 2024. The usual transmission time was blown out because many mortgage holders had fixed rates and it has taken much longer for the true pain of higher repayments to filter through to the spending patterns of households.
On the flipside, most economists and consumers have expectations of interest rate cuts in the second half of 2024. The timing of the purported cuts will entirely depend on the pathway of the inflation rate. While the RBA rhetoric indicates that inflation is trending down – the key question is "at what speed?"
A final factor to consider is the lower volume of building approvals and the actual rate of residential property construction. It's one thing to get a development approval (DA) – but it is quite another to get the property constructed on budget and on time. I believe we have entered a period of structural undersupply in property - ie we are not building enough new properties to satiate current and future demand. Higher costs of construction, planning complexity and typically slow approval process through council is making many projects for developers simply unfeasible.
Taking all these factors into consideration, I believe the pathway for property prices is very sustainable as we head into 2024. Sure, there will be difficult headwinds and shock factors, but the reality is that the ongoing demand for property will exceed existing and short to medium term supply creating ongoing upward pressure on prices.
Recall that in last month's newsletter, I analysed Where will prices be in 20 years' time and the compounding figures show that by 2043, Sydney will have a median house price of $5.1m, Melbourne $3.5m and Brisbane $3.3m. It is interesting to observe that the average annual compounding growth rate was between 7% to 7.5% for each of these cities over the last 20 years. So next year looks like a return to the normal rate of growth despite higher interest rates.
If you are wondering what move to make with property – sell, buy or hold?
Then please reach out to my friendly team of buyers advocates to discuss your ideas and plans. Arrange a no obligation strategy chat with us today and we can help bring clarity and direction to your personal situation. Click here to arrange a free consultation or call us on 1300 655 615.