Buying in Times of Uncertainty - Crazy or Smart? - May 2019



May 13, 2019 / Written by Rich Harvey
By Rich Harvey, CEO & Founder propertybuyer
Written by: Rich Harvey, CEO & Founder
propertybuyer.com.au
Click here to watch Rich's Brief Market Update: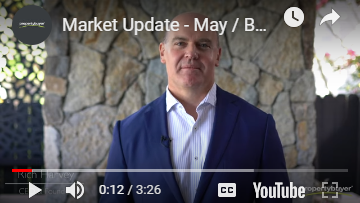 or continue reading below...
During election campaigns many people go into lock down with decision making and adopt a wait and see approach to the outcome. Most investors and home buyers follow the herd and listen to media headlines rather than seeing the long-term realities of property market cycles. Prices don't rise all the time and do fall in some parts of the cycle but looking over a long-time frame median prices in the major capitals have doubled consistently every 10 years or so.
Down markets are an ideal time to take advantage of softer pricing and it's important to realise that down markets don't last forever. The latest data from CoreLogic shows that Sydney is currently down 13.9% peak to trough which started 20 months ago, and Melbourne is down 10.3% peak to trough over the past 16 months.
Comparing both the DEPTH and LENGTH of previous downturns is shown in the two graphs below.
It's interesting to note that Sydney is experiencing one of the deepest declines in price retraction in the last 40 years, but this is also coming off one the longest booms we have also experienced where median prices climbed over 80%. Note in the GFC year 2008-9 prices declined just 6.7% over 12 months then began a quick recovery. The longer decline was the high interest rate period of 1989-91 where the price stagnation lasted 24 months.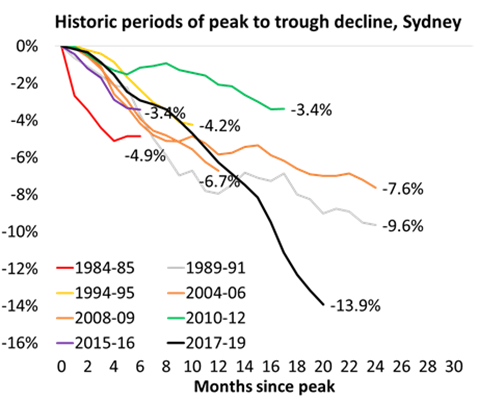 Source: CoreLogic 2019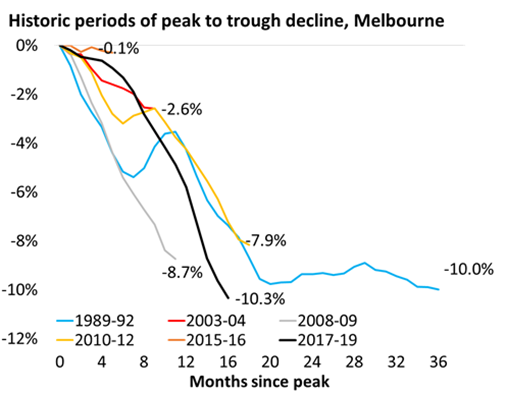 Source: CoreLogic 2019
CoreLogic's hedonic index is showing a reduction in the rate of price decline, which is promising. And figures due out shortly are likely to show that values in Sydney and Melbourne will be down around half a percent, maybe a bit better.
What does all talk of price movements mean? Whether you are buying or selling in this market you can take advantage of slower conditions to get ahead. If selling, don't expect to get a record price for your street. Quality properties are still selling if well-presented and priced correctly. Speak to a high-quality local agent and get an appraisal on your home. If you don't know who to select, ask about our vendor advocacy service where we will help you select the best local agents and act as your independent advisor in the process.
On the buying side, a slower market means that vendors are far more negotiable. Don't let the election jitters deter from making a buying decision. There are thousands of other buyers out there thinking that they will "wait and see", then post-election, there will be more competition for existing houses.
If Labor wins the next Federal election and remove negative gearing benefits for investors for established properties, there are likely to be four main outcomes:
1. There will be a mini-rush by property investors to secure a negatively geared property before the proposed change on 1 January 2020. However, there is likely to be plenty of debate in the Senate with possible further concessions made on the policy at its proposed start date possibly delayed.
2. Rents will rise – as fewer investors will enter the market and reduce supply. SQM modelling suggests national rents will rise 7% to 12%.
3. Investment will be skewed toward new properties. Allowing negative gearing only on new property will drive investment to areas that may not need an increase in supply (ie outer greenfield areas) rather than in areas close to the city where more rental property is required. Another side issue is that it may also see property spruikers pushing over-priced off the plan apartments to unsuspecting investors with poor prospects of capital growth.
4. Likely to be a lower turnover of existing negatively geared properties (investors will hold properties for longer periods).
It is during times of economic and political uncertainty that smart buyers can set themselves up and be opportunistic. Bank credit is still tight but should loosen at some point in the next 12 months to allow great investor activity.
In the meantime, home buyers and particularly upgraders have the best opportunity to buy well. Average vendor discounting in Sydney is at 8.6% and 39 days on market while for Melbourne the vendor discount is 7.8% and 36 days on market.
An upgrader seeking to sell a $2m home and buy for $3m home is well placed to come out financially ahead as they will get a bigger discount on the purchase of their next home. But not everyone is at that level and figures for lower priced homes would adjust proportionately.
So, are you crazy or smart to consider buying in times of uncertainty? Whether the market is up, down or going sideways, you can be a smart buyer if you complete adequate research and take a long-term perspective. I have personally found that buying in the down times is what sets me up for the future.
If you're seeking quality and independent advice on your next property purchase, click below to:
or call us on 1300 655 615 today. We'd be delighted to help.