Confidence building…in some markets - October 2019



October 16, 2019 / Written by Rich Harvey
By Guest Blogger, Pete Wargent,
Next Level Wealth - www.gonextlevelwealth.com.au
Sentiment has an important role to play in housing markets, and the Federal election result on May 18 delivered what might be termed a 'positive shock' for Aussie housing.
The opposition had been expected in most news polls to cruise to victory, and in time introduce a range of disruptive policies.
Sentiment turned on a dime when the Coalition party triumphed and has been helped along by falling interest rates and some positive changes to mortgage serviceability rules.
The rebound has been uneven to date, with Sydney and Melbourne experiencing an immediate rebound, but other markets have seen less impact, while Perth has continued its multi-year slide.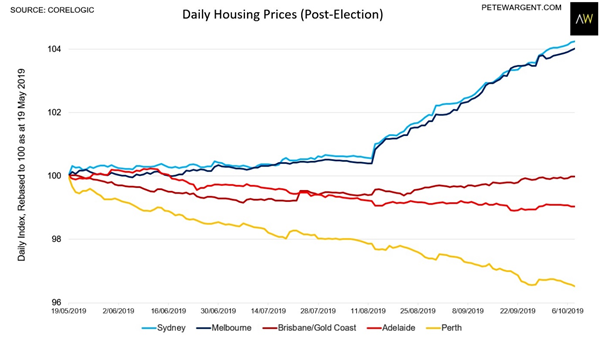 Averages can be deceiving, though, and even within the capital cities there are markedly different trends playing out depending upon the locations and property types in question.
Building defects
One of the characteristics of a property boom is that almost any property can sell quickly, regardless of quality or location.
In the most recent construction cycle many of the buyers of apartments were based overseas, often on the Chinese mainland, and as such were buying sight unseen.
A consequence of this was apartment developments in secondary locations and of inferior grade quality were still being sold reasonably comfortably.
Only now as the construction cycle falls away are some of the consequences being realised in full.
There have been multiple high-profile instances of building defects reported in the media, while concerns surrounding cladding have damaged confidence in parts of the new apartment sector.
The most recent construction cycle has been unique in Australia, and we've never seen as much high-density development as we have in the past six or seven years, especially across Greater Sydney, Melbourne, and Brisbane.
This is now ending, however, with approvals for new high-rise falling back towards a more sustainable average.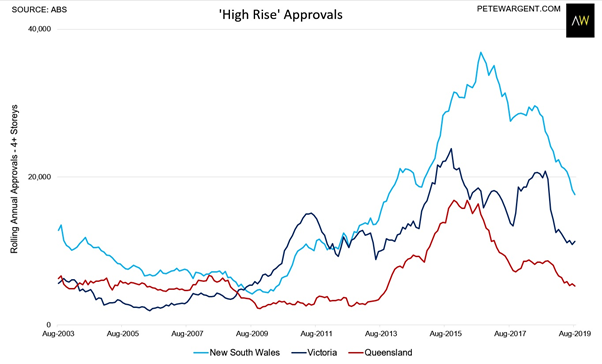 Even now at this late stage in the cycle some areas have a high volume of apartments completing, with landlords need to finding tenants.
So while the headlines are reporting price growth, the picture is certainly mixed.
Better than average
The better-performing properties over the coming decade are likely to have a few key elements.
Firstly, a great location, with connectivity and walkability.
Remember, location is the one thing you can never change about a property; it is fixed in place.
Secondly, a high land value content.
Ideally, look for properties with a high land-to-asset ratio, as it's the land value that does the heavy lifting for you over the life of an investment.
And thirdly, if there's an extra dimension to add value to the property in the future in some way, then this can be a bonus.
While it's difficult to generalise too much, it's likely to be a much more challenging environment for high-rise units over the years ahead.
Sentiment is presently low for this property type, and almost by definition there is a lack of scarcity in the product when you buy in the big apartment towers.
Getting professional advice on picking the best locations and style of properties will help you avoid classic investor mistakes and potentially fast track your results.
To have one of our friendly Buyers' Agents to contact you in regards to buying property :
or
call us on 1300 655 615 today.