Coronavirus Impact on the Property Market - March 2020



March 16, 2020 / Written by Rich Harvey
By Rich Harvey, CEO & Founder, propertybuyer.com.au
Toilet paper shortages. The Grand Prix cancelled. Football games being played to empty stadiums. We live in very interesting times thanks to the coronavirus pandemic.
Coronavirus has been identified as one of the biggest threats to the economy since the GFC. Strong measures are being taken to for social containment which have worked in other countries.
It's been a pretty unnerving few weeks, with an increase in the number of cases in Australia and swift action from health authorities and government to contain the spread.
Understandably, some would-be property buyers are frightened.
Should they hold off buying for a while? What if the real estate market tanks as a result? What's going to happen to the economy?
To get a sense of what might happen, it's important to reflect on what has happened in the very recent past.
Right now, forgetting the uncertainty of the coronavirus pandemic for a moment, ask yourself a question.
If you could go back in time 30 years, would you take the opportunity to invest money in Sydney's property market?
I doubt you'd find many people who wouldn't.
Price growth over the past 30 years has been strong, steady and resilient. That's despite a series of significant events that caused extended and painful bloodbaths in other markets – shares, foreign currency and resources.
I'm talking about the recession in the early 1990s, the dotcom bubble collapse in the late 1990s, the September 11 terror attacks in 2001 and the outbreak of the SARS virus in the mid-2000s.
What did property do in all of these major, scary, disruptive and devastating events? It grew in value.
Let's take a look at an example of this. Property prices during the big one – the Global Financial Crisis.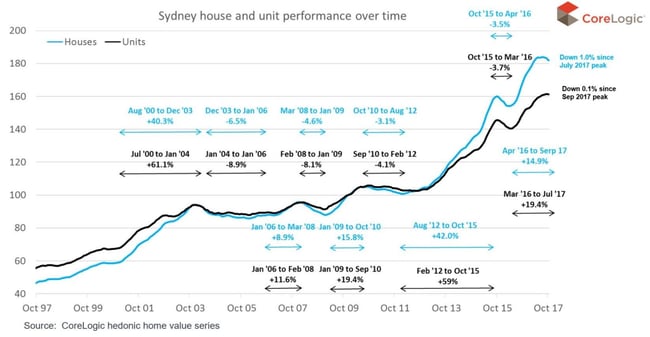 What happened after the GFC?
We all remember the impacts of the Global Financial Crisis, right? It was a scary time for investors of just about any ilk, as the share market posted heavy losses and spilled red all over the top end of town.
But do we really remember what happened to property? Ask most people and they might recall it being a pretty dire time for those who put their cash in bricks and mortar.
But it wasn't. I personally bought two properties that year that have done exceptionally well.
Buying during the GFC proved to be one of the best times to get onto the ladder.
There were dips, for sure. The national median house price fell by 3.5 per cent over two consecutive quarters at the height of the panic in late 2008. But then… they rose from early 2009 on the back of government stimulus. And the turnaround was sharp.
Within a quarter, the market had made up all of that lost ground and in the two quarters after that, had increased by about seven per cent.
And the upward trajectory continued.
As Domain summarised in a recent article: "It was home owners bold enough to strike during the global financial crisis who made the biggest windfall."
Those investors saw the opportunity to act in a market with exceptional long-term growth prospects, underpinned by a long-term supply and demand imbalance, and to do so with a bit less competition while buyers were running scared.
A contributor to an increase in activity was falling interest rates. The cheap cost of credit encouraged people to act while the buying was good. We're in a similar scenario already, with record-low rates significantly boosting borrowing power and lowering costs.
Another major contributor was that the government sought to head off an economic mess by pouring billions and billions of dollars into a number of key battlegrounds. Guess what Scott Morrison is about to do?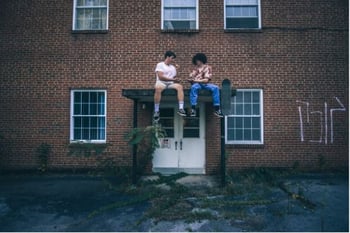 The value of stability
One of the things I think we'll see over coming months is a resurgence in the property investor market.
Those types of investors have had a rough time on the share market, thanks to coronavirus and international market slumps. They'll want to put their money in an asset that's shown to perform well through historic rough patches.
They're also no doubt looking at what's happening in Canberra, recognising the big potential flow-on effects for property markets.
In response to coronavirus and its impact on the economy, the government is shelling out billions of dollars in stimulus. It includes cash payments for welfare recipients to spark a bit of spending. It includes small business breaks to keep people employed. And it includes money for infrastructure projects to stimulate key industries.
As we've seen historically, stimulus is a good thing for property. It makes people feel a bit more confident. It promotes activity in the construction sector – a major employer of Australians. It builds and revitalises suburbs and towns.
CoreLogic's head of residential research Eliza Owen told The New Daily that the property market is likely to be fairly insulated from the coronavirus.
"That comes back to basics in the asset. It's relatively illiquid, so the asset takes longer to be sold off in times of uncertainty, so you're less likely to have a run on housing, because it has relatively high barriers to entry," she said.
"[House] pricing [information] isn't quite as accessible as the second-by-second feed you get of the stock market, so the real-time information is harder to understand, so there's less volatility as a result."
But this isn't just economic
It's true that a pandemic is a whole different kettle of fish to an economic illness such as the GFC.
But even looking at what happened during the SARS outbreak in 2003 and 2004 is an indication of why panicking and hiding on the sidelines is a wasted opportunity.
The SARS crisis had a major impact on consumer confidence and spending, delivering a hit to the retail, travel and entertainment/hospitality sectors in Australia. We're starting to see that now with coronavirus.
But it was brief. Why? Because health authorities in China were able to quickly contain the spread, as were other countries where the virus was detected. As we know now with coronavirus, the infection rate has slowed substantially, and the number of new cases is falling. South Korea, Taiwan and Singapore have also been successful in preventing a crisis.
Swift public health responses that leave nothing to chance offer the best potential for battling coronavirus quickly. And that's what countries like Australia are doing – making bold and serious decisions to prevent things from getting worse.
Of course, things are uncertain and a little scary. You only need to try buy toilet paper at Woolies at the moment to feel a little worried about things.
And now wouldn't be the time to make wild, speculative property investment decisions. Although, I personally argue there's never a time for that. But my firm view is that now is the time to make strategic, calculated and long-term purchasing decisions.
Be it your dream home, your first home, an investment property or an upgrader, buying smart right now could wind up being the best thing you ever did.
What's ahead?
There's no doubt that the virus will further dent consumer confidence. The strong price recovery may take a brief pause, but I don't believe there will be a wholesale decline in the property market. Some buyers may be scared off "waiting to see what happens". But inevitably population growth, restrictive planning controls and declining building approvals and other key drivers will continue to increase pent up demand for property. If vendors decide to not list or withdraw listings this will just underpin prices even more.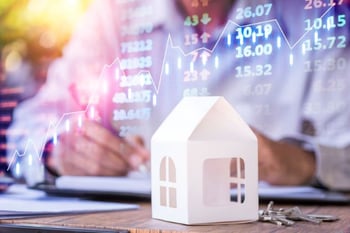 These next few weeks could prove a very valuable time to consider entering the property market while others are running scared.
Stay tuned for more information and insights.
To have a friendly Buyers' Agents to contact you:
or
call us on 1300 655 615 today.