Creating a Financial Plan to Buy a Property - August 2021



August 17, 2021 / Written by Rich Harvey
By Guest Blogger, Scott Douglas, CFP CPA, Director
IMFG, Wealth Specialist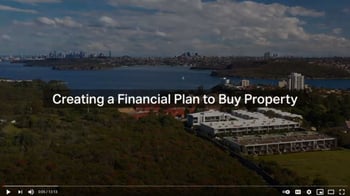 Over the last 25 years I have been giving advice to people of all ages and stages of life. Through the thousands of people, I've advised one, of the biggest factors in peoples finances is the ability to own a home that they want to live in and building a property portfolio for income in the future. This is generally the largest asset someone will own and the amount of property you buy and the debt you carry will impact on:

1) How long you need to work
2) Your surplus income
3) Your wealth for retirement.
Most people do not set up a strategic plan to achieve their property dreams or goals. If you just make a rash decision based on the amount of money the bank will lend you, then it may not be the right thing. Planning around property means evaluating the different levers that will impact on your long-term ability to retire or be financially independent. The things that need to be planned include:

1) The debt/loan - levels and amounts you consider.
2) The loan type - interest only, principle and interest.
3) The property types - houses, apartments, new builds.
4) The property values - what is the purchase cost
5) The renovation costs and future commitments.
6) Income - rental returns after expenses and future growth.

As you can see, there are a large number of factors that should be planned out and modelled with a future forecast. Property is a very big decision because it's not liquid and you have large initial costs and exit costs. If you get it wrong, then it can be an expensive exercise.
To ensure that people don't "over-spend" or "over borrow" on their homes, it makes sense to develop a goal-based plan around these aspects. You need to look at what is the best mix of property in your life and your portfolio. The answer is not what property initially, it's how much and the potential return.
The best way to approach this through planning is to work out what age you want to retire or reduce working, what age you want to have a passive income. Then based on your current scenario, you can work out the optimal borrowing levels and purchase prices for a property.
This also applies to young people who are trying to get their first home. Many people need a plan around getting that deposit together and working out how much is the optimum amount to borrow. The best way around this is to understand your spending and create a plan around savings and budgeting. This will then ensure you can build your deposit and focus on these things in the right amount of time.
The reality of this situation is the only way to achieve this is to spend less than you earn and create a clear cashflow plan with budgeting. No matter what you earn, where you are in life, if you want to create financial independence, you need a road map of how to get there reliably. Once you have that, it's a matter of implementing it through the right underlying investment strategies and a portfolio that meets your needs.

To start your plan the best way is to work closely with a licenced and qualified financial planner. They will ask you to gather all your current financial information, summarising your assets, liabilities, cashflow including expenses. Then it's about building some clear goals and objectives. These may be specific ages that you want to own a property, pay off debt, retire. Once you document these then it's about working towards it and finding the best solution.
We strongly believe the purchase of a property is about finding the right property that meets your requirements. Similar to buying share through a professional fund manager, a property should be purchased through a professional "Buyers' Agent". This is almost like an insurance policy to ensure that you don't make an expensive mistake that will cost you a lot of money (and time) to get out of in the future. The Buyers' Agent will ensure that your goals are met specifically by buying a property with the right attributes as listed above. We have seen many people make a mistake on what they buy, this is what can cost you a lot that you don't know until you sell it.

Overall, for the cost of a plan, you can have piece of mind that you have made the right decision and you won't make a mistake on your property portfolio. This is what a financial planner will have your best interest at heart.
Guest Blogger: Scott Douglas CFP CPA, Director, Wealth Specialist - www.imfg.com.au
a Suite 803, Level 8, 171 Clarence Street Sydney NSW 2000
p GPO Box 4315, Sydney NSW 2001
M: 0401 583 837
T: 02 9002 0570
Click below if you would like to someone to come you
in regards to our Property Management Service:
or
call us on 1300 655 615 today.