Demand vs Supply in the Current Market - August 2019



August 8, 2019 / Written by Rich Harvey
By Rich Harvey, CEO & Founder propertybuyer
Written by: Rich Harvey, CEO & Founder
propertybuyer.com.au
Click here to watch Rich's Brief Market Update: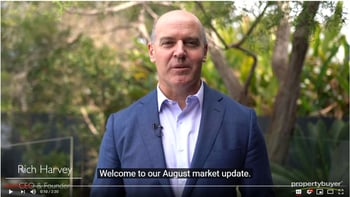 or continue reading below...
We know the recipe for property market price changes involve the interaction of supply and demand. More buyers than sellers' equal increases, while the opposite puts downward pressure on prices.
Over almost two years, Sydney and Melbourne have seen double-digit declines in median home prices because demand evaporated. At the same time, the completion of a number of development projects in some areas saw supply balloon.
There has been much talk of when those markets would bottom out – and over recent months, the answer has started to reveal itself.
What's happening with demand?
From the final quarter of 2017 onwards, the number of property transactions began to nosedive. Buyers fled when the first jitters were felt and stayed away as market conditions worsened.
But as this graph shows, the past few months has seen the trend slow and begin to reverse.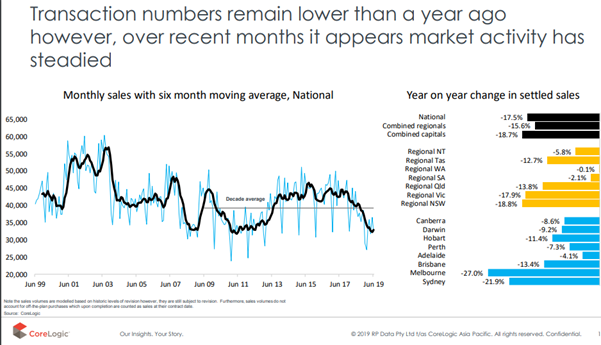 That tick back upwards shows the start of a return of buyer confidence, with more people out and about buying property once again.
The record-low interest rates, an easing of restrictions on lending by the financial regulator, significantly competitive deals on offer from the banks and the resolution of the federal election have all combined to improve sentiment.
We saw in the month of June the first increase in median prices in Sydney and Melbourne since late 2017 when the boom ended. They were modest lifts, to be fair – less than one per cent in each. But it followed months and months of consecutive declines and gave would-be buyers sitting on their hands a bit more optimism to buy.
This is being reflected in weekly auction clearance rate figures. The percentage of homes selling under the hammer each Saturday has lifted strongly in Sydney and Melbourne. Auctions are always unpredictable in Brisbane – it seems Queenslander's like to do things their own way – so the numbers there are skewed.
But have a look at this chart to see how eager auction buyers have been lately.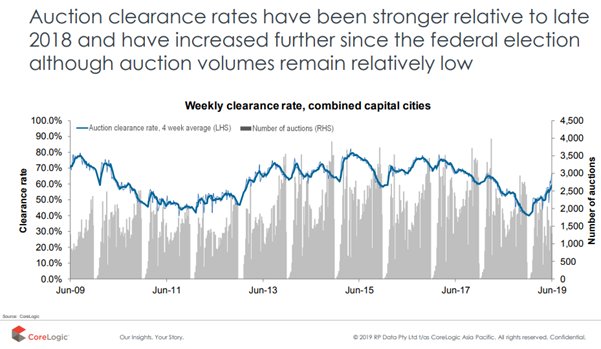 Demand isn't just driven by confidence though. It's driven by the need that many people have to live somewhere. Many home buyers will buy a place to live regardless of what's happening because they want to lay down some roots. And they're in it for the long-term, so short-term fluctuations don't bother them.
This is especially true for new arrivals to Australia, who have decided to make our country their home. Migration remains strong, which fuels demand.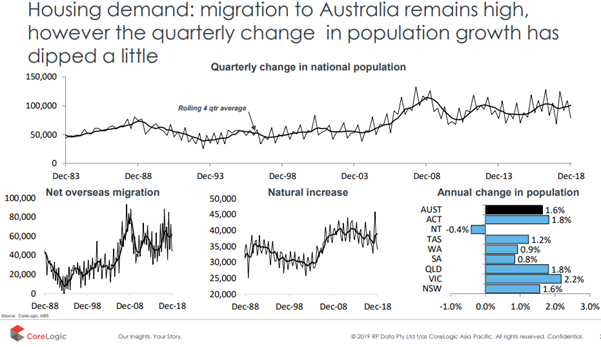 Another sign of growing demand is in lending data, which shows a lift in the past few months in the number of mortgages settled with both owner-occupiers and investors. Investor activity has been a little slow, due to a crackdown by the financial regulator on interest-only lending, but it's starting to improve.
New finance commitments for housing is down sharply year-on-year, but there is the start of an upward trend. This is especially the case with first home buyers. Activity with first-timers is up in almost every state and territory across the country, with particularly strong surges in Victoria, New South Wales, the Northern Territory, Tasmania and Western Australia.
What we're seeing on the ground
Since the election particularly, we've seen a huge surge in queries from would-be buyers looking for help to capitalise on the imminent recovery. We're meeting new clients who want to take advantage of still-low competition, discounted prices and vendors keen to do a deal.
The agents we work with are telling us that they're seeing more people at open homes and a reduction in time on market. Mortgage brokers we speak with are also seeing an uptick in queries as well as approvals with banks.
But what about supply?
The only part of the property equation not growing? Supply. The number of quality properties available to purchase remains incredibly low.
When things started to go south, developers put financially risky projects on ice. The only cranes in the sky in Sydney and Melbourne were those that were erected before the boom ended and couldn't be held off.
As a result, there will be a period of under supply from almost two years of reduced construction activity. The pipeline of new dwellings that should've been about to come through simply won't be there.
Over the past 18 months or so, vendors who didn't have to sell have sat on their hands. They've faced low enquiry volumes, no or low offers and auctions that are eerily quiet.
As a result, property listing numbers are at their lowest point in several years. Even with the positive signs in the past few months, they haven't increased at all. Vendors still seem unsure.
What this means for buyers is that they will have to be savvier to seek out good investment opportunities and won't be able to rely on quietness when it comes to negotiating a deal.
A buyer's agent is perfectly placed to know what's happening on the ground, where to look and what possible buys are worthwhile. And best of all, they're the ones who deal entirely with agents and vendors, and take a seat at the negotiating table on your behalf.
If you're seeking quality and independent advice on your next property purchase, click below to:
or call us on 1300 655 615 today. We'd be delighted to help.