The price of happiness - August 2019



August 9, 2019 / Written by Rich Harvey
By Rich Harvey, CEO & Founder, propertybuyer.com.au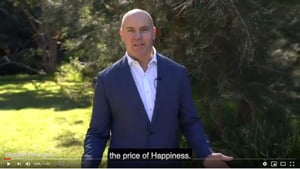 How much does where you live determine your happiness? And how much does it contribute to a meaningful life?
Despite my opening gambit, I'm no philosopher – but I think the whole point of working hard, starting families and making money is pretty simply. Improving our own happiness and well-being
I was reading recently about a study that tracks the personal and economic well being of Australians – the Housing, Income and Labour Dynamics in Australia (or HILDA) report – and I think I've found the answer to achieving a greater sense of happiness in our lives.
And a significant part of the answer lies in where we live.
Not all picket fences
Living somewhere nice is the goal for most Australians.
A nice home on a nice street, surrounded by other nice homes filled with nice neighbours, near a nice park and some nice shops. It's what we all imagine when we close our eyes and picture our dream property.
But what if I told you that the look and feel of a home is perhaps worth less to your happiness than its location?
Proximity is the really important factor – and I don't just mean proximity to amenities and lifestyle nodes. I'm talking about your home's proximity to work.
Now, don't get me wrong. I'm not suggesting you should spend more time at work. Even if you really love your job, more time there is unlikely to leave you totally fulfilled.
But the time it takes you to get to your job is what's likely dampening your happiness levels, according to the research.
Australians are spending a rapidly increasing amount of time getting to and from work as our roads become more congested and choked. On top of that, rising unaffordability over the past decade has seen new development occur at a faster rate than public transport investment. That means many people have had to flock to cheaper new dwellings that aren't as close to trains or buses as they should be.
The latest HILDA report found average commute times have increased by a staggering 23 per cent over the past 15 years.
In 2002, we spent about 3.7 hours a week getting to and from work. By 2017, this had blown out to 4.5 hours. And it's a big problem. Not only are longer commutes frustrating and inefficient, but they have a hugely negative impact on our well-being.
In our biggest capital cities, it's not uncommon for workers to spend an hour a day getting to and from work. Sydney has the worst score by far, with the longest average daily commutes.
Long commutes leave us feeling tired. We have less time for ourselves. Even with interesting podcasts and audio books, having our eyes glued on the road means we're unable to focus on winding down or being mindful.
And the big kicker is that longer commutes keep us away from our loved ones, chewing into the time that we'd otherwise be spending with spouses and children. That has the biggest negative impact of all, according to the analysis.
Research has shown that short commutes or utilising accessible public transport have positive health benefits too, like lower body mass indexes and improved mood.
Home is where the heart is
If one of the big factors to improved happiness is a short commute time, then buying a family home as close as possible to work is a huge factor.
But open up Google Maps and type in your office address. What's around? If you're in the CBD or surrounds, it's likely to be suburbs with incredibly high price tags, a lot of commercial premises with some apartment towers dotted in, or parkland.
You don't need to live next door to work to be close to work.
Vast improvements in road infrastructure and public transport services mean a suburb with more affordable property can be close to your office. Several kilometers out of the city can be 10 minutes via train thanks to investments in travel infrastructure.
But ease of access to work isn't the only important factor. Nice amenity, an abundance of local services and lifestyle options, good schools and some pleasing environmental features are also key.
Of course, property purchases are driven by budget. But even with a budget in mind, what price do you put on happiness?
What to compromise?
If you want to be much closer to your workplace to cut down on your commute but can't afford a free-standing house, then what are your options?
It may work in your favour to consider living in a terrace/ townhouse or apartment with better transport access if your budget doesn't allow the dream house.
And sometimes change is better than a holiday. Moving to a new house gets rid of years of clutter and gives you a chance to start afresh with styling and furnishings and give your mind a creative streak.
Coming home after a hard days work, we want a haven – a place of safety and rest. A place to relax with family friends and loved ones. It's our own castle and part of an expression of who we are.
Our physical space has a huge impact on how we feel. If we feel like we're living in clutter and dead-end space we may feel depressed, or if we live in a well-designed, warm and comfortable place we feel safe and secure.
Finding a home that's in a nice area with good future growth fundamentals, so your nest egg grows over time, as well as one that's a short commute from work isn't impossible. But searching through the haystack to find a golden needle on your own might be.
An experienced, independent and well-connected buyer's agent with their ear to the ground and a finger on the pulse of local suburbs is your shortcut to finding a happy family home that you can spend more time in – just by not being stuck in a car all week.
To have one of our friendly Buyers' Agents to contact you:
or
call us on 1300 655 615 today.