Global Property Is Surging, But How Long Will This Property Cycle Run For? - June 2021



June 28, 2021 / Written by Rich Harvey
By Guest Blogger, Pete Wargent,
Next Level Wealth
A Unique Cycle

This property cycle has been quite unusual in many respects.

In the first half of 2020 the property market all but seized up in response to shutdowns and virus uncertainty.

But record low mortgage rates and pent-up demand has seen housing market activity come roaring back.

Low interest rates have increased borrowing capacity, and this is now being reflected in an increasing average loan size as borrowers strive to get the home they want.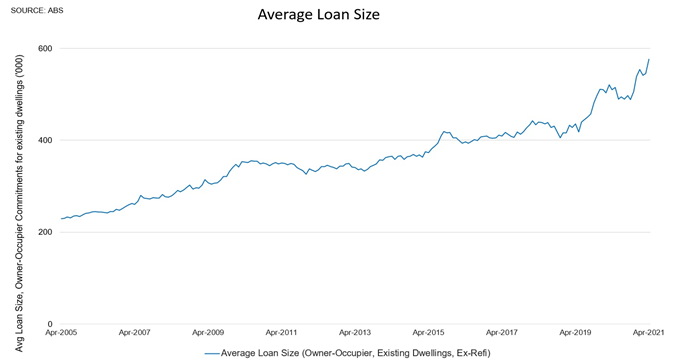 Despite immigration effectively being "switched off", we've also seen rental vacancies falling towards record lows across much of Australia, which was another unexpected outcome from the brief coronavirus recession.

New South Wales now reportedly has plans afoot to begin bringing back international students to Australia, which will help to absorb some of the vacancies in the student rentals market.

Global real estate boom

Are we unique or are other countries also experiencing a boom? This has been a very unusual year for the world.

Countries all around the world have turned to fiscal and monetary stimulus to push through the lockdowns and associated downturn in activity.

Normally if you put cash into the hands of consumers a fair chunk of it would be spent on international travel, new vehicles, and retail.

Online retailers have prospered, but travel has been restricted, used car prices have steepled, and in some countries there has been a reticence to buy new wheels as the world begins to transition towards electronic vehicles.

Real estate has been a major beneficiary of the stimulus, as households have looked to renovate or upgrade their homes.

As a result, over the year to March 2021 property prices were surging across Europe, America, and much of the Asia-Pacific region (and in many cases these trends are only accelerating in the second quarter of the year).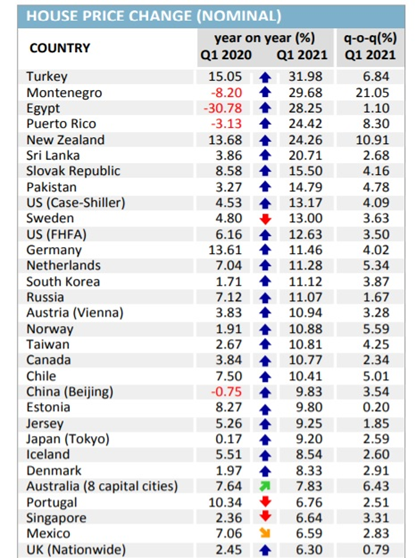 Source: Global Property Guide
In keeping with many other countries, Australia looks set to record double-digit price growth in 2021, and at this stage there's no reason to expect anything other than a continuation of the trend in 2022.

How to be positioned

Although the average mortgage rate is still falling in Australia as borrowers negotiate better rates, it looks likely that interest rates for new borrowers have now bottomed out for this cycle, and some fixed rate products are now rising (albeit from unprecedented lows).

Inflation is likely to spike temporarily on the low base effect, but financial markets see this as transitory, and there's no serious suggestion of significant interest rate increases over the next 18 months.

If the Aussie economy keeps firing back powerfully we could see a couple of rate hikes in 2023, and perhaps a couple more in 2024.

But context is important, and even four rate hikes - if they were to be delivered - would only see a cash rate at 1 per cent.

Personal circumstances will differ, of course, but sitting on the sidelines waiting for a correction in this type of environment is likely to entail a long and agonising wait.

Engaging a reputable buyers' agent to help you navigate this ever-changing market is a wise idea, as they will give you a clearer perspective on the best way forward.
To have one of the friendly Propertybuyer Buyers' Agents to contact
you in regards to buying property :
or
call us on 1300 655 615 today.